PLAN VISIT: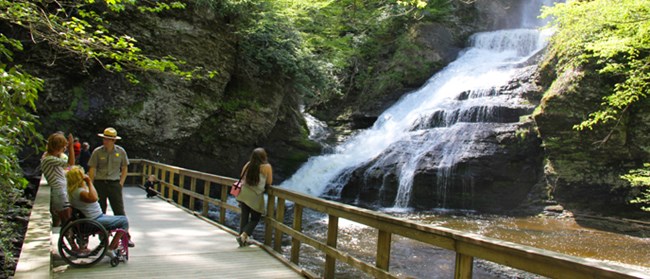 Your Park to Explore…
40 miles of the Middle Delaware National Scenic and Recreational River

Over 70,000 acres of forested mountains, river valleys, and fertile floodplain's

Beautiful tumbling waters, rhododendron filled ravines, and quiet hemlock forests

The spectacular Delaware Water Gap

More than 100 miles of hiking trails along streams, ridges, and mountaintops

Bountiful wildlife in habitats ranging from river to ridge top

27 miles of the Appalachian Trail

More than 100 miles of scenic roadways for you to explore

Historic villages, structures, and landscapes from the valley's colonial past

Agricultural fields that have fed people and livestock for more than a thousand years
Where do you begin? This Plan Your Visit section has all kinds of helpful tips about things to do and places to go. Dig in for information about accessibility, safety, directions, operating hours and seasons, places to eat and sleep, fees, permits and reservations, and other basic information for trip planning. Find a variety of activities and events hosted by the park and various park partners on the calendar.
This park is a special place for you and your family to love for generations. Enjoy it and don't forget to #Find Your Park. #Ecuentra Tu Parque.


Last updated: April 7, 2021