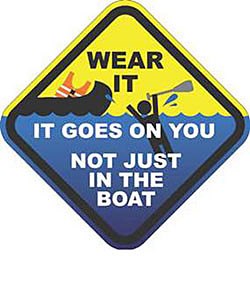 A Lifejacket Can't Save Anyone If All People Onboard Don't Wear One
Children aged 12 and under MUST wear Coast Guard-approved lifejackets at all times when on the river.

Jackets must fit appropriately, and be fully fastened to be effective. Wearing a life jacket is not just common sense, it is THE LAW.

Lifejackets aren't just for kids. Any person paddling or boating MUST have their own US Coast Guard approved lifejacket or PFD onboard and readily accessible in case of emergency.

All boaters must wear lifejackets on boats less than 16 feet in length and on canoes and on kayaks, from November 1 through April 30, to protect boaters from cold water shock if they fall into the water.

Always wear your lifejacket on and in the water.