Current Conditions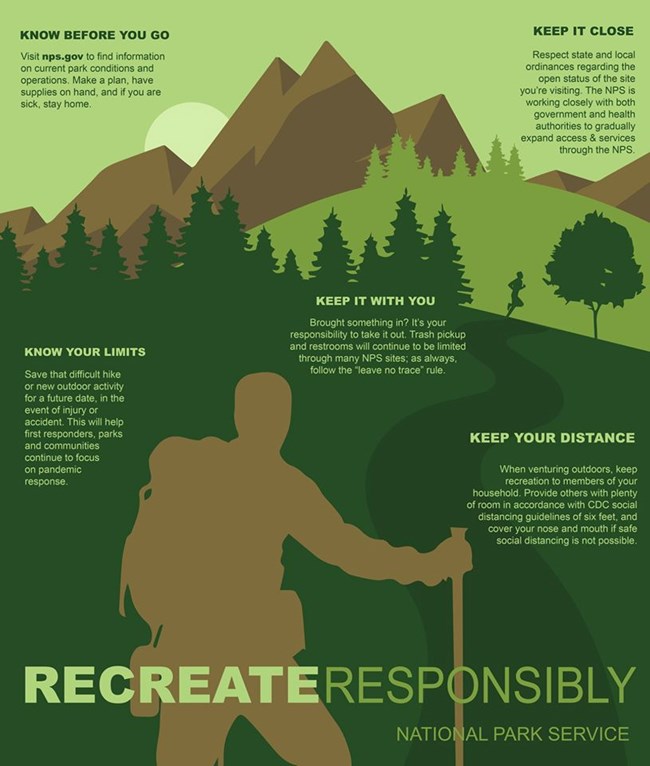 Limited Services Available: Visit Responsibly
Most park trails and boat launches are open, but some bathrooms are closed and services are limited. Law enforcement is on duty. All park regulations apply.
Avoid crowded trailheads
If the parking lot is full, find a different trail.
Park only in designated areas
Illegally parked cars will be ticketed and towed.
Maintain social distance
Even when outside, stay at least 6 feet from other people.

Pack out your trash


Please help us keep you, wildlife, and employees safe.
Hike Safely
Protect search and rescue personnel. Stay out of closed areas, mark the location of your car, and know your limits.
CLOSURES
Temporary Closures
Following guidance from the CDC and recommendations from state and local public health in consultation with NPS Public Health Service officers, the following public facilities within Delaware Water Gap National Recreation Area are temporarily closed:
Bushkill Meeting/Visitor Center

Dingmans Fall Visitor Center
Hialeah Picnic Area
Valley View (PA) and Rivers Bend (NJ) Group Camgrounds and Campsites at Mohican Outdoor Center.
Backcountry campsites on the Appalachian Trail within Delaware Water Gap National Recreation Area
All volunteer-operated buildings including the Foster-Armstrong House, the Nelden-Roberts Stonehouse, Montague Grange, Van Campen Inn, and those at Millbrook and Walpack Center
Restrooms and public buildings at Pocono Environmental Education Center, Peters Valley School of Craft, and Mohican Outdoor Center are closed until further notice. Trails and grounds remain open at Peters Valley School of Craft.
Blue Mountain Lakes Road (in New Jersey) above the Blue Mountain Lakes trailhead parking area
Dingmans Falls Road (in Pennsylvania)

Skyline Drive (in New Jersey)

Mountain Road
Some public restrooms at sites around the park remain closed
Area Closures
The following areas are closed to all public entry due storm damage and ongoing repairs and trail reroutes:
Conashaugh View Horse Trail in PA
George W. Childs Park Trail in PA
Adams Creek in PA
Lower Van Campen Trail and Parking Area in NJ
Pay attention to road and trail closure signage, and visit www.facebook.com/DelWaterGapNPS for the latest updates. Note: a Facebook account is not necessary to view posts on Facebook.
Raptor Closures
Milford Cliffs are closed to rock climbing and hiking on social trails in the Cliff Trail area through July 10 to prevent human disturbance to nesting peregrine falcons. The closure does not affect the designated Cliff Trails.
The McDade trail is closed between Conashaugh trailhead and Pittman Orchard trailhead through approximately early July to protect nesting Bald Eagles.
The Flying Hawks Airfield, located between the Delaware River and US Route 209 north of PA Route 739, is closed to the use of remote controlled model airplanes through approximately early August to protect nesting peregrine falcons.



National Weather Service
Upper Delaware River
Middle Delaware River
Lower Delaware River
USGS Current Water Data
Three gauges monitor the river and two major tributaries within the park. Ideal canoeing and kayaking conditions are generally considered at river levels under seven feet (as measured at the Montague gauge).
High Water Events
A High Water Event is declared when the predicted water levels may necessitate the closing of buildings, facilities, roads, and/or the river corridor itself. The park takes specific actions when the river levels are predicted to reach specific heights as indicated at the Montague gage.
8 feet and higher – wearing lifejacket is mandatory; no swimming is permitted at river beaches
13 feet and higher – Bushkill Access is closed
15 feet and higher – river is considered dangerous; all river access closed; no boating permitted
23 feet and higher – parts of US 209, Old Mine Rd, and River Rd closed due to water on roadway
Last updated: June 26, 2020