Current Conditions
Seasonal Raptor Closures (Eagles & Peregrine Falcons)
Bald Eagle Closures (December 15 - Mid-July)
To prevent the possibility of disrupting nesting bald eagles, maximize the chances for successful breeding of young eaglets, and comply with the Bald and Golden Eagle Protection Act, the following areas will have trail closures from December 15th through mid-July.
McDade Trail: Trail is closed between Pittman Orchard trailhead and Conashaugh Trailhead. Other sections of the McDade trail remain open.
Sawkill Creek: The section of trail on the west side of Sawkill Creek is closed. To access Milford Knob from Sawkill Creek, please use the new alternative route that branches to the south.
Peregrine Falcon Closures (February - Early August)
To prevent disturbing Peregrine Falcon nests, the following areas are closed to recreation and other activities:
The Milford Cliffs are closed to climbing and hiking on social trails. The closure does not affect the designated Cliff Trail. The closed cliff areas are clearly marked with signs and barricades at trailheads or trail junctions.
Note: The cliffs at Mount Minsi from Point of Gap Overlook parking lot to Arrow Island Overlook parking lot and from the west shoulder of Route 611 to the top of the ridge are closed to rock climbing and hiking. The closure will be lifted on June 18, 2021. This closure does not affect either designated hiking trails (as shown on the park website) or the Appalachian National Scenic Trail.
McDade Recreational Trail between Conashaugh trailhead and Pittman Orchard trailhead. Other sections of the McDade trail remain open.
Temporary Closures Due to COVID
Following guidance from the CDC and recommendations from state and local public health in consultation with NPS Public Health Service officers, the following public facilities within Delaware Water Gap National Recreation Area are temporarily closed:

Bushkill Meeting/Visitor Center

Dingmans Falls Visitor Center
Hialeah Picnic Area (Open to the public Monday (Noon) - Friday (Dusk), Closed Weekends to Vehicle Traffic)
Valley View (PA) Group Camground
All volunteer-operated buildings including the Foster-Armstrong House, the Nelden-Roberts Stonehouse, Montague Grange, Van Campen Inn, and those at Millbrook and Walpack Center
Restrooms and public buildings at Peters Valley School of Craft are closed until further notice however, The Store, Grounds, and Trails remain open. Summer classes being booked now
Services are limited at Pocono Environmental Education Center and Mohican Outdoor Center. Trails and grounds remain open at both locations
Dingmans Falls Road (PA) (Open to the public Monday (Noon) - Friday (Dusk), Closed Weekends to Vehicle Traffic)
Mountain Road (NJ) Closed to Vehicle Traffic until further notice
Blue Mountain Lakes Road after the parking area and Skyline Drive (NJ) (Open to the public Monday (Noon) - Friday (Dusk), Closed Weekends to Vehicle Traffic)
Some public restrooms at sites around the park remain closed
Area Closures
The following areas are closed to all public entry until further notice due to a number of conditions such as trail damage, seasonal nesting, ongoing habitat restoration, and construction projects:

Watergate Recreation Area (NJ)
Conashaugh View Horse Trail (PA)
George W. Childs Park Trail (PA)
Sawkill Glen Trail (PA) Note: Trail open but area northwest of trailhead along Sawkill creek closed due to American Eagle nesting

Special Note:
Please pay special attention to road and trail closure signage, and visit www.facebook.com/DelWaterGapNPS for the latest updates. Note: A Facebook account is not necessary to view posts on Facebook.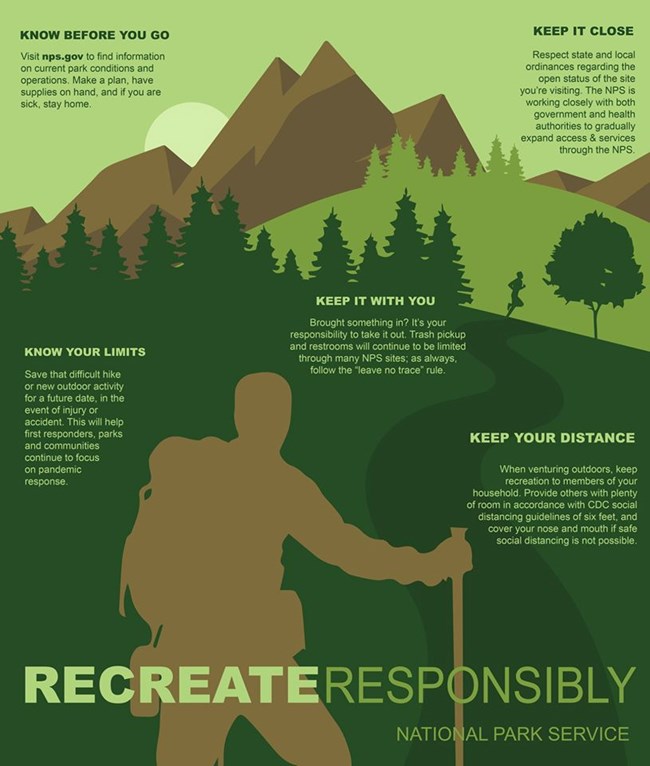 Limited Services Available: Visit Responsibly
Most park trails and boat launches are open, but some bathrooms are closed and services are limited. Law enforcement is on duty. All park regulations apply.
Face masks are required in all park buildings and on NPS-managed lands when physical distancing cannot be maintained.
Masks are required in all park buildings and facilities, including those that are operated by partners, volunteers, and concessioners, or are under lease. Masks are also required on NPS-managed lands when physical distancing cannot be maintained, including narrow or busy trails, boardwalks, overlooks and observation platforms, pavilions, river access points, parking lots, and areas near restrooms, bulletin boards and informational panels, and in other areas of interest that attract large numbers of visitors.
Avoid crowded trailheads
If the parking lot is full, find a different trail. There are many available to you.
Park only in designated areas
Illegally parked cars will be ticketed and towed.
Maintain social distance
Even when outside, stay at least 6 feet from other people.

Pack out your trash


Please help us keep you, wildlife, and employees safe.
Hike Safely
Protect search and rescue personnel. Stay out of closed areas, mark the location of your car, and know your limits.
Last updated: June 24, 2021