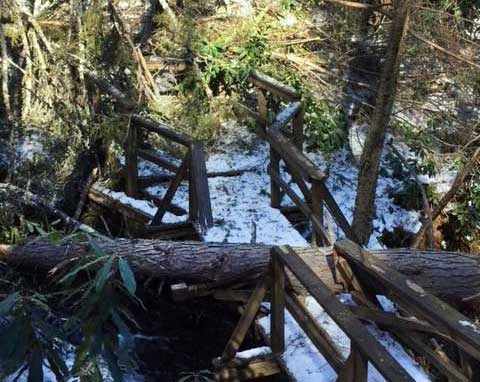 In early March, 2018, the area was impacted by a series of severe winter storms. Heavy, wet snow and wind gusts in excess of 40 mph toppled numerous trees and power lines. In mid-May, the area was impacted by another powerful storm that contained high winds, resulting in more damage to trees and power lines. Repairs to trails and facilities affected by these storms is ongoing.

Most trails are open and accessible, but several remain closed due to public hazard. The following trails remain closed:
Conashaugh View Horse Trail in PA
George W. Childs Park Trail in PA
Hornbecks Creek Trail in PA
Adams Creek in PA
Please visit the "Hiking" page for a comphrehensive list of open and closed trails.

Pay attention to trail closure signage, and visit www.facebook.com/DelWaterGapNPS for the latest updates. Note: a Facebook account is not necessary to view posts on Facebook.