River Camping
River campsites will close for the season on November 13, 2023.

Camping along the Delaware
The Middle Delaware National Scenic and Recreational River offers 62 primitive campsites located along the Delaware River running through the Delaware Water Gap National Recreation Area. This part of the Delaware River is relatively unspoiled as it travels through the rural landscape. A stay at one of these campsites will offer you an opportunity to sleep under the stars, wake to birds chirping, listen to tree frogs, view the river flowing by, and hopefully see some wildlife along the way.
River Campsite Zones
Delaware Water Gap National Recreation Area has a zonal reservation system for primitive river campsites within the park. The zone reservation system allows visitors to purchase a permit within a designated zone and then select a campsite within that zone upon arrival. This maintains the freedom and spontaneity of choosing a site while on the river that some visitors enjoy, while also offering the predictability that others are seeking. More information, along with reservations can be found here at recreation.gov.

We recommend finding the campsite of your choice within your designated zone sooner rather than later. Although we will only sell permits according to the number of sites in a specific zone, there is no guarantee the site you want will be available when you boat there. Make sure to plan alternatives if you pass open campsites and choose to keep going.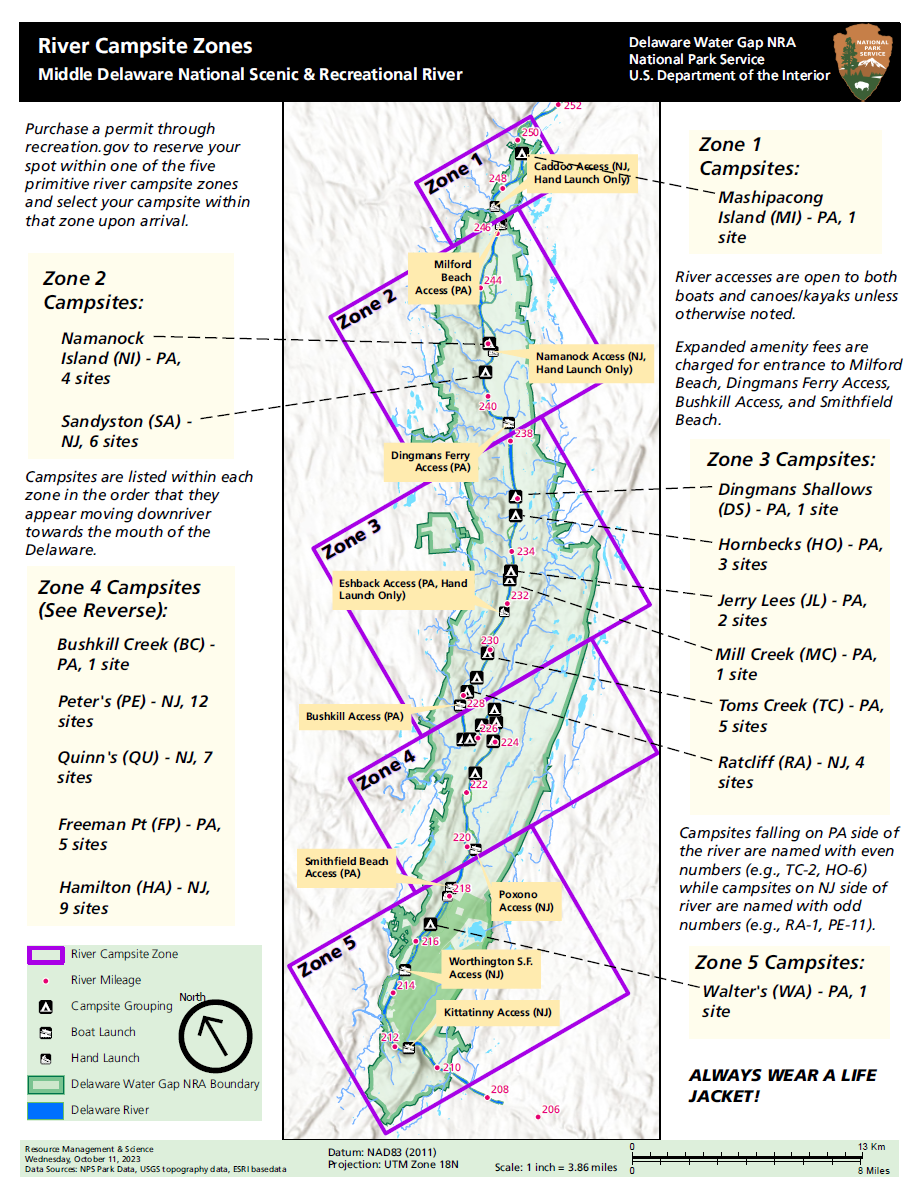 Zones are segmented into the following areas:
Zone 1
The Northern Park Boundary to Milford Beach
Zone 2
Milford Beach to Dingmans Boat Launch
Zone 3
Dingmans Boat Launch to Bushkill Boat Launch
Zone 4
Bushkill Boat Launch to Smithfield Beach
Zone 5
Smithfield Beach to Kittatinny Point

Click on the map to open and download the river camping zone map.
Important Details
Please read through these important details:
Camping is limited to one night in each location
To use a river campsite, the total river miles traveled must be at least 14 miles for a one-night trip, at least 26 miles for a two-night trip, and at least 34 miles for a three-night trip.
If you are leaving a vehicle in a National Park Service parking lot overnight, you must register your information with the park emergency operations center here. If you are unable to use our registration system, please call the park Emergency Operations office at:

570-426-2457

. (Note: This line is monitored 24/7 and should only be used when unable to register online or for emergencies)
Site-specific reservations are required for Alosa River Campsites, Rivers Bend Group Campsites, and Valley View Group Campsites.

Small fires are only permitted in existing fire grates. Use dead and down wood only. Cutting standing trees is not permitted.

Pack out all trash to include all food and food waste.
Please use soaps sparingly. Soap should be dumped on well-drained soil away from water sources.
Do not urinate or defecate within 100 feet of any river or stream. Fecal material, including pet waste, must be buried at least 6 inches deep and at least 300 feet away from water.
Quiet hours are

10:00 pm

to

6:00 am

. Loud audio devices and fireworks are

prohibited

.
Current River Conditions in the Park
While the Delaware River may look calm and serene, this body of water has potential for flooding, swift currents, and dangerous conditions. Make sure to always wear your lifejacket while on or near the water. 

Click the River Information link for details on the river's current conditions.
Loading weather forecast...
Last updated: October 31, 2023