Park Newspaper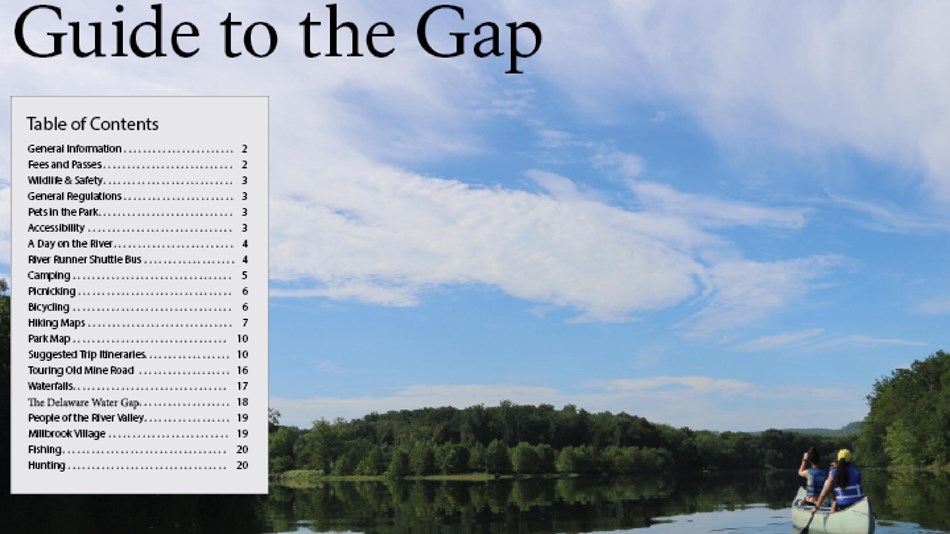 Check out our park newspaper
The Guide to the Gap is our park newspaper loaded with information about the park.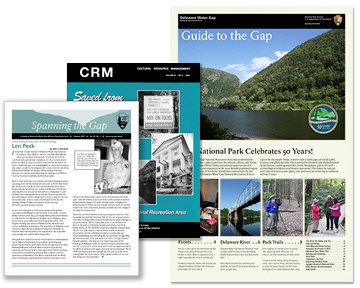 Important Changes for 2021
The Guide to the Gap, our park newspaper, provides basic information to help you plan your trip. There are maps for picnic and grilling information, swim beach locations, boating access, and all our major hiking trails.

If you want to camp, there's information on both developed and primative river camping, and also group campsites.

The guide has free hiker and river runner shuttle schedules, road maps and highlights of Old Mine Road in New Jersey.

You can pick up a hard copy of the Guide to the Gap at our Park Headquarters location.
Note:

The web version of this publication differs slightly from the printed version in that there are more photo images of park sites in the printed version.

If you would like a copy of the print version of our park newspaper mailed to you for free, please contact us at 570-426-2452, or send us a note to the park mailing address below:

Delaware Water Gap National Recreation Area
Attn: Interpretation Division
P.O. Box 2
Bushkill, PA 18324
These are the important changes to be aware of before you visit:
Visitor Services
All visitor centers are currently closed to the public for entry, but the park headquarters visitor center has limited services available. (Maps, Information, and Passport Stamps)
Beaches and most park sites are open from 06:00 am to 8:00 pm, or sunrise to sunset.
Park Area Closures
The following areas are closed to all visitors, at this time:
Adams Creek
Buttermilk Falls Trail to include the stairs and trailhead are closed through October. Check: Current Conditions - Delaware Water Gap National Recreation Area (U.S. National Park Service) (nps.gov) for updates.
Lower Raymondskill Area (All land below the lower waterfall viewing area to Route 209 is closed to visitors until further notice)
George W. Childs Park
Mountain Road (Road is open to pedestrians)
Slateford Bridge (Located on National Park Drive)
Watergate Recreation Area (All areas from the north of Upper Glen parking area to Millbrook Village closed to visitors at this time. Active construction area. Please use caution)
Valley View Group Campground
Park Road Closures
The following park roads are closed to visitor vehicle traffic from Fridays at dusk, and will reopen on Monday at noon, except on federal holidays:
New Jersey
Cadoo Access
Skyline Drive
Pennsylvania
Dingmans Falls Visitor Center Road; Call park headquarters at 570-426-2452 for accessibility information.
Freeman Tract Road
Hialeah Picnic Area
Shuttle Service Information

"Where are we going to park?" We hear that question a lot around here. Especially on busy weekends. One of the best ways to get around the park is provided by our friends at the Monroe County Transit Authority (MCTA). The MCTA runs shuttle services on weekends throughout the summer season and into the fall, yearly. The shuttle system allows visitors to park at the Pennsylvania Welcome Center, and then be shuttled to the most common river and trail entry points on the Pennsylvania side of the Delaware River. The shuttle system allows us to be more conservation minded locally, and takes the worry away from you on where to park. Check below for more information.

Important Information

The MCTA River Runner Shuttle is not running at this time. Please check back for updates.
The MCTA Hiker Shuttle is operating on weekends and federal holidays through October 17, 2021.
Visit the Monroe County Transit Authority website for more details.


Last updated: October 13, 2021