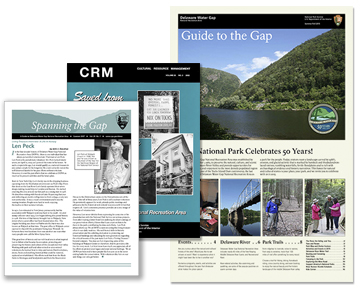 The
Guide to the Gap
is our annual park newspaper provides information needed to help plan your trip. A calendar of events will keep you up to date with activities in the park. There are also maps for beach locations, water and hiking trails. If you like to camp there is information regarding river camping and group campsites. It also includes free shuttle schedules, books and road maps and highlights of Old Mine Road in New Jersey.
Spanning the Gap
is a previous version of the annual newspaper and was published from 1983 to 2007. Its goal was to educate visitors and neighbors about the recreation area's resources, events, and issues.
Cultural Resource Management (CRM)
was published from 1978 to 2011 in various formats. It provided information for parks, Federal agencies, Indian tribes, States, local governments, and the private sector to promote and maintain high standards for preserving and managing cultural resources.