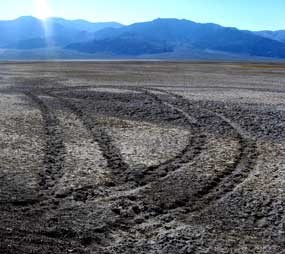 Off-road driving is NOT allowed in Death Valley National Park. Vehicles, including bicycles, are restricted to the 785 miles of established open roads. Death Valley features both paved and dirt high-clearance and 4X4 roads in the park, open to all street-legal, licensed vehicles.
To protect the fragile and beautiful desert environment for future generations of visitors, Death Valley National Park does not allow OHV (Off Highway Vehicle) use within park boundaries. ATVs, Quads, Dune Buggies, Sand Rails and California "Green Sticker" vehicles may not be operated in the park.
For those park visitors who wish to participate in OHV sports, Dumont Dunes a nearby BLM managed area has dunes over 400 ft in height and is a popular spot for OHV activities. Dumont Dunes is located outside of the parks southern boundary off Hwy 127.
Also nearby is the Amargosa Dunes aka the Big Dunes. Located outside of the parks eastern boundary about 30 miles south of the town of beatty. This BLM managed area has dunes that are over 500 ft in height and is also a popular spot for OHV activities.