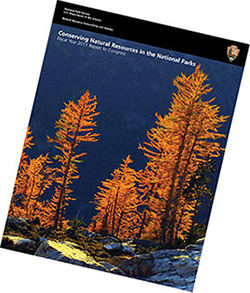 Staff produce several general publications about natural resource programs, accomplishments, and initiatives in the National Park Service:
Park Science is a research and resource management bulletin of the National Park Service that reports the implications of recent and ongoing natural and social science and related cultural research for park planning, management, and policy.
The Natural Resource Challenge was created in 1999 to improve our knowledge of natural resources across the National Park System. This section includes the annual Report to Congress, which summarizes natural resource accomplishments for previous years, an the original Action Plan for Preserving Natural Resources.
For publications and other materials about natural resources, select the appropriate topics in the navigation to the left or visit the
Integrated Resource Management Application
. From this website you can search for, view, and download documents, reports, publications, maps, data sets, park species lists, and links to additional data sources.