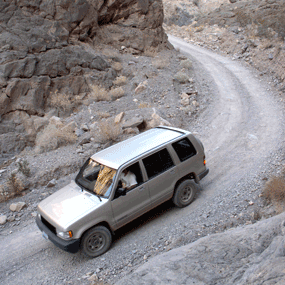 Death Valley has more miles of roads than any other national park. Though 91% of the park's 3.4 million acres are protected in roadless wilderness areas, nearly one thousand miles of paved and dirt roads provide ample opportunities for recreation and exploration.
This is remote territory. Using the following tools and doing your homework before venturing out into the wilderness could save your life.
Don't rely on GPS, instead take this free map (7 MB PDF). More detailed maps are available from the Death Valley Natural History Association.
Review the backcountry roads information sheet for a brief overview of some of the popular routes.
Warning: Weather changes the road conditions regularly. Check the currently known conditions before your trip.