Hiking
Hiking is a great way to experience Capitol Reef. Keep these things in mind when planning your hike:
The average person hikes about 2 miles an hour. Consider the park's elevation (5500 ft, 1676 m), and the elevation where you live. If you are coming from a lower elevation, or from sea level, trails that are considered "easy" might be more difficult for you.
As early as May, temperatures can soar to the high 90s, and occasionally break 100 F (38 C). Many trails have little to no shade, and water is not available at any trailheads.
Know your limits, and if you are visiting during the summer, plan your hikes early in the day, or later when it cools down.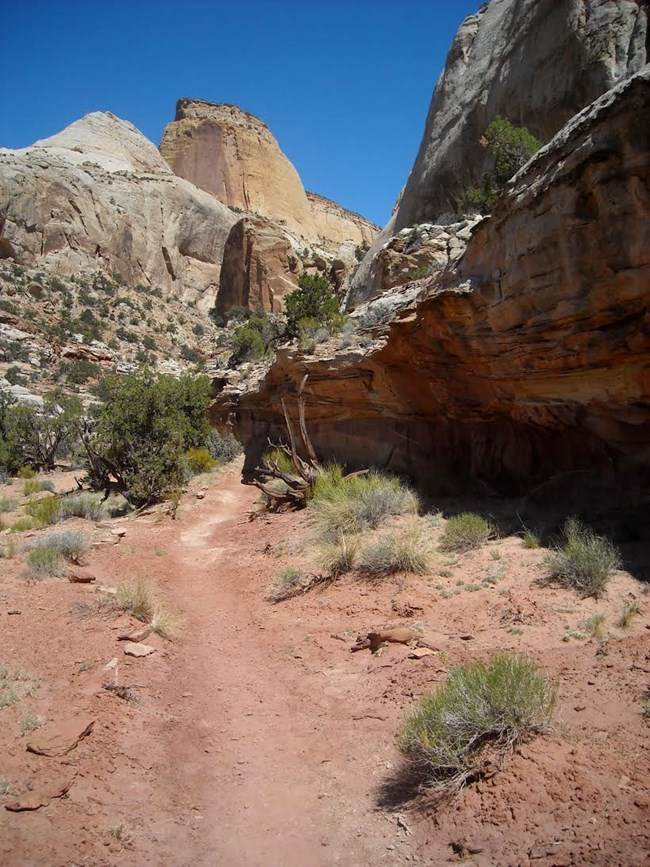 Day Hiking
In the Fruita area, there are fifteen day hiking trails with trailheads located along Utah Highway 24 and the Scenic Drive. These trails offer the hiker a wide variety of options, from easy strolls over level ground to strenuous hikes involving steep climbs over uneven terrain near cliff edges. Hikes may take you deep into a narrow gorge, to the top of high cliffs for a bird's eye view of the surrounding area, under a natural stone arch, to historic inscriptions... and much, much more! Round trip distances vary in length from less than 0.25 miles to 10 miles (0.8-16 km). All trails are well-marked with signs at the trailhead and at trail junctions and by cairns (stacks of rocks) along the way. Some trails have self-guiding brochures which are available, for a nominal fee, at the trailhead or at the visitor center.

Hiking with kids? Check out these tips on how to have a great hike!
Backcountry Hiking
Capitol Reef offers many hiking options for serious backpackers and those who enjoy exploring remote areas. Minimally marked hiking routes lead into narrow, twisting gorges, slot canyons, and to spectacular viewpoints high atop the Waterpocket Fold. Popular backcountry hikes in the southern section of the park include Upper and Lower Muley Twist Canyons and Halls Creek. Backcountry hiking opportunities also exist in the Cathedral Valley area and near Fruita...the possibilities are endless! A backcountry permit is required for camping outside of established campgrounds. The permit is free and can be obtained in person at the visitor center during normal business hours.

Please review all rules and regulations for backcountry camping.
Always carry water! Even the shortest stroll will make you thirsty on a 100°F (37.8°C) summer day. Potable water is available seasonally at the spigots in front of each restroom in the Fruita campground, the Gifford House, and Picnic Area. A minimum of one gallon per person per day is recommended, more for backpackers. Water is scarce in the backcountry, especially during the hot summer months. Waterpockets, seeps, and springs are scattered throughout canyon country but are unreliable. Plan to carry in all your water. If you do use water from backcountry sources, boil or filter the water before drinking.
Hiking in canyon country is not something to be taken lightly. The elevation and high desert climate make this area prone to temperature extremes. Summer months are hot with temperatures near 100°F (37.8°C) and the sun is intense. Summer evenings cool to 50 or 60°F (10-15.6°C). At this time of year, rapid dehydration is common and could be fatal to the unprepared hiker. Spring and fall are mild seasons and are the best times for hiking and backpacking. Winter (November-February) is cold with highs from 30 to 45°F (-1.1-7.2°C) and nighttime temperatures below freezing. Elevations in the park range from approximately 3,800 to 8,200 feet (1,158-2,499 m).
Wear appropriate clothing, footwear, sunscreen, and a hat.
Capitol Reef receives an average of 7.98 inches (20.3 cm) of precipitation each year. Summer thunderstorms can move in quickly, dropping large amounts of rain over a short period of time, causing flash floods. Get up-to-date weather information and watch for changing weather conditions during this time of year. Do not enter a narrow gorge or slot canyon if storms are threatening and never camp in wash bottoms. Infrequent winter snows often fall and melt the same day, but can stay on the ground for days or weeks.
Don't take unnecessary risks because help may be a long way off. Think before you act. If you do become rimrocked, call for help and wait for assistance rather than attempting to climb down. One misplaced step or handhold could end in tragedy. Do not throw rocks. Climbing on loose talus or steep slickrock is dangerous, and it is always harder to climb down than to climb up. Your safety is your responsibility!
Help protect the fragile desert environment. Stay on established trails, avoid stepping on biological soil crusts, and do not shortcut switchbacks. Do not swim in potholes, tanks, tinajas, or waterpockets. These are important water sources for wild animals, and sunscreen, lotion, and oils on human skin can pollute them. Do not disturb archeological sites. Collecting anything (plant, animal, mineral, artifact) is illegal within the park.
Pets are not permitted on trails or anywhere in the backcountry.
Maps
Maps are available from the Capitol Reef Natural History Association Bookstore at the visitor center, or find them online.

Trail Maintenance
See your fee dollars at work, as trail crews work to improve the front country trails around Fruita. Learn about the history of trails throughout the National Park Service, as well as service-wide trail managment.
Last updated: March 21, 2023