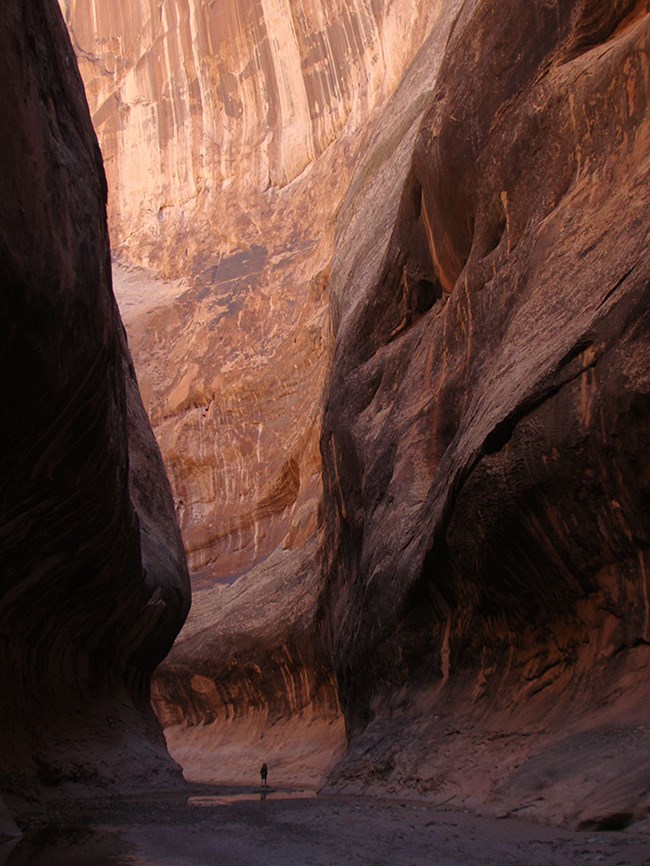 Between the high cliffs of Hall Mesa on the east and the steep slickrock slopes of the Waterpocket Fold on the west, the hike through the Halls Creek drainage (known as Grand Gulch) explores the park's southern reaches. Along the way, hikers can explore numerous side canyons that join the Halls Creek drainage. At the remote southern tip of the park is the 3.8-mile (6.0 km) Halls Creek Narrows, deeply incised into the white Navajo sandstone. A perennial stream and shade from the arching canyon walls create an oasis in the midst of surrounding desert.
The route is largely unmarked; carrying a topographic map is recommended. The route is extremely hot in summer. Water can usually be found at the Fountain Tanks and in the narrows. Use caution in narrow canyons, particularly during the flash flood season (typically July-September). Hiking through the narrows requires wading through water that occasionally may be deep enough to require swimming.

The round-trip hike is best done as a three- to four-day trip. Free backcountry permits are required for all overnight trips and can be obtained at the visitor center.

This route is not an official, maintained trail. Route conditions, including obstacles in canyons, change frequently due to weather, flash floods, rockfall, and other hazards. Routefinding, navigation, and map-reading skills are critical. Do not rely soely on unofficial route markers (rock cairns, etc.); they are not maintained by the National Park Service (NPS), may not indicate the route in this description, or may be absent.