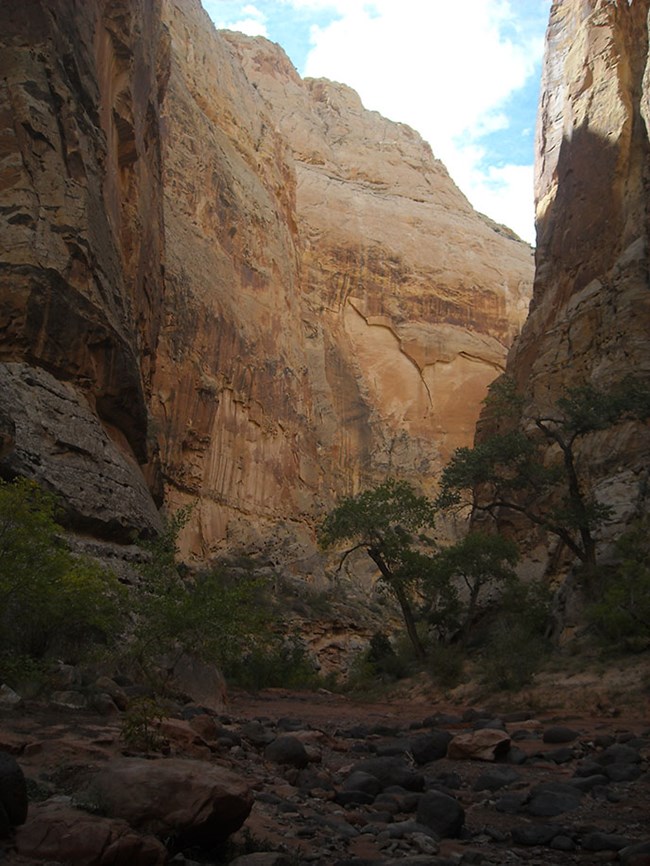 Spring Canyon is deep and narrow with towering Wingate cliffs and Navajo domes. It originates on the shoulder of Thousand Lakes Mountain and extends to the Fremont River. The route is marked with rock cairns and signs in some places, but many sections are unmarked; carrying a topographic map and GPS unit is recommended. It is extremely hot in summer, and potential water sources are rare and uncertain (see hike descriptions for details). Use caution in Narrow canyons, particularly during the flash flood season (typically July-September).
The canyon route is divided into Upper and Lower Spring Canyon sections. It can be accessed midway via Chimney Rock Canyon. The entire canyon is best done as a three- to four-day trip. Upper Spring Canyon is a good two- to three-day trip, while Lower Spring Canyon can be done as an overnight or long day hike. At the lower End of Spring Canyon, fording the Fremont River is necessary; there is no bridge over the river (see page 2 for details). Free backcountry permits are required for all overnight trips and can be obtained at the visitor center. Portions of the Upper Spring Canyon route are outside the park, on lands administered by the US Forest Service (Fishlake National Forest).
This route is not an official, maintained trail. Route conditions, including obstacles in canyons, change frequently due to weather, flash floods, rockfall, and other hazards. Routefinding, navigation, and map-reading skills are critical. Do not rely solely on unofficial route markers (rock cairns, etc.); they are not maintained by the National Park Service (NPS), may not indicate the route in this description, or may be absent.
A PDF version of this information, including maps, can be downloaded and printed.