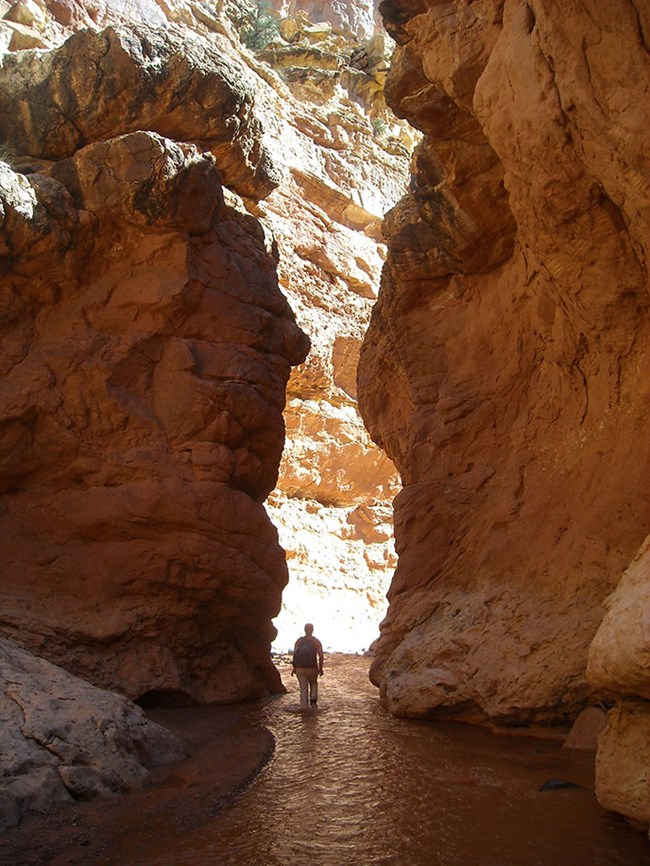 Sulphur Creek has cut a deep canyon that passes through the oldest rocks exposed at Capitol Reef. It is a perennial steam with a flow that varies significantly in response to upstream water usage, snowmelt, and heavy rain. There are about two miles of scenic narrows and three small waterfalls. Bypassing the falls requires the ability to scramble down 12-foot ledges. The route nearly always requires some walking in shallow water, but it is not uncommon for there to be much deeper water that might even require swimming. This route may be difficult for children if deep water is present. Ask at the visitor center for the latest condition report.
Dangerous flash floods are an occasional hazard on this route - do not hike the Sulphur Creek route if there is a chance of rain.
The 5.5-mile (8.9 km) one-way hike through Sulphur Creek Canyon involves leaving a shuttle vehicle at each end. If you don't have two vehicles, a 3-mile (4.9 km) hike along Highway 24 is required to return to your starting point. Vehicle shuttles are not provided or facilitated by the park. Though legal, hitchhiking is not recommended.
This route is not an official, maintained trail. Route conditions, including obstacles in canyons, change frequently due to weather, flash floods, rockfall, and other hazards. Routefinding, navigation, and map-reading skills are critical. Do not rely solely on unofficial route markers (rock cairns, etc.); they are not maintained by the National Park Service (NPS), may not indicate the route in this description, or may be absent.
A PDF version of this information, including a map, can be downloaded and printed.