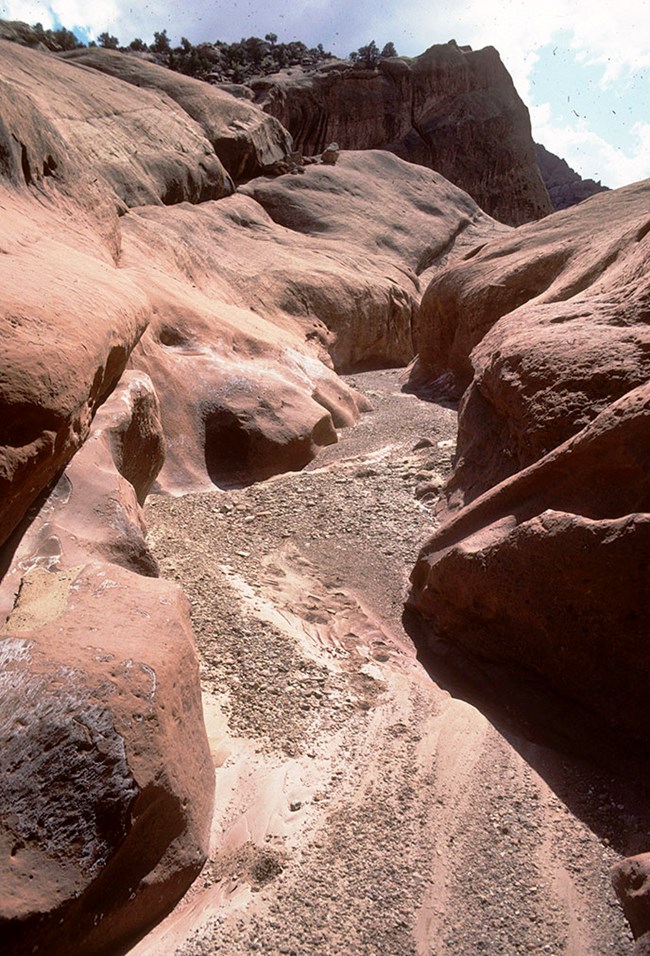 The highlight of the hike is a deep, narrow, twisting canyon with large alcoves. The canyon offers many opportunities for side trips and exploring. From 1881 to 1884, the canyon served as a wagon route for Mormon pioneers traveling south toward San Juan County. The canyon was though to be narrow enough to "twist a mule", hence the name Muley Twist. The Post cutoff trail is marked with rock cairns and signs, but carrying a topographic map is recommended. It is extremely hot in summer and water sources are unreliable; carry adequate water. Use caution in narrow canyons particularly during flash flood season (typically July-September).
Beginning at the trailhead on the Burr Trail Road and hiking down-canyon to The Post trailhead via The Post cutoff trail necessitates leaving a vehicle at each end. If you don't have two vehicles, turn around when you get to the sign indicating The Post cutoff trail. A hike though the Lower Muley Twist Canyon can be done as a long day hike or as an overnight trip by starting and ending at The Post parking area. Hiking the entire canyon from the trailhead on the Burr Trail Road and back is best done as a two- to three-day trip. Backcountry permits are required for all overnight trips and can be obtained at the visitor center.
From the south end of Lower Muley Twist, a side trip to the south offers a view of Hamburger Rocks. These are small, dark-red hoodoos within the Navajo sandstone with hamburger-like shapes. The white-colored slope they are perched on accentuates the rocks. The spur route to Hamburger Rocks is unmarked. Water can usually be found at the Muley Tanks, about 200 yards (183 m) north of hamburger Rocks, but would need to be purified.
This route is not an official, maintained trail. Route conditions, including obstacles in canyons, change frequently due to weather, flash floods, rockfall, and other hazards. Routefinding, navigation, and map-reading skills are critical. Do not rely solely on unofficial route markers (rock cairns, etc.); they are not maintained by the National Park Service (NPS), may not indicated the route in this descriptions, or may be absent.
A PDF version of this information, including a map, can be downloaded and printed.