Trail Guide
Hiking Map & Guide to the Fruita Area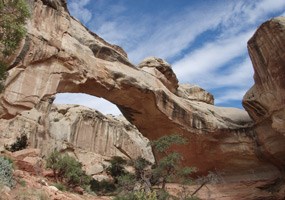 TRAIL DIFFICULTY RATINGS:
Easy: uneven ground, but fairly level.
Moderate: a mix of steep grades and level sections.
Strenuous: steep grades, uneven terrain and long, steady climbs.
Trail

One-Way Distance

Elevation Change in Feet

Difficulty

Description

Capitol Gorge
1.0 mi
(1.6 km)
80 ft
(24 m)
Easy
Deep canyon, historic inscriptions, short climb to waterpockets ("tanks")
Goosenecks
0.1 mi
(0.2 km)
<50 ft
(<15 m)
Easy
Dramatic canyon views
Grand Wash
2.2 mi
(3.6 km)
200 ft
(61 m)
Easy
Deep canyon, narrows
Sunset Point
0.4 mi
(0.6 km)
<50 ft
(<15 m)
Easy
Panorama, good for sunset
Cohab Canyon
1.7 mi
(2.7 km)
440 ft
(134 m)
Moderate
Hidden canyons, views of Fruita, panoramas at spur trail view points
Fremont River
1.0 mi
(1.7 km)
480 ft
(146 m)
Moderate
Easy stroll along river, then steep climb to panoramas
Hickman Bridge
0.9 mi
(1.4 km)
400 ft
(122 m)
Moderate
133-foot natural bridge, canyon views
Cassidy Arch
1.7 mi
(2.8 km)
670 ft
(204 m)
Strenuous
Natural arch, slickrock, canyon views
Chimney Rock Loop
round trip
3.6 mi
(5.9 km)

590 ft
(180 m)
Strenuous
Panoramas of Waterpocket Fold cliffs, good for sunset
Fremont Gorge Overlook
2.3 mi
(3.6 km)
1,090 ft
(332 m)
Strenuous
Short climb to open mesa top, ends at high viewpoint on rim of gorge
Frying Pan
2.9 mi
(4.6 km)
810 ft
(247 m)
Strenuous
Connects Cohab Canyon and Cassidy Arch trails, ridgetop panoramas
Golden Throne
2.0 mi
(3.2 km)
730 ft
(223 m)
Strenuous
Views of Capitol Gorge and Golden Throne
Navajo Knobs
4.7 mi
(7.6 km)
1,620 ft
(494 m)
Strenuous
Continuation of Rim Overlook Trail, 360-degree mountaintop panorama
Old Wagon Trail Loop round trip
3.8 mi
(6.1 km)

1,080 ft
(329 m)
Strenuous
Pinyon-juniper forest, views of cliffs and Henry Mountains
Rim Overlook
2.3 mi
(3.6 km)
1,110 ft
(338 m)
Strenuous
Panoramas of Fruita and Waterpocket Fold from atop dramatic cliff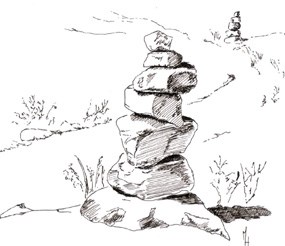 Hiking Suggestions
The summer sun is intense, and some trails rise to 6,900 feet (2,100 m) in elevation. ALWAYS CARRY WATER.
For your own and other's safety, stay on established trails; do not shortcut switchbacks or throw rocks. Hiking routes shown on this map are for location reference only. Routes are not trails and are not maintained.
Camping is not permitted within sight or sound of any trail, road or developed area except at established campgrounds. Before taking overnight trips, contact a park ranger who can suggest backcountry camping areas. A permit is required for backcountry camping and can be obtained at the visitor center free of charge.
Possession, destruction, or removal of any animals, plants, rocks or artifacts is prohibited.
Detailed trail descriptions, hiking guides, and maps are available from the Capitol Reef Natural History Association Bookstore.
Last updated: February 24, 2015