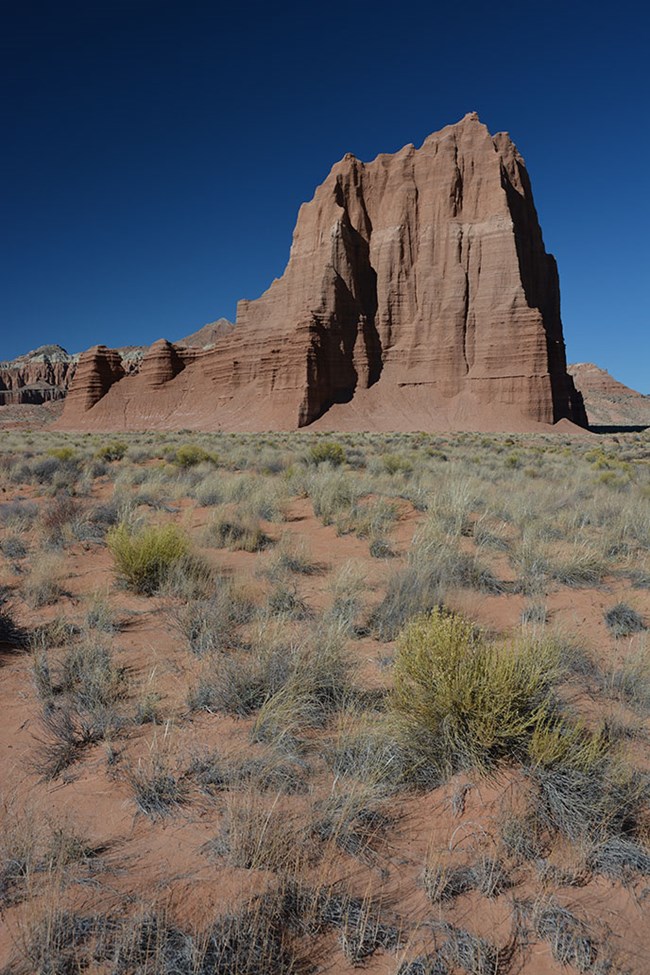 A remote backcountry with no paved roads, Capitol Reef's northern Cathedral District features stark landscapes and a high degree of solitude. Here the northern flanks of the Waterpocket Fold give way to broad deserts, stunning monoliths, and volcanic dikes and crags. The Cathedral and Hartnet roads (passable only to high-clearance vehicles; four-wheel drive often recommended) provide access to a number of short hikes, a selection of which are described here.
These routes are not official, maintained trails. Route conditions including obstacles in canyons, change frequently due to weather, flash floods, rockfall, and other hazards. Routefinding, navagation, and map-reading skills are critical. Do not rely solely on unofficial route markers (rock cairns, etc.); they are not maintained by the National Park Service (NPS), may not indicate the actual route in this description, or may be absent.
Roads in this area are maintained infrequently and are not plowed in winter. Some sections of road cross areas of bentonite clay, which becomes impassable when wet. Deep, soft sand may also exist on roads. Roads may occasionally require four-wheel drive, and may quickly become impassable due to wet weather.
At the south end of the Hartnet Road near Highway 24, vehicles must ford the Fremont River; there is no bridge over the river. Do not attempt to cross the river during floods or other periods of high water. Ask at the visitor center about river ford conditions or call 435-425-3791.
Check
weather forecasts
and road reports before departing. Be prepared for changing conditions. Let others know your travel plans, especially if exploring backcountry areas. Carry extra food, water, and appropriate clothing. Stay hydrated, and limit exposure to desert sun. Have a self-rescue plan. Beware of storms that may cause sudden flash floods, and avoid travel in narrow canyons if rain is approaching. Do not walk or drive across flooded roads or trails - play it safe and wait until floodwaters subside.
You are responsible for your own safety.
A PDF version of this information can be downloaded and printed.