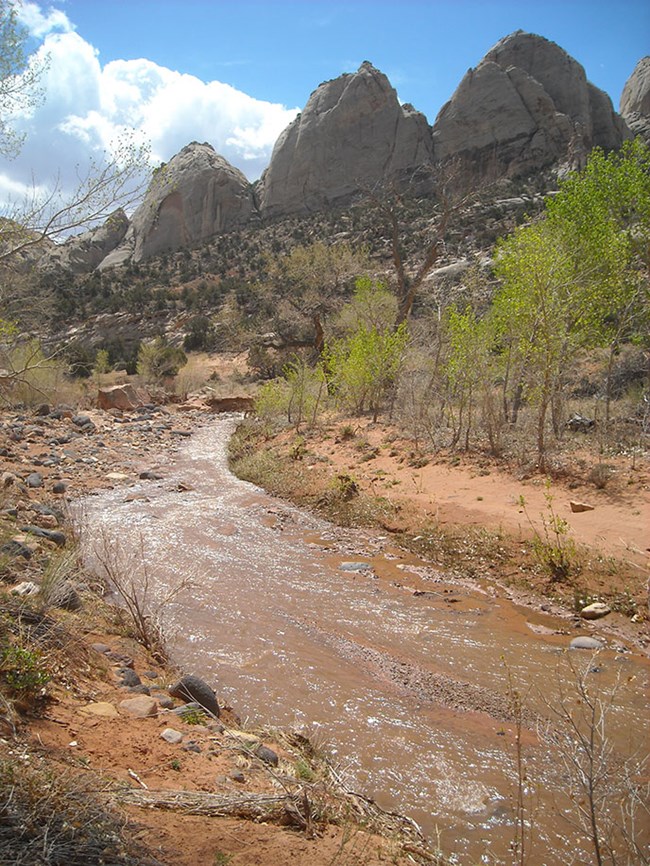 Pleasant Creek is a year-round stream that has cut a deep, scenic canyon through the heart of Capitol Reef. Exploring the length of the canyon requires numerous creek crossings; it is often possible to jump over the creek, but stepping into the water may be necessary at time.
Dangerous flash floods are an occasional hazard on this route. Do not hike the Pleasant Creek route is there is a chance of rain. Do not camp next to the creek.

Unmaintained yet noticeable footpaths exist along much of the route - please stay on these paths where they exist in order to protect biological soil crusts. Do not walk or camp on areas of this fragile soil crust. It has a lumpy, gray appearance, and helps prevent erosion of soft, sandy soils.
It is possible to explore the canyon in either direction from the trailhead as a day hike. Suitable locations for backcountry campsites can be found in some sections of the canyon. Backcountry permits are required for all overnight trips and can be obtained at the visitor center. Portions of the Upper Pleasant Creek route are outside the park, on lands administered by the US Forest Service (Fishlake National Forest).
When hiking and camping along Pleasant Creek around mid-October, be advised that local ranchers have permits from the park to herd cattle through Pleasant Creek Canyon at that time of year. Choose campsites carefully, and stand clear of approaching cattle herds.
This route is not an official, maintained trail. Route conditions, including obstacles in canyon, change frequently due to weather, flash floods, rockfall, and other hazards. Routefinding, navigation, and map-reading skills are critical. Do not rely solely on unofficial route markers (rock cairns, etc.); they are not maintained by the National Park Service (NPS), may not indicate the route in this description, or may be absent.
Note:
Capitol Reef National Park recommends hikers do not ingest water directly from Pleasant Creek because
E. coli
bacteria are occasionally detected in water samples taken from the stream. Sources of
E. coli
bacteria in Pleasant Creek may include runoff from upstream agricultural and grazing land, cattle trailing, and human and wildlife waste.
A PDF version of this information, including maps, can be downloaded and printed.