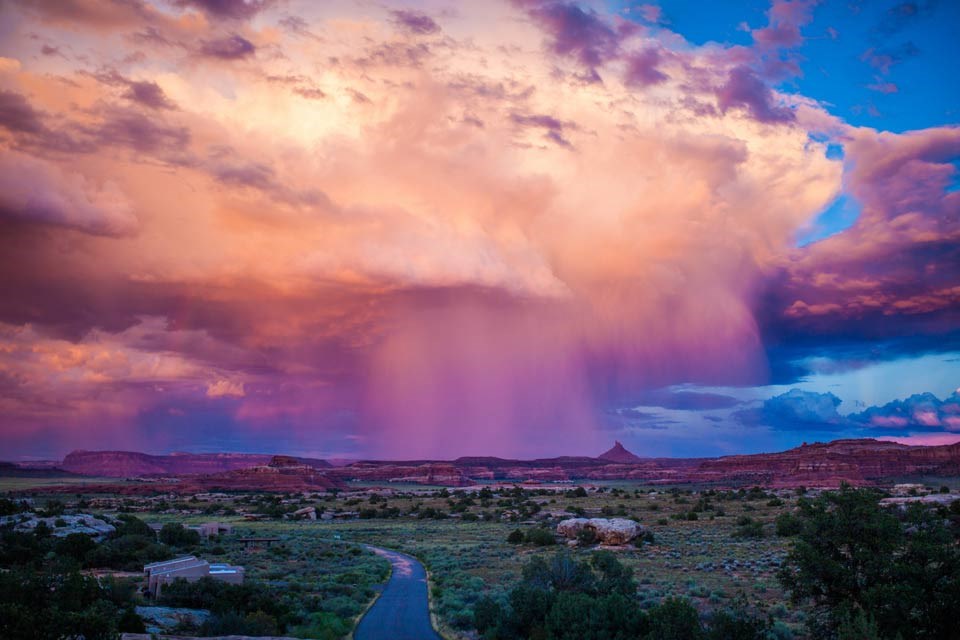 Late summer is the hottest time of year for the Colorado Plateau's high desert. It's also monsoon season, when afternoon thunderstorms are probable. Knowing how to prepare and plan your visit, as well as what to look for, is important to have a safe and enjoyable adventure.
When is Monsoon Season?
Typically, monsoon season is the months of July, August, and September. That's when afternoon thunderstorms are most frequent and severe. The National Weather Service's Flash Flood Information provides the forecast and flash flood potential rating for southern Utah's parks and monuments.
Thunderstorms – with lightning and flash flooding – can happen any time of the year. Always check the forecast and be prepared for quickly-changing weather.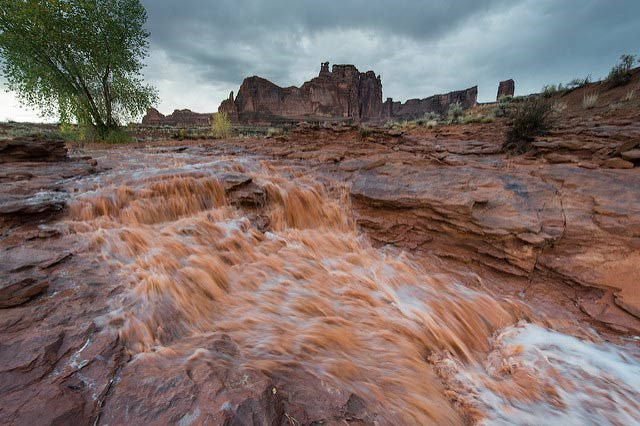 Monsoons and Flash Floods
Thunderstorms with heavy rain can cause severe flooding in canyons. These storms can be powerful and sudden. Water can rise quickly downstream from heavy rain, even when the parent thunderstorm is miles away!
If you are visiting the area during monsoon season:
Know the weather forecast for your area as well as areas upstream.
Finish hiking in the morning and be out of canyons or away from washes before the afternoon.
Do not camp overnight or park your vehicle along/ near streams and washes.
If you are hiking in canyons or by water:
Pay attention to water conditions. Leave the river area immediately if the water becomes muddy or begins rising!

Stay out of flooded areas, as the water may still be rising and the current is swift.
Flash flooding can happen at any low water crossing or dip – even on roads. Never drive into a flooded roadway – find an alternate route or be patient and wait for the flooding to stop.
Lightning
Summer storms include lightning, a powerful force which can and does kill. All thunderstorms produce lightning and there is no safe place outside during a storm – you must go indoors.
Lightning can strike up to 60 miles (16 kilometers) away from the nearest rainfall. If you hear a clap of thunder, a thunderstorm is within 10 miles (16 kilometers). So, if you hear thunder, you are within lightning striking distance!
Appropriate shelter is a building with walls, a roof, and a floor. A hard-top vehicle with all doors closed and windows completely closed can also be appropriate shelter.
If you are caught in a lightning storm without shelter:
If in a group, spread out at least 50 feet apart to minimize the chance of everyone being struck.
Adopt the lightning position – crouch down on the balls of your feet, keeping them as close together as possible. Don't allow other body parts to touch the ground and cover your ears!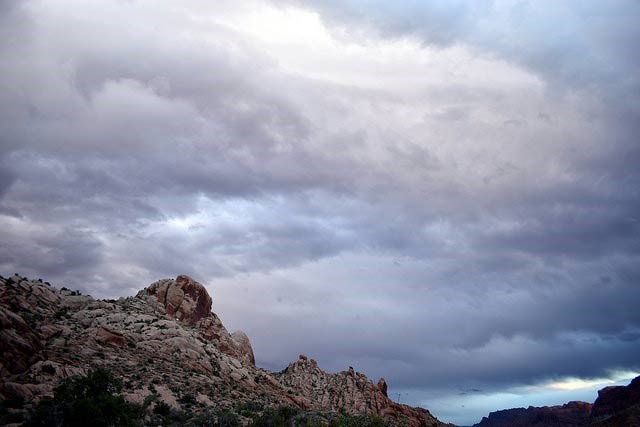 What to Look for
Keep an eye on conditions at all times. Conditions change rapidly and sometimes without much warning.
If you are hiking in canyons or near streams/ rivers, be alert to water conditions. Leave the area immediately if the water becomes muddy or begins rising!
Stay out of flooded areas - water may still be rising and the current is swift.
If you hear a clap of thunder, seek immediate shelter. Do not go back outside for at least 30 minutes after hearing the last thunder clap.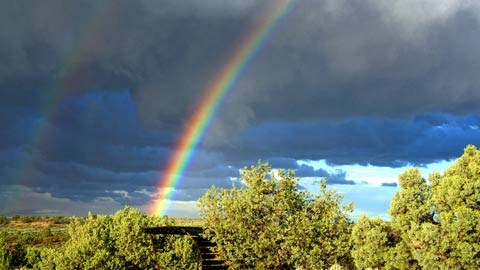 The Power of Rain
While the threat of flash floods and lightning strikes can seem overwhelming, monsoon season can also be a beautiful time of year. If you are planning a trip during monsoon season, stay safe during storms. Afterward, take a look outside to see just how much these crucial rains change the landscape. Smell the rain-soaked dirt and watch plants and flower come back to life. Study an ephemeral pool for tadpoles. Look for a rainbow overhead and listen as the birds start to sing again.