Backpacking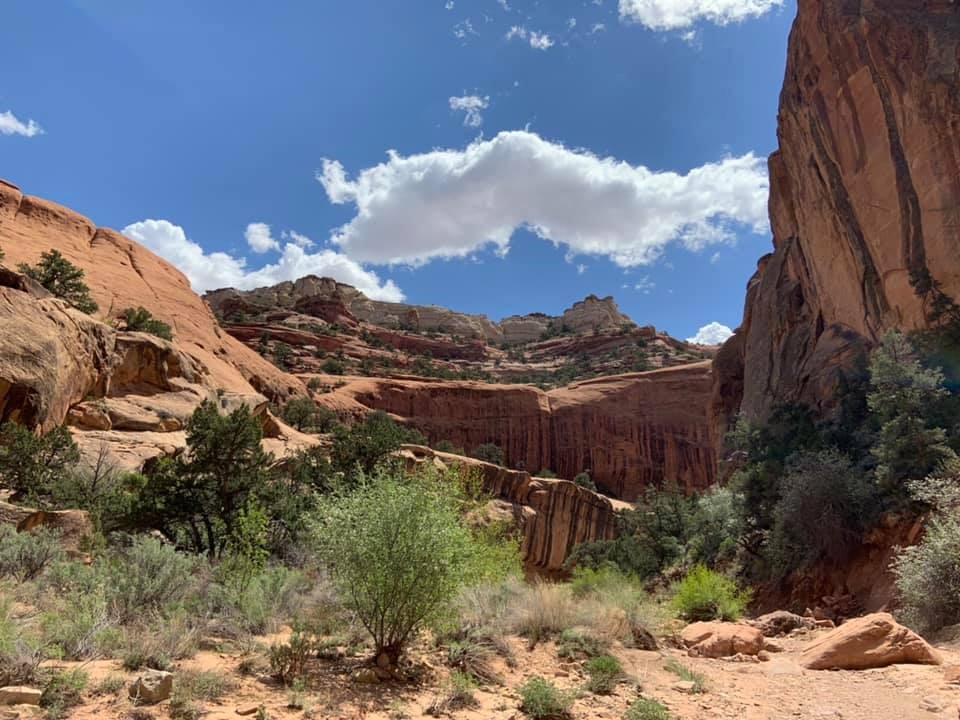 Capitol Reef offers many hiking options for serious backpackers and those who enjoy exploring remote areas. Marked hiking routes lead into narrow, twisting gorges and slot canyons and to spectacular viewpoints high atop the Waterpocket Fold. A backcountry permit is required for camping outside of established campgrounds. The permit is free and can be obtained in person at the visitor center during normal business hours.

Route descriptions and maps can be found below. Remember, your safety is your responsibility. Cell service is not reliable in much of the park, so it is a good idea to leave your trip plan with a person who is not coming with you. Be sure to hike smart and follow all the rules and regulations.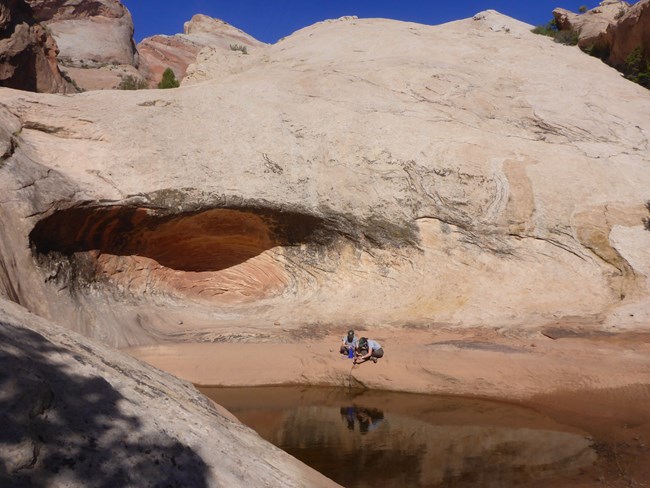 Your cooperation in observing these regulations will assure these unique resources will be preserved for your further enjoyment, and the enjoyment of future generations. Leave no trace of your visit.
Backpacking
A free backcountry permit, available at the visitor center, is required for all overnight trips.
Purify all water before drinking. Do not pollute water sources with soap, food scraps, sunscreen, lotion, etc. Do not swim or bathe in potholes or tanks.
When possible, hike on existing roads and trails. In other areas, walk on slickrock, in washes, and on animal trails. Avoid walking on biological soil crusts.
Do not disturb or deface natural features, historic sites, or archaeological sites.
Collecting items of any kind is prohibited.
Pack out all trash including food scraps, cigarette butts, and toilet paper. Burning or burying toilet paper is prohibited.
Bury human waste 6 inches (15 cm) deep in soil and at least 300 feet (92 m) away from any water sources, and out of washes.
Pets are not permitted on trails or in the backcountry and may not be left unattended.
Gathering firewood and building fires is prohibited; use fuel burning stoves in the backcountry.
Camp at least 1/2 mile (0.8 km) from roads and trailheads. Camp out of sight and sound of the trail and other campers. Camp 300 feet (92 m) away from any water source, archaeological/historic sites, and trail junctions.
Parties using the park's backcountry areas for overnight camping are limited in size to no more than 12 persons, not counting commercially permitted guides.
Group size shall not exceed 12 people sharing the same affiliation (school, church, club, scout group, family, friends, etc., or combination thereof) in the same drainage, general area or on the same trail on the same day.
This applies to people traveling or camping together, and it applies to day-use as well as overnight use.
Groups larger than 12, sharing the same affiliation, may divide into groups smaller than 12, provided they do not occupy the same drainage, general area or the same route/trail on the same day.
Backcountry camping is limited to 3 nights in a particular location, 14 days per trip, and 30 days annually.
Camping with a Vehicle
Vehicle camping is restricted to designated sites within Cedar Mesa Campground or Cathedral Campground.
Fires are permitted at established campgrounds but must be contained within designated receptacles in each site. Wood gathering is prohibited within the park. Wood may be purchased at the Gifford House or at local stores during the summer season.
Read and follow posted guidelines in the campgrounds.
Pets must be leashed at all times.
Vehicle Use
All vehicles must stay on designated roads. Vehicles and drivers must be state licensed.
All-Terrain Vehicles (ATVs) and Utility-Terrain Vehicles (UTVs)
The use of ATVs and UTVs is not permitted in the park.
Bicycles (considered vehicles) are restricted to roadways and are not permitted on any trail or anywhere off-road.
The use of any weapon, trap, or net is prohibited in all national park sites. Carrying of firearms must comply with state law. Firearms are prohibited inside all federal facilities, such as the visitor center.
Hayduke Trail
All backcountry users are required to have a free permit. Hayduke Trail hikers, please email the park for information related to permits for the section of the trail within Capitol Reef National Park.
Recreational horse and pack animal use is a traditional means of viewing and experiencing Capitol Reef National Park. "Pack animals" are defined as horses, burros, and mules. A Backcountry Use Permit, available at the visitor center, is required for each party with horses or pack animals staying overnight in the park.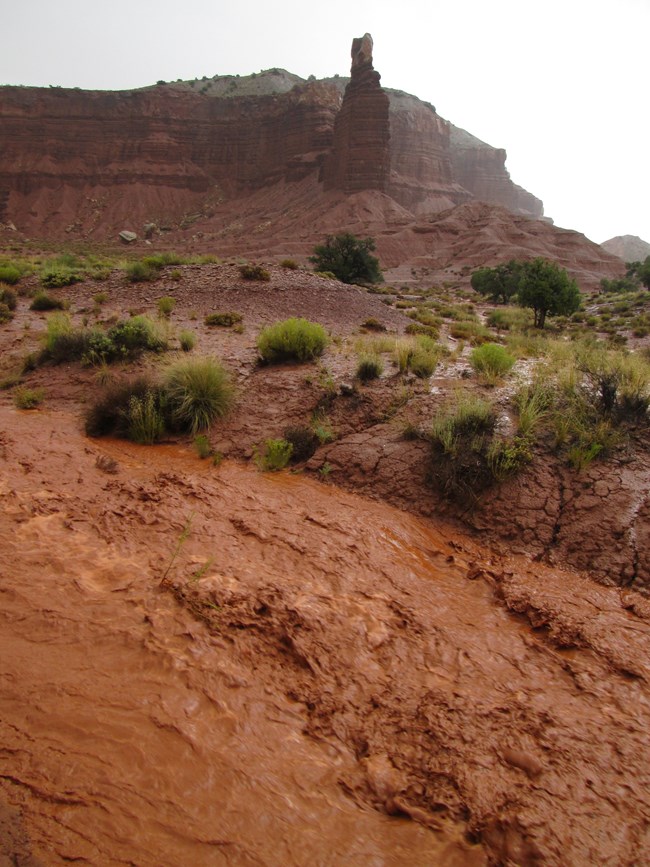 Check the weather forecast before your backpacking trip. Be aware of heat risks and the flash flood potential ratings.
Locations include anywhere along the Scenic Drive and State Route 24, including Pleasant Creek and Spring Canyon.
Locations include Lower Muley Twist, Upper Muley Twist, Burro, Cottonwood, and Sheets Gulch, and Halls Creek.
Includes all of Cathedral Valley.
Last updated: March 21, 2023