Water in the Desert
Water shapes the geology, gives life to plants and animals, and dictates where people live and prosper.

Much of the Capitol Reef region is considered "high desert," with an average of 8 inches (20.3 cm) of precipitation a year. Despite this classification, perennial (year-round) streams and rivers give life to the plants, animals, and people who have lived in the area for millennia. Summer monsoons bring torrential downpours that nourish the land, but also can wreak havoc with flash floods, and give glimpses of beauty, with ephemeral waterfalls, and waterpockets (tinajas or potholes) filled with rain water. Winters can be snowy, and when snow melts, it can cause the rivers and streams to rise. Springs also provide a vital source of water throughout the park.
Certain springs are some of the few reliable water sources for humans and animals in Capitol Reef, but they also are fragile. Please tread lightly when refilling water at springs in the park (and always use a filter).

Imagine you are a member of the Powell Expedition, charting unknown territory in remote, southern Utah. Cliff edges, impassable pouroffs, and dead end canyons hamper your path forward. Limited water sources strain your horses and threaten your own survival. Riding through this rough country, you start to differentiate between the many rock layers, and the Navajo Sandstone is a lifesaving one. This prominent white rock layer often has rain filled depressions that allow you to water your horse and fill your canteen. These depressions look like tanks to some people, or potholes to others, or as the Powell Expedition called them, "waterpockets."

Today, waterpockets remain a lifesaving source of water, and it is important to keep them free of contaminants. An entire ecosystem can be found within a waterpocket. Water and fine sediments, plus algae, cyanobacteria, and fungi help create a habitat for aquatic animals including crustaceans, such as tadpole and fairy shrimp; insects, such as water boatman and beetles, snails, and worms; and tiny animals such as mites, rotifers, and even tardigrades. When monsoon rains fill these ephemeral ponds, as some are also known, amphibians like frogs and toads will lay their eggs and hopefully the waterpocket doesn't dry out before the tadpoles metamorphose into adults.

Please respect the waterpockets and do not bathe or swim in them. Substances on your body (e.g., sunscreen, bug spray) can contaminate the water and swimming can disturb sediments, both of which are harmful to aquatic organisms. Waterpockets can be used to refill water supplies on backpacking trips, but the water must be filtered or boiled before use. Depending on the water level, some waterpockets can become traps, for people and animals, and impossible to escape. The easiest hike to see waterpockets is from the Capitol Gorge Trail.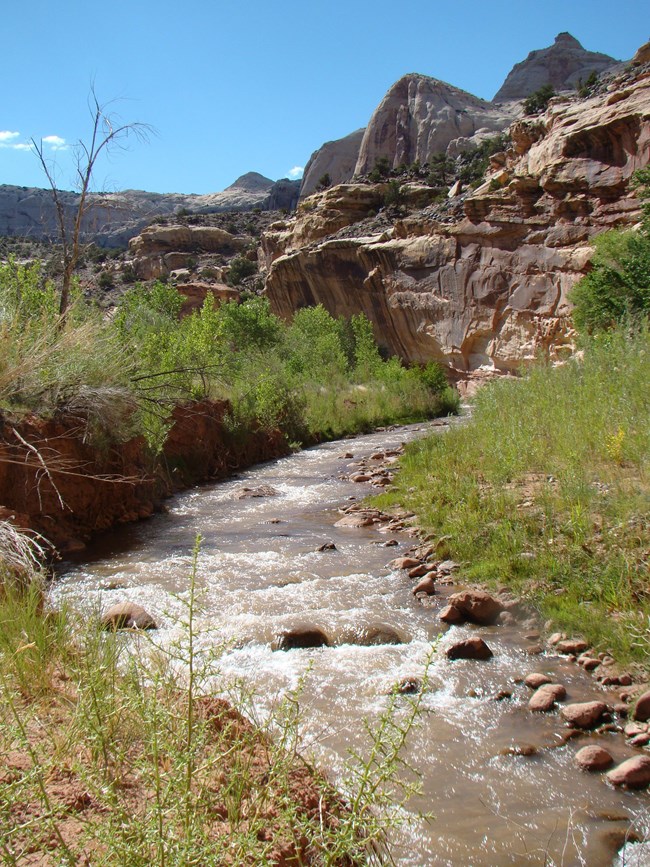 The Fremont River originates from Fish Lake/Johnson Valley, and flows through Capitol Reef, where it is joined by Sulphur Creek (near the picnic area, off the Scenic Drive). Near Hanksville, the Fremont joins the Muddy River and becomes the Dirty Devil River, a tributary of the Colorado River, which eventually flows through Mexico to the Gulf of California (although most of its water has been diverted for human use by then).

Rivers and streams are often easier paths through canyon country than trying to traverse the multitude of rock layers. For thousands of years, humans have used these passageways, and left traces of their culture, like the Fremont Petroglyphs located on Utah Highway 24. For later arrivals, like the Latter-Day Saint Pioneers who traveled with loaded wagons, rivers like the Fremont were difficult to ford. Even into recent history, Utah Highway 24 which parallels the Fremont River, wasn't completed until 1962, in part because there would have been so many river crossings that required bridges.

The same monsoon rains that fill the waterpockets can also cause flash floods in rivers and creeks. These sudden increases in not only water volume, but also in sediment, rocks, boulders, and organic material can deepen the waterways. When flash floods cause rivers or streams to overflow their banks, the floodwaters deposit sediments and organic material, refreshing the soils. Floodplains are known to be fertile places to grow crops, like the settlers in Fruita did, planting orchards and gardens. Large flash floods were infrequent, but could be devastating, wiping out early pioneer communities that formed too close to rivers.

Historically, the Fremont River periodically changed courses due to massive flash floods; now it is less likely because the river is more incised. In 1941, park staff documented the new course of the Fremont River (see the photo comparison below), after a large flood. Today, it would take a major, powerful flash flood for that to happen. But as the climate in the Southwest changes, scientists predict less rain, but more powerful, intense storms, which could potentially cause such a flood.

Flash floods and ephemeral waterfalls are signs of water continuing to erode and shape the landscape.
Fremont River valley in 1941 and 2020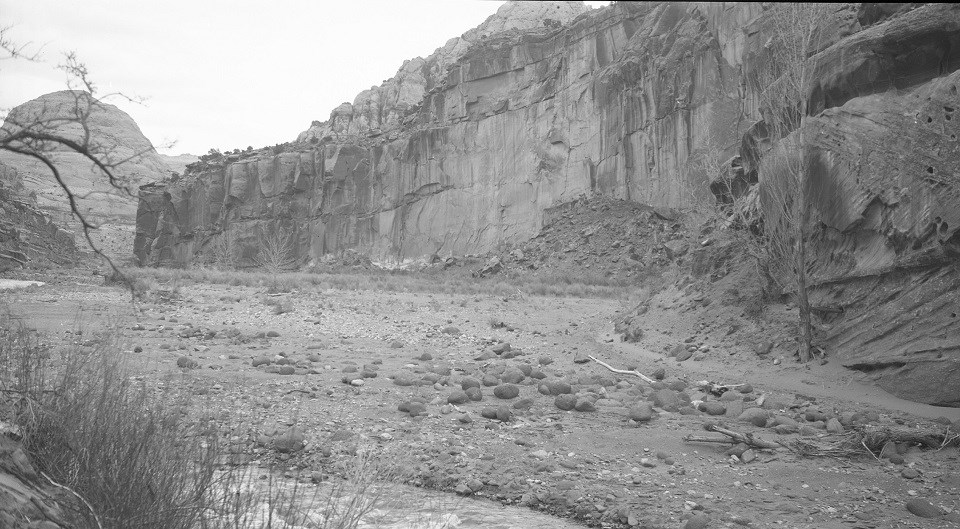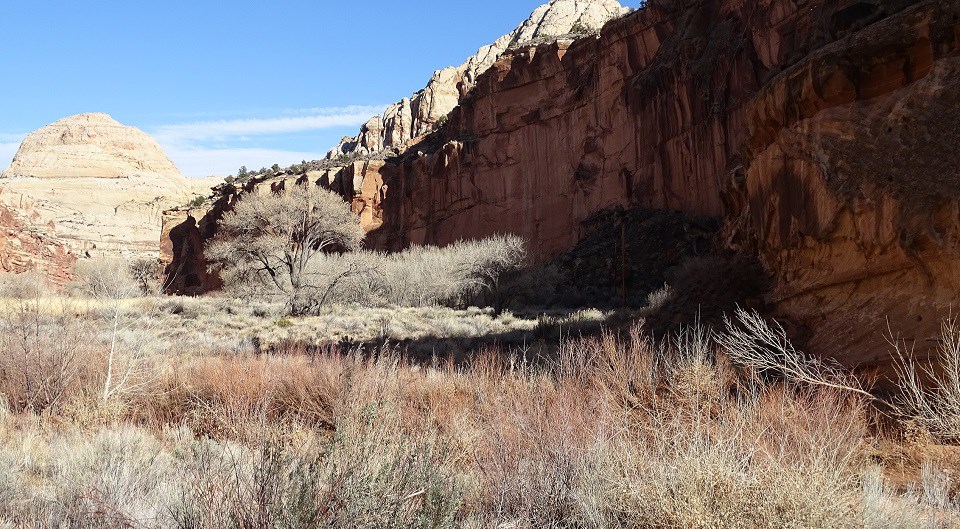 Left image
Looking towards Capitol Dome, after an early April flood, in 1941. This part of the valley had an orchard in it.
Credit: NPS/ S.D. Hendricks
Right image
Almost 80 years later, the Fremont River more deeply incised, and the change in vegetation color is the best indication of where it is.
Credit: NPS/ Emily Van Ness
Water in the desert can be a lifesaver, but it can also be a killer.

For visitors today, the Fremont River and Sulphur Creek can offer a cool respite from summer heat. These waterways might seem tame, but they still can have dangerous, life-threatening flash floods. Be aware of the weather forecast before entering any waterway or canyon during the monsoon season, which generally occurs July through September.

Another aspect of human health and safety is that these waterways flow through agricultural, grazing, and urban lands before reaching the park boundary, and E. coli bacteria counts have been detected at levels exceeding Utah water quality standards. Capitol Reef National Park recommends visitors do not swim or ingest water from the Fremont River or Sulphur Creek.
Learn More about Water Issues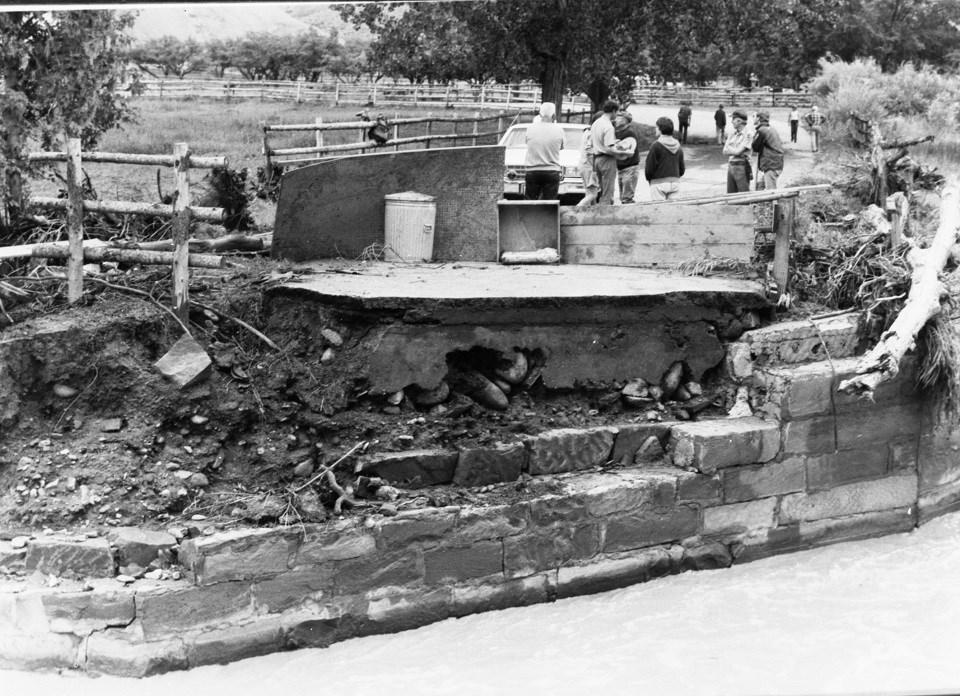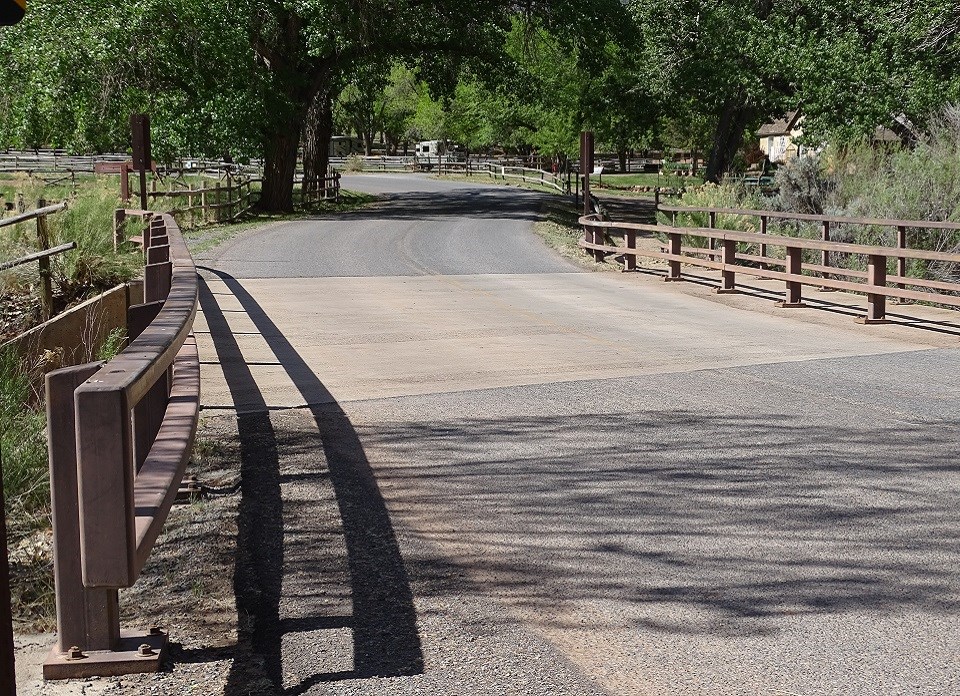 Left image
A July 19, 1985 flood on the Fremont River washed out this bridge near the Gifford House, stranding people on the other side.
Credit: NPS/ Robert J. Raver
Right image
The bridge over the Fremont River in 2020.
Credit: NPS
Last updated: July 12, 2023