Your Dollars At Work
How Recreation Fee Dollars are Utilized
The National Park Service works "....to conserve the scenery and the natural and historic objects and the wild life therein and to provide for the enjoyment of the same in such manner and by such means as will leave them unimpaired for the enjoyment of future generations." (NPS Organic Act 1916)

Protecting our natural and cultural heritage while ensuring that visitors have a safe, enjoyable, and educational experience is expensive. As the number of visitors to parks continues to climb due to the popularity of our national treasures, government funding available for necessities such as road and building repairs, campground maintenance, visitor protection, resource protection and other services has not kept pace with demand.

In 2004, to address these needs, Congress signed the Federal Lands Recreation Enhancement Act (FLREA) which allows the U.S. Department of the Interior to implement an interagency Fee Program in three of its agencies: the National Park Service, the Bureau of Land Management, and the U.S. Fish and Wildlife Service. The program also includes the U.S. Department of Agriculture's Forest Service. The program directs funds collected from park visitors towards the upkeep of the services and facilities they are utilizing.

Capitol Reef National Park is a participant in the Interagency Recreational Fee Program. The program authorizes Capitol Reef National Park to keep up to 100% of the fees collected in the park. These funds have been and will continue to be used for maintenance, repair projects, public service programs, signage, and natural and historical resource preservation.

Some recent projects undertaken at Capitol Reef National Park utilizing recreation fee dollars are listed below.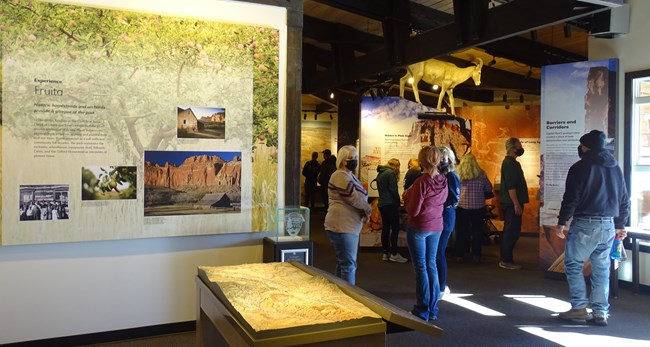 Visitor Center Renovation and New Exhibits
From 2020 to 2022, the visitor center was renovated and new exhibits were installed. Previous exhibits were over forty years old and temporary exhibits had been on display for the past eight years.
*The relief map was not harmed in this update, it is in storage until it can safely be displayed again.
Trail Maintenance

Since 2019, seasonal trail crew workers have been hired with recreation fee dollars to improve trails throughout the Fruita area. Properly maintained trails allow visitors to more safely experience all the park has to offer.
Frying Pan Trail Improvements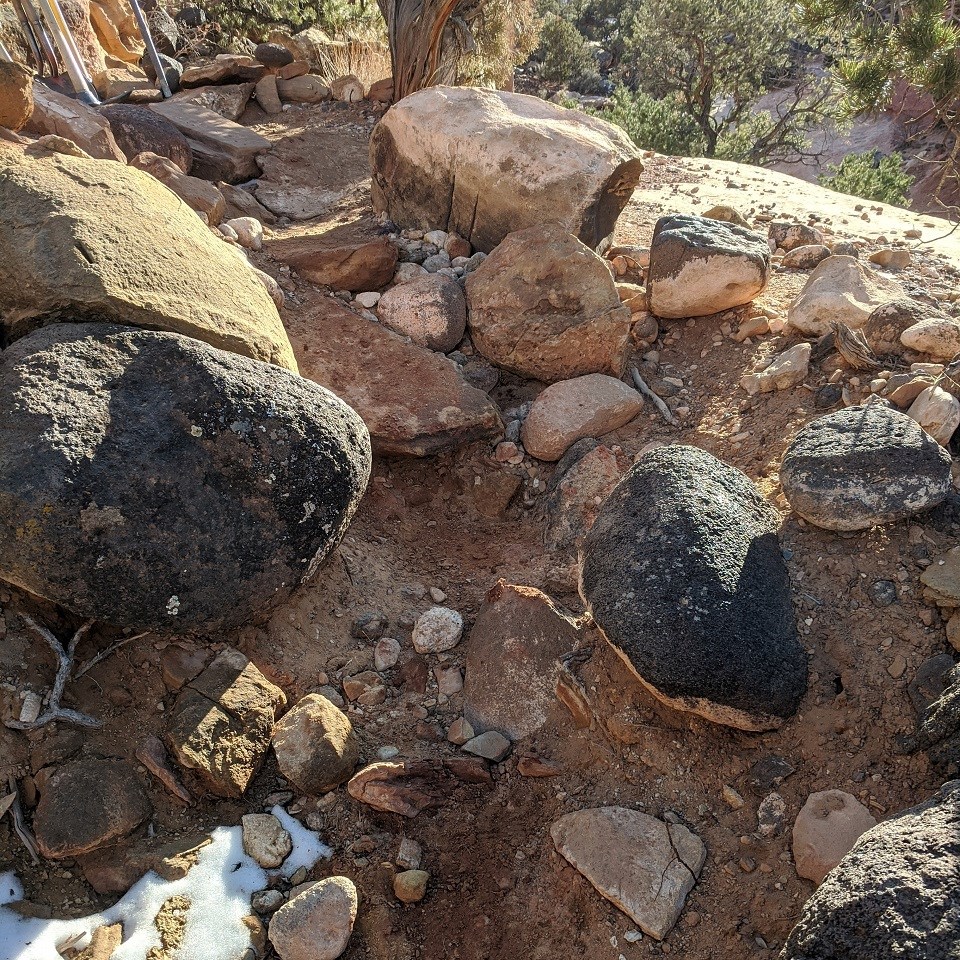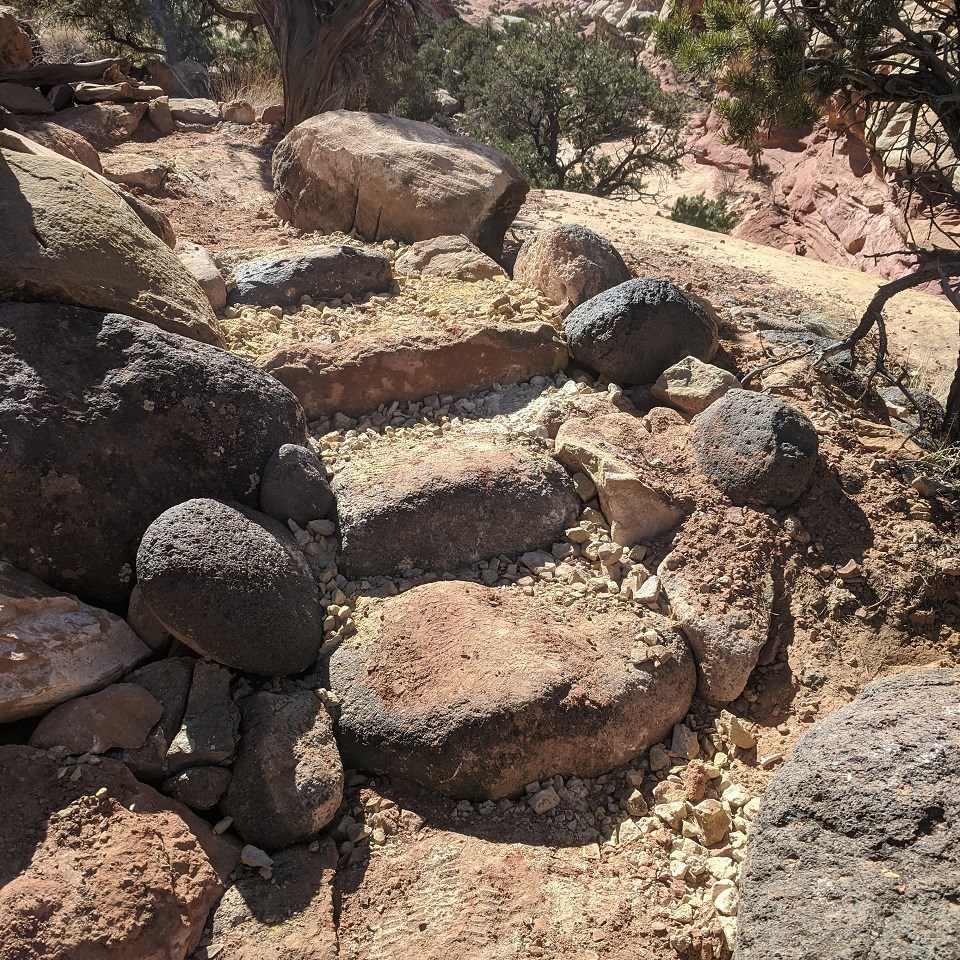 Left image
Before trail improvements the path was hard to follow
Credit: NPS/Joe Sauls
Right image
Clear steps and an easy to follow trail
Credit: NPS/Joe Sauls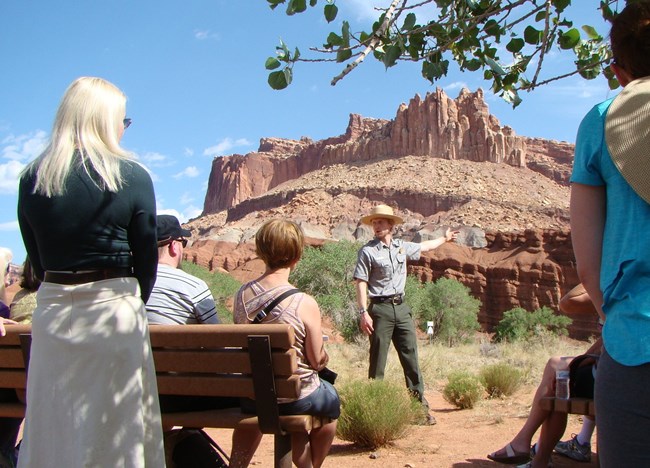 Seasonal Ranger Staff
Each year additional staff are hired for the busy season. From May through October, these rangers staff the visitor center, provide free public programs, and assist visitors with trip planning. When you visit the park, chances are that you will interact with one or more of the seasonal park rangers.

Maintenance Projects
The majority of recreation fee dollars fund maintenance projects. From refurbishing the park entrance signs to the upkeep of the Fruita Campground and orchards, your fee dollars are at work.

Recent projects include:
Installing a campground sprinkler system to reduce water usage

Removing graffiti along trails

Repairing and improving orchard fences and gates

Improving trails
Last updated: March 2, 2022