Shared-Use Path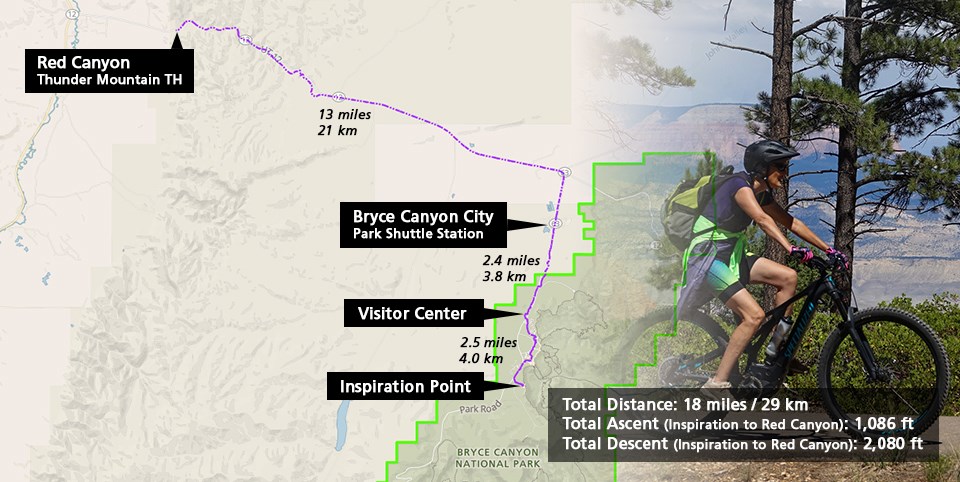 See the Park at Your Speed
The Shared-Use Path provides a scenic opportunity for pedestrians, leashed pets, cyclists, roller or in-line skaters, longboards, non-motorized scooters, wheelchairs, and cross-country skiers to access the park and surrounding areas.
This 18 mile (29 km) path connects the hoodoos of Red Canyon on the western edge of the Paunsaugunt Plateau with Inspiration Point within the park and it generally follows SR-12 and UT-63.
A Typical Visit
Most park visitors will enjoy some portion of the 5 mile (8 km) section connecting Bryce Canyon City and the Shuttle Station to the park Visitor Center, Sunrise Point, Lodge, Sunset Point, and Inspiration Point.. If you want to enjoy a bicycle ride but didn't bring one, you might begin by renting a bicycle through a nearby vendor. Winter visitors might consider cross-country ski and snowshoe rental in Bryce Canyon City.
The path generally climbs in elevation from north to south (Shuttle Station to Inspiration Point), gaining 746 feet and descending 266 feet. For those looking to enjoy more downhill than up, the park shuttle runs from April to October and can accomodate 2 bicycles on its front rack. In this way, one could enjoy a shuttle ride to Inspiration Point and a mostly downhill 5-mile ride back to the shuttle station. Bike racks are located at all viewpoints, the Lodge, Visitor Center, and Shuttle Station.
Shuttle Station to Inspiration Point
From the Park Shuttle Station it is 2.4 miles (3.9 km) to the Visitor Center, ascending 336 feet and descending 97 feet.
From the Visitor Center it is 0.8 miles (1.3 km) to the Sunrise Point General Store, ascending 104 feet and descending 26 feet.
From Sunrise Point it is 1.8 miles (2.9 km) to Inspiration Point, climbing 343 feet and descending 168 feet.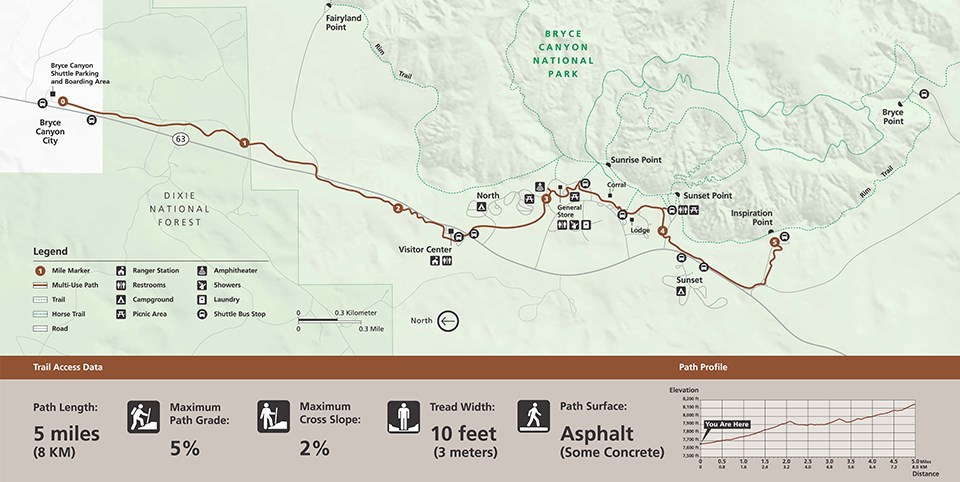 Regulations
The use of bicycles or E-bikes is only permitted on park roads, the Shared-use Path and parking areas with paved surfaces
This includes park roads, campgrounds, paved trails such as the Shared-Use Path, and paved viewpoints. Bicycles are not permitted on any unpaved trails, including those below and along the rim. Those looking for mountain biking opportunities should consider nearby Red Canyon and trails such as the Thunder Mountain Trail.
E-Bikes Policy
The term "e-bike" means a two- or three-wheeled cycle with fully operable pedals and an electric motor of less than 750 watts (1 h.p.).
Some classes of E-bikes are allowed in Bryce Canyon National Park where traditional bicycles are allowed. E-bikes are prohibited where traditional bicycles are prohibited. Except where use of motor vehicles by the public is allowed, using the electric motor to move an e-bike without pedaling is prohibited.
Class of E-bike:
Permitted: Class 1 E-bike: are electric bicycles equipped with a motor that provides assistance only when the rider is pedaling, and that ceases to provide assistance when the bicycle reaches the speed of 20 miles per hour.
Permitted: Class 3 E-bike are electric bicycles equipped with a motor that provides assistance only when the rider is pedaling, and that ceases to provide assistance when the bicycle reaches the speed of 28 miles per hour.
Not permitted: Class II E-bikes, which are throttle assisted e-bikes and per policy, only authorized to be used where public motor vehicles can go. Class II e-bikes are prohibited because the speed of 28 MPH is too fast for the congested Shared Use Path.
Other Modes of Transportation
Wheelchairs, motorized wheelchairs, and electric carts similar to wheelchairs for mobility purposes are permitted. The use of roller skates, inline skates, longboards and two wheeled, non-motorized scooters is permitted on the Shared Use Path. All other motorized vehicles are prohibited on the Shared-Use Path.
Last updated: March 29, 2021