Oversized Vehicle Restrictions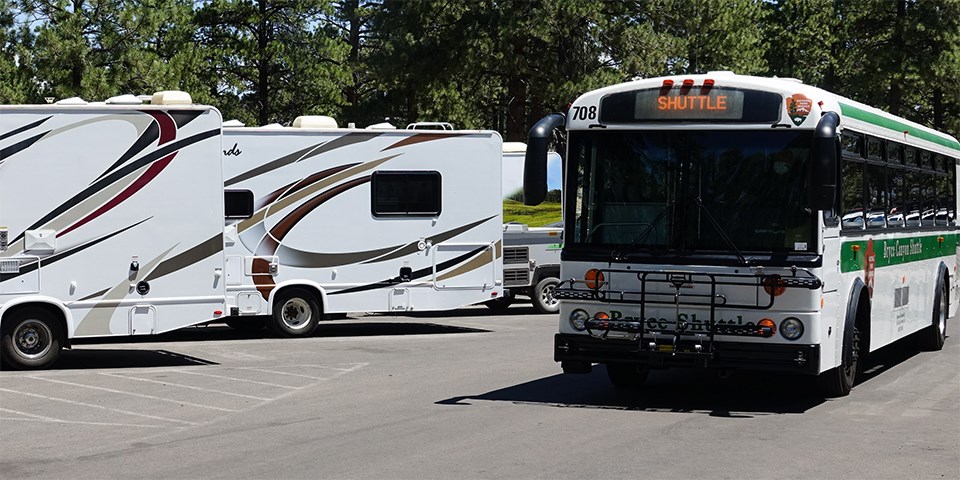 Oversized Vehicle Parking Restrictions
Due to rising vehicle congestion and interference with park shuttle operations, vehicles 23 feet (7 meters) and longer are restricted from parking in the following areas during park Shuttle Season (typically mid-April to mid-October). These restrictions apply while park shuttles are operating (8 a.m. to 8 p.m. with shorter hours to 6 p.m. in April and October).
Restricted Parking Areas during Shuttle Operations:
Generally speaking, these restrictions apply to facilities and viewpoints in the popular Bryce Amphitheater area of the park, found along the first three miles of the main park road. This includes:
The Visitor Center (see Where Can I Park? below for nearby alternative)
Sunrise Point (includes General Store and Historic Gas Station Area)
Bryce Lodge (unless you are staying in a Lodge/Cabin/Motel Unit)
Sunset Point
Inspiration Point
Bryce Point
Paria View (Restriction always in place due to parking lot size)

Where Can I Park?
Shuttle Station in Bryce Canyon City (Park for free before entering the park and ride the park shuttle [free with park admission] to see the above areas. Also provides access to the Shared-Use Path).
Additional Visitor Center Parking Lot (First left turn past the Visitor Center. Also provides access to the Shared-Use Path.)
Campgrounds and Park Lodging (if you're staying in a park campground or lodging you can park your vehicle at your site or lodging unit and utilize the free park shuttle)
All viewpoints along the Southern Scenic Drive (From Swamp Canyon south to Rainbow Point)
Tour Bus Parking Permits
Parking for tour busses, commercial tour vehicles, and other exceptions to these restrictions may be provided at the park entrance Fee Booths. Hang tags and instructions are provided by rangers for these vehicles to utilize bus parking spaces in these areas.
If you have questions about your vehicle's eligibility, you can contact the Fee Collection Supervisor at 435-834-4771.
Last updated: March 16, 2023