Lightning Safety


Lightning is a Hazard That Has Been Responsible For Deaths and Injuries in the Park
Lightning is serious business. Summer storms at Bryce Canyon bring lightning, a powerful force which can and does kill. Take a look along the canyon's edge, and you'll soon spot one of the countless trees that have been struck. Don't let that be you! Here at Bryce Canyon, lightning has claimed the lives of four visitors in the past 23 years. Six other visitors have been seriously injured by lightning strikes. Though most common in July, August, and September, thunderstorms can happen any time of the year.
WHAT YOU SHOULD KNOW ABOUT BEING CAUGHT OUTSIDE IN A THUNDERSTORM
All thunderstorms produce lightning and are dangerous.

There is no safe place outside in a thunderstorm. Plan ahead to avoid dangerous

lightning storms

.

Lightning is associated with heavy rain and hail but it often strikes outside of it's area.

Lightning can strike as far as 10 miles from any rainfall.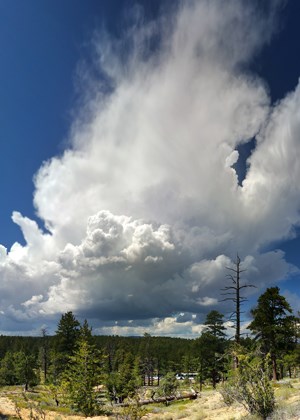 Head To Safety Early
Monitor the weather. Look for signs of a developing thunderstorm such as...
Towering Clouds

Darkening Skies

Flashes of Lightning
Increasing Wind
When Thunder Roars, Go Indoors

If you hear a clap of thunder, a thunderstorm is within 10 miles (16 km). Do not wait;this is Mother Nature warning you that you need to
IMMEDIATELY SEEK SHELTER such as...
A Building with Walls, Roof and Floor
Hard Top Vehicle
Wait Thirty Minutes

DO NOT
go back outside until at least 30 minutes after last hearing thunder.
Not Safe Locations
If you can't get to a safe location, avoid the most dangerous places and activities.
Higher elevations
Wide-open areas
Tall Isolated Objects
Water-related Activities
Open Vehicles.
Shuttle Bus Stops
Pit Toilets
Do Not Go Under Trees
Avoid the Rim Trail, Viewpoints, and other Open Areas
Do not be the Tallest Object in the Area
Remember...
There is no substitute for getting to a safe place.
If someone is injured or unresponsive CALL 9-1-1. Provide the most accurate location information you can.

Don't Get Zapped!
Visit our Don't Get Zapped web page and then take the quiz to see if you know how to be safe about lightning at Bryce Canyon National Park.
Last updated: December 19, 2022