Thing to Do
Queen's Garden Trail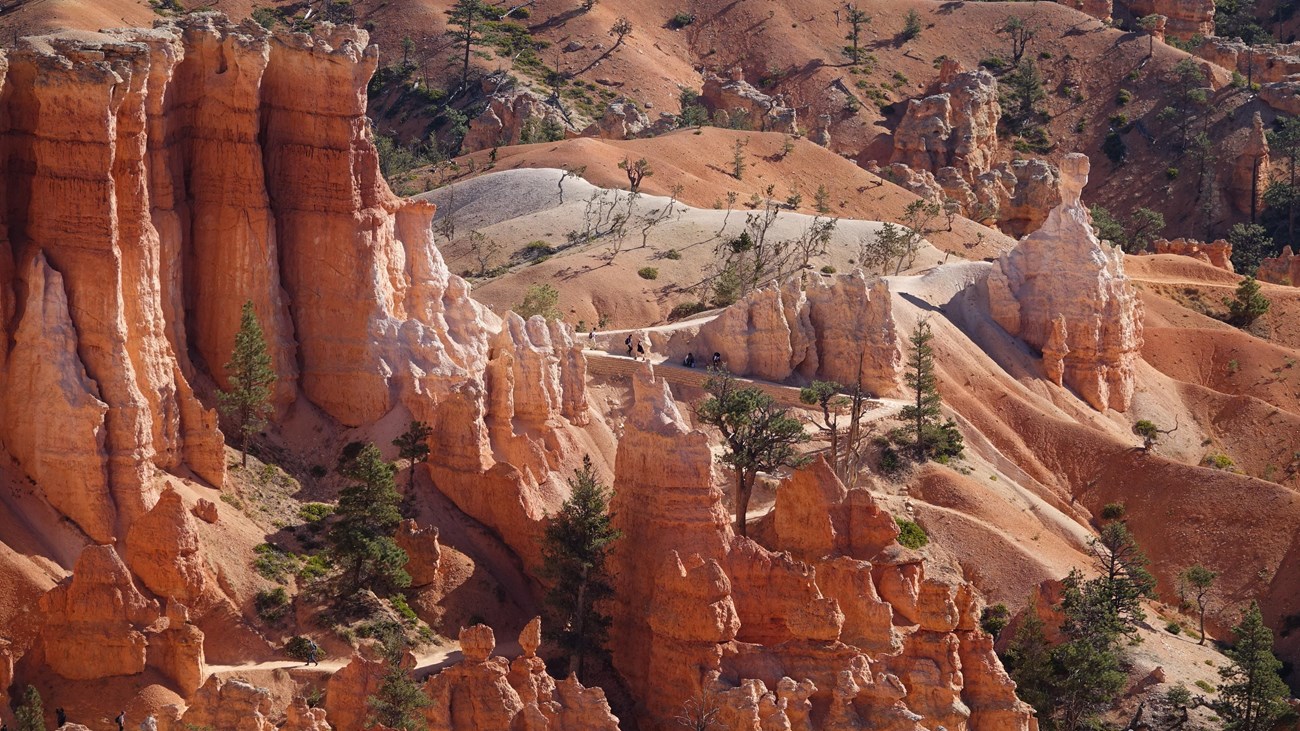 The Queen's Garden Trail is the least difficult of the trails descending from the rim into the Bryce Canyon Amphitheater. Hike this out-and-back trail to the Queen Victoria hoodoo at the end of a short spur trail and experience the splendor of hiking amongst the hoodoos.
Trailhead: Sunrise Point
Parking: Available at Sunrise Point (check when parking lots are busiest). Oversized vehicles are not permitted in this parking area when the shuttle is in operation.
Distance: 1.8 miles (2.9 km) roundtrip
Approximate Time: 1-2 hours
Elevation Gain: 450 feet (137 meters)
Difficulty: Moderate (less than 1000 feet elevation gain, moderate length)
Services: Accessible restrooms and a water-fill station are available at the General Store near Sunrise Point (seasonally).
Shuttle Service: Yes.
Pets are not allowed on this trail. Service animals are allowed in national parks. What is a service animal?
This trail is
commonly combined with the Navajo Loop
to create a 2.9 mile round trip trail where you can descend Queen's Garden at Sunrise Point and ascend Navajo Loop to Sunset Point. Complete the loop using the Sunset to Sunrise section of the Rim Trail.
Activity
Front-Country Hiking
Entrance fees may apply, see Fees & Passes information.
Accessibility Information
Due to the park's natural terrain, this is not considered an accessible trail. 
Surface Type: Firm Native Sediment
Total Ascent: 450 feet (137 meters)
Length: 1.8 mi (2.9km) roundtrip
Typical Grade: 11.0%
Maximum Grade: 25.0%
Typical Cross Slope: 5.0%
Maximum Cross Slope: 17.0%
Typical Width: 81 inches (206 cm)
Minimum Width: 33 inches (84 cm)
Service animals are allowed in national parks. 
What is a service animal?
Last updated: August 7, 2023