Primitive Roadside Campsites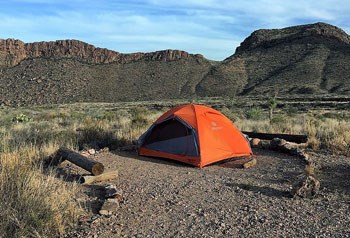 For those who wish to tent camp in the backcountry without having to backpack, Big Bend offers 64 primitive campsites along backcountry roads. These sites are located in the remote desert areas of the park. While a couple of sites are accessible to most vehicles, a high-clearance and sometimes 4-wheel drive vehicle is necessary to reach most of them.

Primitive roadside campsites offer nice views, solitude, and a small flat gravel space to set up camp next to your vehicle. No shade, toilets, or other amenities are provided.
The use of generators is prohibited in the backcountry.
These sites are primitive backcountry sites and

will not accommodate large RVs and trailers

. Plan accordingly.
There are strict vehicle length and capacity limits for each campsite, so plan accordingly.
A backcountry use permit is required to camp at any of these sites.
Permits for the most popular 34 campsites are available online (up to 6 months in advance) via www.recreation.gov
Permits for the remaining 30 primitive roadside campsites along the River Road, Glenn Springs Road, and Old Maverick Road are only available in person at Panther Junction Visitor Center (daily 8:30 am - 5:00 pm) and Chisos Basin Visitor Center (daily 8:30 am - 4:00 pm).
NOTE: A rugged high-clearance 4x4 vehicle is required to access these campsites.
Site photos and detailed descriptions are linked below.
Obtain a backcountry permit for these sites online via www.recreation.gov

(Please note: we recommend that the first thing you do on recreation.gov be to create an account, then select the campsites you're interested in).
Many of Big Bend's Chisos backpacking and primitive roadside campsites are now reservable online up to 6 months in advance. Learn how to arrange your backcountry permit using the recreation.gov online reservation system.

Duration:

5 minutes, 41 seconds
Primitive Roadside Campsites— Improved Dirt Roads
Primitive roadside campsites along improved dirt roads are usually accessible to passenger vehicles except after rain when road conditions may deteriorate and require the use of high clearance or even 4-wheel drive vehicles to access these campsites.
Primitive Roadside Campsites— Primitive Dirt Roads
Primitive dirt roads are maintained for high clearance vehicles only, and may require 4-wheel drive. They may be rocky with areas of soft sand that are unsafe for sedans or RVs. Rain will make these roads difficult to drive or impassable.
Last updated: July 2, 2021