Park Store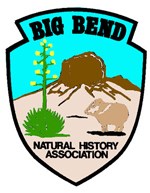 Big Bend Natural History Association
Inside each of Big Bend's five visitor centers, you will find a fully stocked bookstore operated in partnership with a private, non-profit organization called Big Bend Natural History Association (BBNHA). The bookstore carries a large variety of educational books, videos, park information, and high quality souvenirs to help you learn more about the park and its resources or just help you remember your trip to Big Bend.

The wonderful thing about purchasing items in our bookstores is that all of the profit from sales stays in the park and directly benefit park goals and interpretive operations.
The Big Bend Natural History Assocation is a non-profit, tax-exempt organization established in 1956. Authorized by Congress, our goal is to educate the public to a better understanding and appreciation of the Big Bend area and what it represents in terms of our historical and natural heritage. Over the years our aid to the National Park Service totals more than two million dollars. BBNHA also supports Amistad National Recreation Area and the Rio Grande Wild and Scenic River.
For more information about Big Bend Natural History Association, please call 432-477-2236, or visit
www.bigbendbookstore.org


Last updated: June 1, 2020