Primitive Roadside Campsite— Hannold Draw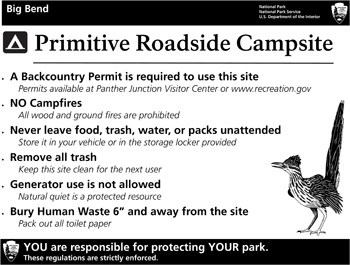 Campsite Specifics
Hannold Draw Primitive Roadside Campsite is located along a short gravel road, 4.8 miles north of Panther Junction on Route 11 (toward Persimmon Gap).

Primitive roadside sites offer nice views, solitude, and a small flat gravel space to set up camp next to your vehicle. No shade, toilets, or other amenities are provided. The use of generators is prohibited in the backcountry.
Hannold Draw (HD-1) can accommodate 3 vehicles*, 20 people. Corral can accommodate 8 horses.
*NOTE: A trailer is considered a vehicle for site capacities.

You can now obtain a backcountry permit to use this site up to 180 days in advance through www.recreation.gov
Directions
Hannold Draw (HD-1) is located 4.8 miles north of Panther Junction on Route 11 (toward Persimmon Gap). The turnoff is located on the east side of the road between mile markers 4 and 5. The access road is not marked with a sign, so watch carefully. A short, 0.25 mile gravel access road leads to the campsite area.
Road Conditions
The access road is generally well-maintained and accessible to all passenger vehicles. Following rains, the road may become very rutted and high-clearance vehicles may be necessary.
Vegetation
There is no shade at this site. Vegetation in the vicinity is sparse, mostly creosote and lechuguilla.
Views
There is a good view of the Chisos Mountains to the north and the Sierra del Carmen range is visible to the distant east. The site is in a low draw.
Cautions
Javelina frequent this area. Secure all food in your vehicle, including coolers. Pick up all trash. Javelina become aggressive around food.
Remarks
Hannold Draw 1 (HD-1) is a sizeable campsite area suitable for several tents or a large RV.
NOTE: A large cleared area south of the campsite is a gravel and equipment stockpile used by the park's road crew and contractors.
The draw just to the east of the site may have flowing water following heavy rain.
Campsite Photos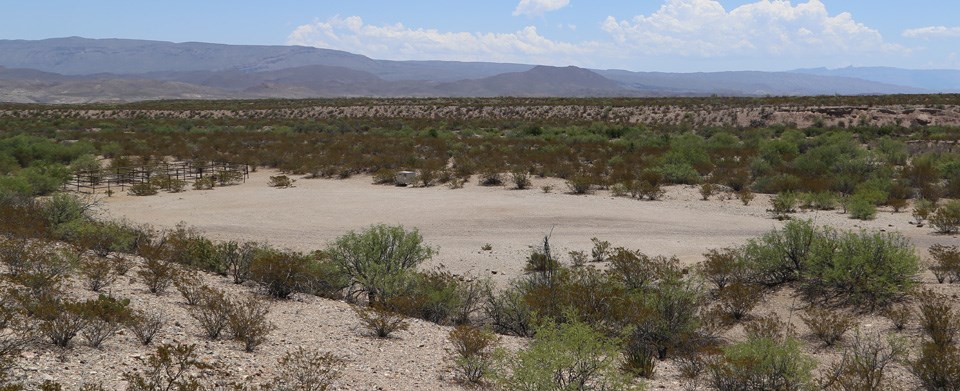 Last updated: January 12, 2023