Backcountry Use Permits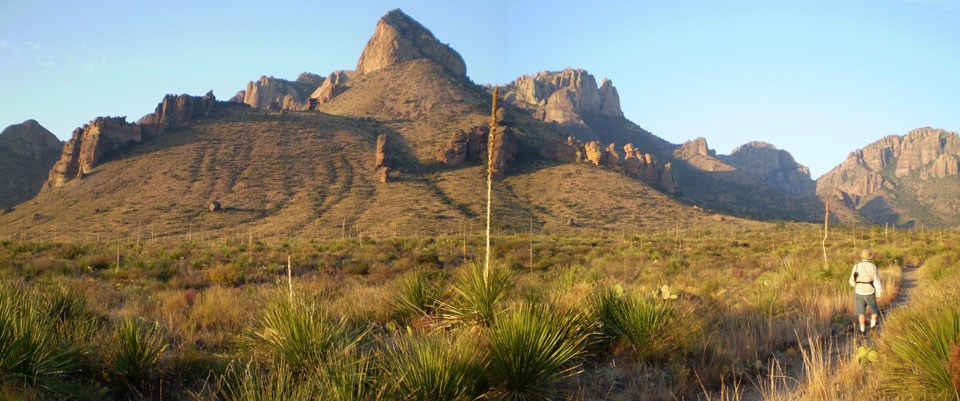 A backcountry permit is required for ALL backcountry camping in Big Bend National Park. This includes backpacking and primitive roadside campsites. Backcountry permits are also required for river trips and stock use.

Group Size Limit is 12 People
Things to know about Big Bend backcountry permits:
How to get a Backcountry Permit
Backcountry Permits are available at the Panther Junction and Chisos Basin Visitor Centers.

Open daily: Panther Junction 8:30 am - 5:00 pm, Chisos Basin 9:00 am - 4:00 pm (closed for lunch).

Most backcountry campsites (both Chisos Mountains Backpacking and Primitive Roadside Campsites) are available for online permitting up to 180 days in advance through www.recreation.gov

or through the recreation.gov call center at 1-877-444-6777.

Permits for desert wilderness backpacking and primitive roadside sites along the Maverick Road and remote River Road are available in person only at Panther Junction and Chisos Basin Visitor Centers.
River Permits are required for day use and overnight river trips.

River Permits available in person (up to 7 days in advance) at both Chisos Basin and Panther Junction Visitor Centers.
Open daily: Panther Junction 8:30 am - 5:00 pm, Chisos Basin 9:00 am - 4:00 pm (closed for lunch).

Permit cost is $10 per night for overnight use ($5 with a Senior or Access pass). There is no charge for day-use river or stock permits.
During peak visitation periods permits are in high demand, and most sites are full...so plan alternate itineraries.
A backcountry permit authorizes camping at designated backpacking sites in the Chisos Mountains

or at designated

backcountry roadside campsites along the rugged backcountry dirt roads

. You must choose your campsite(s) at the time the permit is issued. Wilderness desert backpacking requires specifying a detailed itinerary for each night of your trip.
Many of Big Bend's Chisos backpacking and primitive roadside campsites are now reservable online up to 6 months in advance. Learn how to arrange your backcountry permit using the recreation.gov online reservation system.

Duration:

5 minutes, 41 seconds
Camping Limits
Permits may be written for up to 14 consecutive nights.
Visitors can stay in the park up to 14 consecutive nights in either a front or backcountry site, with a limit of 28 total nights in the park in a calendar year.

Campers can occupy a specific site up to 14 total nights in a year.
During the busy season of January 1–April 15, visitors are limited to a total of 14 nights in the park.

Permit changes (changing a campsite) may be made in person without an additional fee, provided no new days are added. Permit changes must be made in person.
Important: Backcountry Permits issued in advance through www.recreation.gov are managed as a separate system. Big Bend National Park staff cannot make changes to those pre-arranged permits when you arrive in the park. This must be arranged through Recreation.gov.
Open Desert Backpacking
Some of the desert areas of Big Bend National Park are open to wilderness backpacking. A backcountry permit is required. Prospective desert backpackers will need to have all the gear necessary for a safe trip, and be prepared to describe a detailed itinerary to a park ranger. There are limits to the number of backpackers allowed in each area, and a variety of backcountry regulations that must be followed.
Last updated: June 16, 2021