Be Safe on Big Bend's Backcountry Roads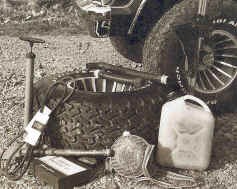 Most backcountry roads in Big Bend require four wheel drive and high clearance (Sturdy tires on 15" rims or more, and at least 8 inches clearance from the lowest part of the axle or frame).

Before you set out to explore backcountry roads, make sure your vehicle and its tires are in good condition. A disabled vehicle on Big Bend's isolated roads can be a life-threatening situation. Check your vehicle's fluid levels and the air pressure in the tires to insure they are at the recommended levels. Make sure you have emergency equipment: a good spare tire, a tire repair kit and pump, extra belts and hoses, tools to change tires, and extra coolant or water for your vehicle's radiator. A shovel is also a handy tool to have in case your vehicle gets bogged down in sand.
You must also provide for yourself and your passengers. Carry plenty of water; you may encounter someone in the backcountry that really needs it (maybe yourself!). Carry some type of high energy food that will keep, such as trail mix, in case you need it.
You should also carry a first aid kit and sleeping gear in case you have to spend an unplanned night in your vehicle. Dress as if you were going hiking (hiking boots, long pants, long sleeve shirt, and a hat) so you are prepared to walk, if the need arises. Check on current road conditions at one of the visitor centers before you go, and let a friend or relative know where you are going and when you expect to return.
When driving, a slower speed is much easier on your vehicle, its tires, and its occupants, and it also allows you to better enjoy the scenery. Every vehicle has its limits; if you encounter a road obstacle or conditions that are beyond the limits of your vehicle, turn around; in most areas, you will usually have the option to do so.
Carry a map of the park and know where you are on the road at all times (keep track of how far you have traveled in case you have to walk back). If your vehicle becomes disabled, it is almost always best to stay with your vehicle. Hopefully a park ranger or another visitor will see you, or whoever you informed of your itinerary, will report you overdue. If walking becomes necessary, it is imperative that you carry water and stay on the road. Leave a note on the dashboard of your vehicle that says what the problem is and where you are going.
In addition to protecting yourself, you are also responsible for protecting and preserving the resources of the park. Stay on the established roadways. Off-road vehicle travel is not allowed. Ground or wood fires are also prohibited. Collecting rocks, plants, animals, artifacts, or any other park resources is illegal.
If you wish to camp in the backcountry, obtain a backcountry use permit from one of the visitor centers before you begin your trip.
Finally, remember to lock your vehicle if you are leaving it unattended, and secure your valuables.
Last updated: February 22, 2022