Primitive Roadside Campsites— Old Ore Road

You Will Need A High Clearance Four-Wheel-Drive (4WD) Vehicle
A high clearance 4WD vehicle is defined as a SUV or truck type vehicle, with at least 15 inch tire rims or more, with a low gear transfer case, designed for heavier type use than a standard passenger vehicle, with at least 8 inches of clearance or more from the lowest point of the frame, body, suspension, or differential, to the ground, also including a means to mechanically power both, front and real wheels at the same time.
You will NOT be able to access ANY Old Ore Road campsites with a passenger car, mini-van, RV, or trailer.

This 26 mile-long primitive road follows the early 1900s historic route used to transport ore from Mexican mines to the railroad station in Marathon. This road has excellent vistas of the Chisos Mountains and Tornillo Creek, and passes through the foothills of the Deadhorse Mountains, including the cliffs of Alto Relex. A high clearance vehicle and good tires are necessary. It takes approximately 3 1/2 hours to travel this road from end to end.

Ranger tip: The northern half is much rougher than the southern half.

There are 11 Primitive Roadside Campsites located along the Old Ore Road (listing South to North):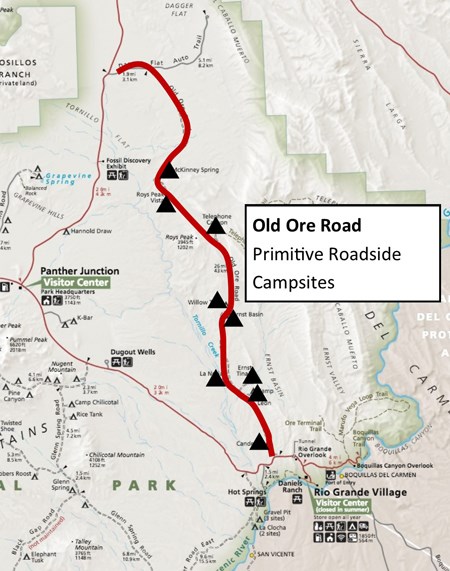 A Backcountry Permit is required to camp in any of these campsites. Permits are available in-person only at Panther Junction and Chisos Basin Visitor Centers. Permits available up to 24 hours in advance of the first night.
Last updated: May 1, 2023