Alerts & Conditions
CLOSURES
What Places/Roads are Closed Today?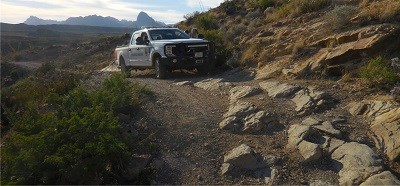 Roads:
All park roads are currently OPEN
Travel on primitive dirt roads

requires High Clearance AND true Four-Wheel Drive

. These roads are NOT passable to passenger cars, minivans, motorhomes, and tiny crossover SUVs.
Old Ore Road is extremely rough and only suitable for the most rugged of vehicles. Never leave the pavement without full 4x4 capability with good tires, good spare, jack, and water. No cars, minivans, or RVs.
Hiking Trails
The Tuff Canyon Overlooks and Trail are CLOSED due to a rockfall and potentially unstable slopes. It will remain closed until it is carefully evaluated for safety.
Santa Elena Canyon Trail:
Depending upon recent rainfall, Terlingua Creek may be dry sand, thick mud, or flowing water. Carefully assess conditions and your abilities before attempting to cross. Follow trail signs for the correct crossing location. Crossing at other locations up the creek is dangerous, damages vegetation, and causes erosion. If water levels are too high, do NOT attempt to cross.
Last updated: September 22, 2023