Fees & Passes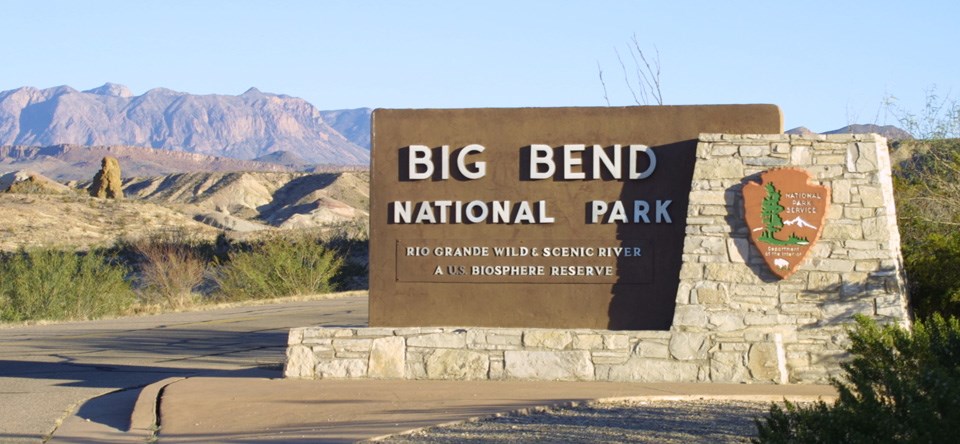 BIG BEND ENTRANCE FEES & PASSES
All vehicles entering Big Bend National Park are subject to an entrance fee.

All fees are payable by credit or debit cards only.
Mobile pay options are accepted also.
There are no reservations required for entering Big Bend National Park at this time. There are no day passes issued, and there is no limit to the number of visitors entering the park each day.

All park visitors are required to purchase a recreational use pass upon entering Big Bend National Park. Big Bend participates in the congressionally authorized Federal Lands Recreation Enhancement Act. Under this program, parks keep 80% of all fees collected; the remaining 20% will be deposited in a special account to be used in parks where fees are not collected. Funds generated by these fees are used to accomplish projects that parks have been unable to fund through yearly congressional allocations.
Big Bend National Park Entrance Fees
Vehicle: $30
Admits one private, non-commercial vehicle (15 passenger capacity or less); valid for 7 days.
Motorcycle: $25
Admits one non-commercial motorcycle; valid for 7 days.
Individuals: $15
Admits one individual. Typically used for bicyclists and pedestrians; valid for 7 days.
Big Bend Annual Pass: $55 (good for one year from purchase date)
Covers entrance fees to Big Bend National Park. Pass is available at Big Bend National Park entrance stations or any visitor center. Pass is non-transferable.
Non-commercial groups:
Organized groups such as Scouts, youth groups, churches, reunions, clubs, etc. that do not qualify for an academic fee waiver are charged as follows:
$30 per non-commercial vehicle with a capacity of 15 or less.
$15 per person traveling in a non-commercial vehicle with a capacity of 16 or more. Fees will not exceed the commercial rate for the same sized vehicle. Youth 15 and younger are free. Individuals or families with a valid annual or lifetime pass may use their pass for themselves and up to 3 others.
Commercial Groups:
Companies conducting business in the park are required to obtain a commercial use authorization. The only exception is companies travelling in a 26 person capacity or greater vehicle; such vehicles are charged a flat fee of $200 (commercial use authorization not required).
Educational Groups:
Groups entering the park for education purposed are encouraged to check the academic fee waiver for application and qualification information.

America the Beautiful Passes
All federal lands passes are issued and accepted at Big Bend National Park. Passes are non-transferable.

The America the Beautiful – The National Parks and Federal Recreational Lands Pass Series includes different options of interagency passes that provide access to more than 2,000 federal recreation areas across the United States.
Passes cover:
entrance fees at National Park Service and US Fish and Wildlife sites
standard amenity fees (day-use fees) at Bureau of Land Management, Bureau of Reclamation, US Forest Service, and US Army Corps of Engineers sites
In general, passes cover the above types of fees for everyone in a personal vehicle at per-vehicle fee areas or up to four adults at sites that charge per person. Children ages 15 or under are admitted free. Two lifetime passes (Senior and Access) provide additional benefits, such as a 50-percent discount on camping at some sites. Always check with individual sites for details.
CAMPING FEES
Developed Campgrounds
The National Park Service operates three developed frontcountry campgrounds; Rio Grande Village Campground, Chisos Basin Campground, and Cottonwood Campground. The cost is $16 per night per site ($8 per night with Senior or Access pass).
Campground Reservations
Reservations required. Approximately 2/3 of the campsites at Rio Grande Village and Chisos Basin campgrounds are reservable up to 6 months in advance, and 1/3 up to 14 days in advance. Cottonwood Campground campsites are reservable up to 14 days in advance. Reservations may be made at www.recreation.gov or by calling 1-877-444-6777. Big Bend National Park cannot make reservations. More information about reserving campsites.
Backcountry Campsites
Backcountry campsites require a $10 per night backcountry use permit ($5 with a Senior or Access pass), which must be acquired either online at www.recreation.gov, or in person at either the Panther Junction or Chisos Basin visitor centers during normal business hours. Learn more about Backcountry Camping.



Last updated: May 24, 2022