Primitive Roadside Campsites— Glenn Springs Road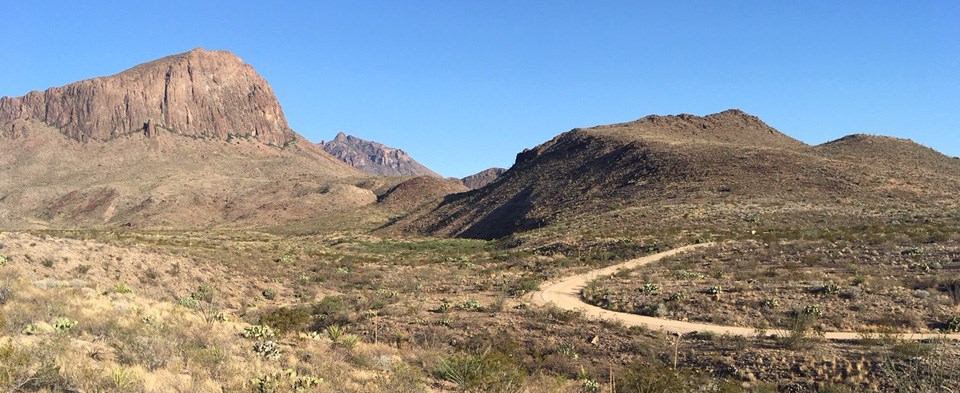 Glenn Springs Road 16-mile (26km)
This road skirts the eastern slopes of the Chisos, and leads to the Glenn Springs Historic Site. As it descends from Glenn Springs to the River Road, it generally becomes smoother. Glenn Springs road is also the access for Pine Canyon, Juniper Canyon, and Black Gap roads.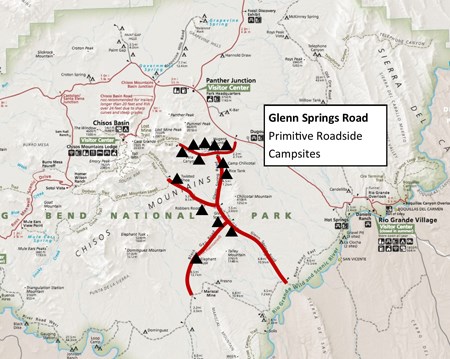 Pine Canyon Road 4 miles (6km)
Pine Canyon road provides access to the Pine Canyon trailhead. Five primitive roadside campsites are located along this road.
Black Gap Road 8.5 miles (14km)
This road connects Glenn Springs Road with River Road. This road is not maintained, and 4-wheel drive is required at all times. Two primitive roadside campsites are along the Black Gap road—Glenn Springs 1 (GS-1) and Elephant Tusk 1 (EL-1).
Juniper Canyon Road
5 miles (8km)
This road is rocky and and usually requires 4-wheel drive. The road leads to the Juniper Canyon Trail and Dodson Trail junction.Two primitive roadside campsites are located along the Juniper Canyon road—Robbers Roost 1 (RR-1) and Twisted Shoe 1 (TS-1).
There are 13 primitive roadside campsites located along the Glenn Springs Road complex. A Backcountry Permit is required to camp in any of these campsites. Permits are available at www.recreation.gov
Last updated: November 19, 2020