Big Bend Fact Sheet
Big Bend National Park was authorized by Congress in 1935 to preserve and protect a representative area of the Chihuahuan Desert along the Rio Grande for the benefit and enjoyment of present and future generations. The park includes rich biological and geological diversity, cultural history, recreational resources, and outstanding opportunities for bi-national protection of our shared natural and cultural heritage.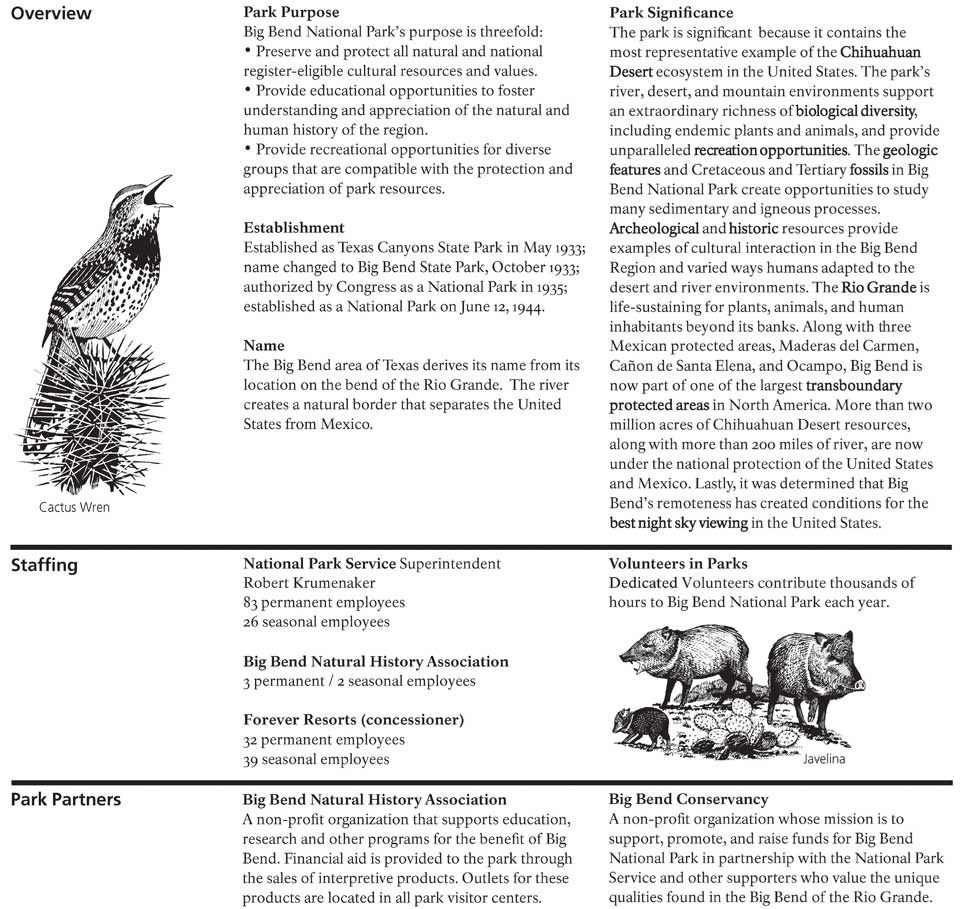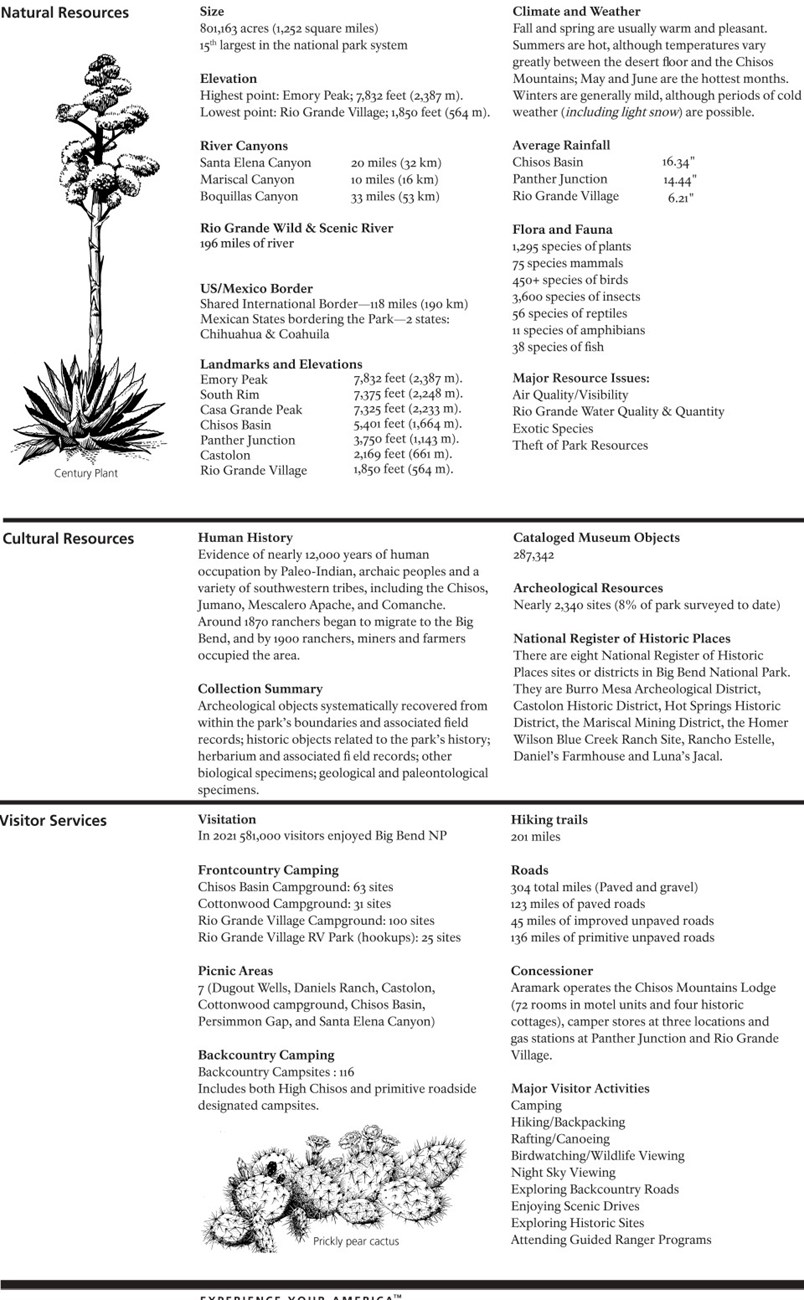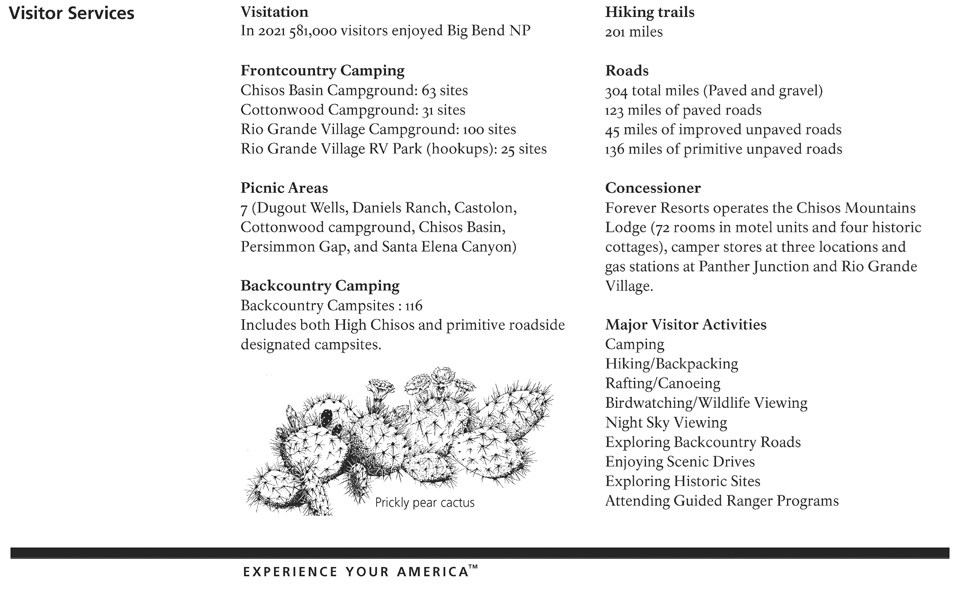 Park Establishment and Designations
In 1933, Texas established Texas Canyons State Park using 15 school sections owned by the state. Lands forfeited for non payment of taxes were quickly added and the name was changed to Big Bend State Park, and by October 1933 included about 160,000 acres. On June 20, 1935, President Franklin D. Roosevelt signed a bill that authorized the establishment of Big Bend National Park. On June 6, 1944 a deed for about 700,000 acres was formally presented to President Roosevelt. On June 12, 1944, Big Bend was established as a national park by Congressional Act signed by President Franklin D. Roosevelt. It was designated an International Biosphere Reserve in 1976.
Designations
Globally Important Bird Area - September 2001
UNESCO Biosphere Reserve - October 26, 1976
National Park (established) - June 12, 1944
National Park (authorized) - June 20, 1935
NPS Statistics
Once a relatively unknown National Park, Big Bend has been discovered, and visitation has increased significantly in recent years:
Big Bend NP Annual Visitation:
2014: 314,102
2015: 381,862
2016: 388,290
2017: 440,276
2018: 440,091
2019: 463,832
2020: 393,907
2021: 581,221
2022: 518,254

For specific statistical information about Big Bend National Park or any of the National Park Service units , please visit: NPS Stats
Beautiful, Diverse, and Wild

Nature

Delve into the park's flora and fauna, geology, ecosystems, and other natural features.

Geology, History & Diverse Wildlife

Learn About Your Park

Nature, History, Plants, Geology, Fossils, Birds, and more! What's So Special About Big Bend?

A Globally Significant Location

Big Bend Biosphere Region

The largest intact portion of Chihuahuan Desert ecosystems in the U.S


Last updated: February 20, 2023