Backpacking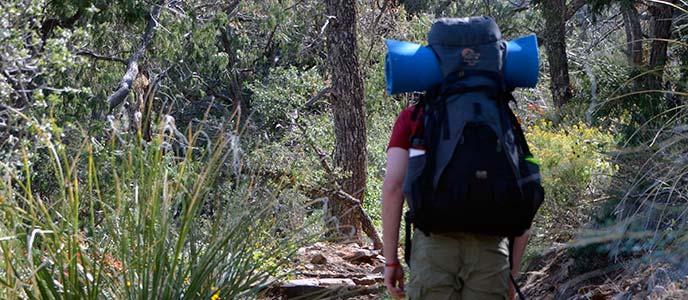 Chisos Mountains Backcountry Campsites

Backpackers in the Chisos Mountains can choose from forty-two designated campsites. Use this workbook to see photos and locations of the backcountry campsites.
Chisos Mountains Backcountry Campsites
Outer Mountain Loop, Mesa de Anguila, and Marufo Vega Trail
The most remote areas of Big Bend National Park are best left to experienced backpackers. Each year, park rangers respond to desert emergencies when hikers are not prepared for the heat and extreme conditions of the desert.
Due to the complex topography and vague trails, detailed 7.5 minute topographical maps and a compass are necessary for most hikes.
Backcountry Use Permits

A Backcountry Use Permit is required for all overnight backpacking trips.
more...
Backpacking for Organized Groups
An organized group or individual party may not exceed a 15 person limit. There are currently only two Chisos campsites that can accommodate a group this size: it may be necessary to split the group to other campsites. As permits are issued only on a first come, first-served basis, it is best to plan ahead, and have alternative itineraries in mind, especially during peak visitation periods.
Backcountry Preparation and Safety

Knowledge and preparation can increase your comfort level and reduce your chances of injury.
more...
Backcountry Regulations

You are responsible for protecting the resources of the park; these regulations are enforced.
more...
Seasonal Closures

The Southeast Rim Trail and a portion of the Northeast Rim Trail from the Boot Canyon/Southeast Rim junction to a point just north of the NE-4 campsite is closed during the peregrine falcon brooding season from February 1 through May 31 each year.
more...