Camping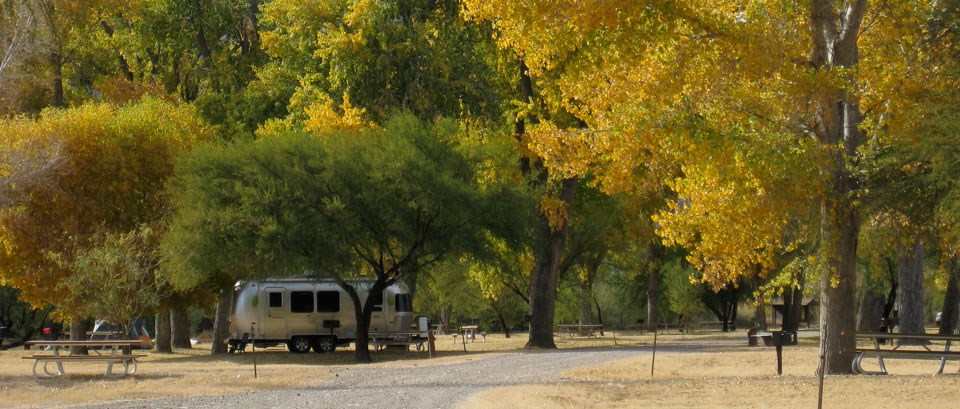 Developed Campgrounds
There are four campgrounds in Big Bend National Park. The National Park Service (NPS) operates three developed frontcountry campgrounds that provide drinking water and restroom facilities. In addition, a full hookup RV camping area is operated by the park concessioner, Forever Resorts.
NPS Campgrounds
Concession Campground
Rio Grande Village RV Park

(

Operated by Forever Resorts. 25 sites with full hook-ups

).

OPEN. Reservations REQUIRED

Located adjacent to the Rio Grande Village Store.

For reservations call 432-477-2293.
NPS Campground Reservations
Reservations are required for Big Bend National Park Campgrounds. Reservations can be made by visiting recreation.gov.
Big Bend National Park cannot make reservations for you. Please note: we recommend that the first thing you do on recreation.gov be to create an account, then select the campsites you're interested in.
Camping Limits
Visitors are welcome to stay in the park up to 14 consecutive nights in either a front or backcountry site, with a limit of 28 total nights in the park in a calendar year.
Campers can occupy a specific site up to 14 total nights in a year.

EXCEPTION: During the busy season from January 1–April 15

, visitors are limited to a total of 14 nights in the park.
Camping Options Outside of Big Bend National Park
There are a variety of options for camping outside the park when Big Bend is full.
Backcountry Camping
For visitors with rugged vehicles, or the willingness to leave the road behind and backpack into the wild, Big Bend provides options for backcountry camping.

A backcountry permit is required for all backcountry camping and river trips.
Backpacking Group Size Limit
An organized group or individual party may not exceed a 15 person limit.
Following Covid-19 safety restrictions, group size is currently limited to 12 people.
In the Chisos Mountains: There are currently only two Chisos campsites that can accommodate a group this size: it may be necessary to split the group to other campsites. Groups may split into separate campsites however the 15 person size limit cannot be exceeded.
In the desert: Groups over 15 people will also need to split up and backpack into separate, non-adjacent zones.


Last updated: July 2, 2021