Rocky Mountain System Provinces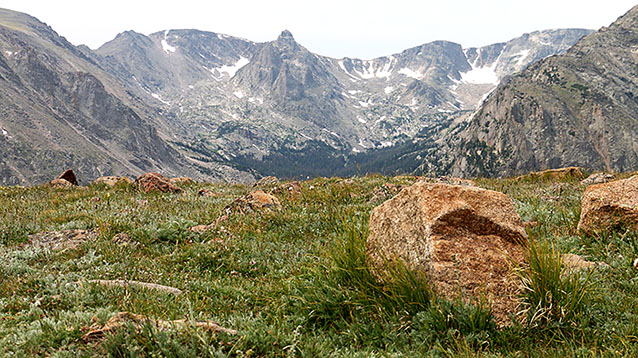 The Rocky Mountains are massive mountain ranges that stretch from Canada to central New Mexico. They took shape during a period of intense plate tectonic activity around 170 to 40 million years ago. Three major mountain-building episodes shaped the western United States. The last event, the Laramide orogeny, is responsible for raising the Rockies we see today.
The growth of the Rocky Mountains is a geologic puzzle. Normally, mountain building is focused along plate boundaries, yet the Rockies are hundreds of miles from colliding plates. Although geologists continue to gather evidence to explain the rise of the Rockies, the answer most likely lies with a low-angle subducting slab.
The Rocky Mountain System can be broken down into the following physiographic provinces:
Northern Rocky Mountains (Map)
The mountains in the Northern Rocky province are smaller than those found in the Middle and Southern Rockies. The province encompasses a large portion of western Montana and north-central Idaho. A small extension of the province reaches into eastern Washington.

Middle Rocky Mountains (Map)
The Middle Rocky Mountains province is located in the western United States with a major portion in Wyoming. Several extensions of the Middle Rockies spread into Montana, Colorado, Utah, and Idaho. Folded mountains, which are anticlinal folds, are the dominant type of mountain in this province (other types of mountains include volcanic mountains and uplifted fault blocks). 

Wyoming Basin (Map)
Lying between the Middle Rockies and the Southern Rockies, the Wyoming Basin is an elevated depression with structural features dating back to the mountain building event that shaped the Rocky Mountains (the Laramide Orogeny). Characteristic features of the Wyoming Basin include hogbacks, cuestas, and numerous basins that are separated by mountains of varying size. 
Southern Rocky Mountains (Map)
The Southern Rocky Mountains are massive mountains that rise over 4,267 m (14,000 ft). Characteristic structures of the Southern Rockies include anticlinal arches and intermontane basins. 
Educational Resources
Geology Teacher Guide to Rocky Mountain National Park
This geology teacher guide of Rocky Mountain National Park includes the geologic history and details key geologic events that have shaped the park. This guide includes lessons to be used both in the classroom and on-site at Rocky Mountain National Park.
Discover Grand Teton
Explore the geologic history, features, forces, and rocks of the Grand Tetons through this interactive learning website.
Landscaping with Wind and Water
In this activity, students demonstrate the destructive forces of erosion on small "mountains" and survey an area in the park, such as Lamar Valley, to identify evidence of erosion. Students interview a petrified tree in its natural setting to learn more about the changing landscape of Yellowstone.
Rocky Mountain System Parks

Northern Rocky Mountains Province Parks

Middle Rocky Mountains Province Parks

Southern Rocky Mountains Province Parks
Last updated: May 1, 2018