NPS Geodiversity Atlas—Pecos National Historical Park, New Mexico
Geodiversity refers to the full variety of natural geologic (rocks, minerals, sediments, fossils, landforms, and physical processes) and soil resources and processes that occur in the park. The NPS Geodiversity Atlas delivers information in support of education, Geoconservation, and integrated management of living (biotic) and non-living (abiotic) components of the ecosystem.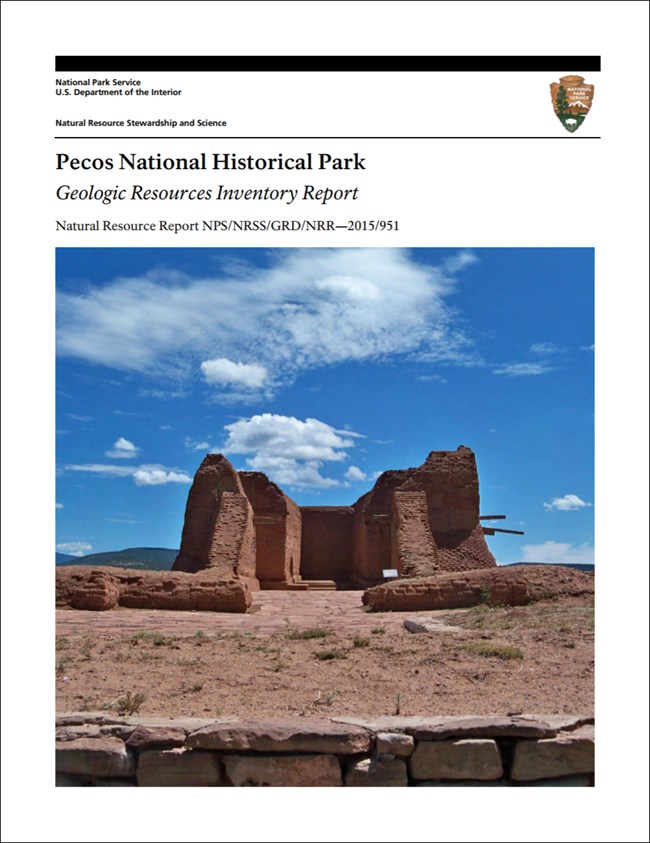 Geologic Features and Processes
Located in the Pecos River Valley, Pecos National Historical Park has a simple geologic setting but hosts spectacular views of the Sangre de Cristo Mountains, Glorieta Mesa, and Glorieta Pass. The diverse geologic features observed from any given vantage point in the park are the result of the convergence of three physiographic provinces - the Southern Rocky Mountains, Great Plains, and Basin and Range. The current topography of the area surrounding the park is the result of regional uplift and down-cutting of the Pecos River.

The north-south trending Sangre de Cristo Mountains, which extend from south-central Colorado into northern New Mexico, were uplifted during the Laramide Orogeny. The most extensively exposed sequence of Pennsylvanian-aged strata in New Mexico occurs in the Sangre de Cristo Mountains (Kues 1984).

The colorful cliffs and steep escarpment of Glorieta Mesa mark the transition from the Southern Rocky Mountain province to the Basin and Range. Glorieta Mesa showcases the Sangre de Cristo Formation and other sedimentary rock formations (KellerLynn 2006) that record roughly 70 million years of geologic time (Rawling 2010). Separating Glorieta Mesa from the Sangre de Cristo Mountains is a 30-mile long, mountain pass known as the Glorieta Pass. This natural pass was integral to the cultural history of Pecos as it served as a "gateway" for travelers. The Civil War in the west ended at Glorieta Pass after the Battle of Glorieta Pass was fought on March 26-28, 1862 (National Park Service 1993).
Paleontological Resources
Brachiopods and crinoid fossils occur within a 30-foot thick section of early Permian age Sangre de Cristo limestone a few feet below the entrance to Baca Cave (Burger 2008).

All NPS fossil resources are protected under the Paleontological Resources Preservation Act of 2009 (Public Law 111-11, Title VI, Subtitle D; 16 U.S.C. §§ 470aaa - 470aaa-11).
Cave and Karst
Pecos contains two fault caves and has surface exposures of limestone in a few areas. The caves are developed at the contact of an upper sandstone (~30 feet thick) and a lower limestone unit (~26 feet thick) of the Pennsylvanian and early Permian Sangre de Cristo Formation. Brachiopods and crinoid fossils were noted in the Permian-aged limestone. Also, surface exposures of the Permian-aged San Andres Limestone are present at the Cañoncito Unit. Presumably, these limestone beds underlie portions of the park.

Baca Cave is a naturally occurring fault cave that has been enlarged in several places by human activities. It is reported that two active Townsend's big-eared bat (Corynorhinus townsendii), a Darkling Beetle and what appears to be a unique species of Lampshade spider Hypochilus cf. jemez, are present in one of the known caves.

All NPS cave resources are protected under the the Federal Cave Resources Protection Act of 1988 (FCRPA)(16 U.S.C. § 4301 et seq.).
Geology Field Notes
Students and teachers of college-level (or AP) introductory geology or earth science teaching courses will find that each park's Geologic Resource Inventory report includes the Geologic History, Geologic Setting, and Geologic Features & Processes for the park which provides a useful summary of their overall geologic story. See Maps and Reports, below.
Regional Geology
Pecos is located at convergence of three physiographic provinces - the Southern Rocky Mountains, Great Plains, and Basin and Range Provinces, and shares its geologic history and some characteristic geologic formations with a region that extends well beyond park boundaries.
Geologic Resources Inventory
The
Geologic Resources Inventory
produces digital geologic maps and reports for more than 270
natural resource parks
. The products listed below are currently available for this park, check back often for updates as many maps, reports, and posters are still in progress.
Scoping summaries are records of scoping meetings where NPS staff and local geologists determined the park's geologic mapping plan and what content should be included in the report.
Digital geologic maps include files for viewing in GIS software, a guide to using the data, and a document with ancillary map information. Newer products also include data viewable in Google Earth and online map services.
Reports use the maps to discuss the park's setting and significance, notable geologic features and processes, geologic resource management issues, and geologic history.
Posters are a static view of the GIS data in PDF format. Newer posters include aerial imagery or shaded relief and other park information. They are also included with the reports.
Projects list basic information about the program and all products available for a park.
Related Articles
Pecos National Historical Park
National Park Service Geodiversity Atlas
The servicewide Geodiversity Atlas provides information on geoheritage and geodiversity resources and values within the National Park System. This information supports science-based geoconservation and interpretation in the NPS, as well as STEM education in schools, museums, and field camps. The NPS Geologic Resources Division and many parks work with National and International geoconservation communities to ensure that NPS abiotic resources are managed using the highest standards and best practices available.

For more information on the NPS Geodiversity Atlas, contact us.
Series: National Park Service Geodiversity Atlas
Last updated: December 12, 2018