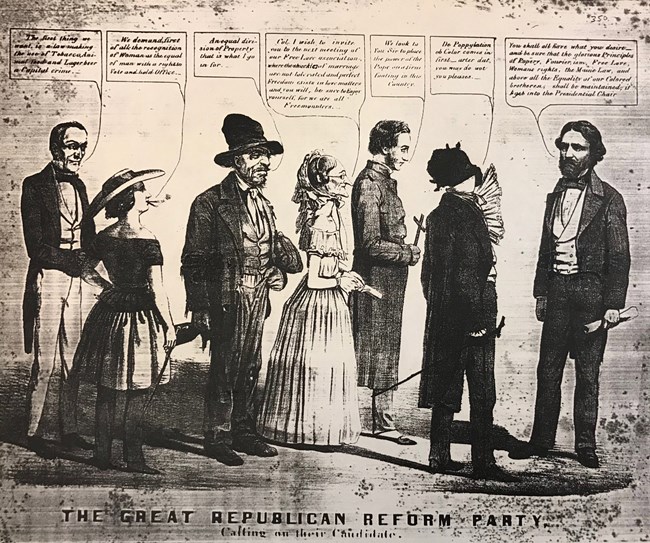 By Rebecca A. Rix
From the 1840s, when six
New York
women protested taxation without representation, through the 1920s, after ratification of the Nineteenth Amendment, supporters of women's right to vote met opposition.
[1]
In the early nineteenth century, suffragists were among the radical reformers threatening to democratize a republic still based on status hierarchies. After the Civil War and Reconstruction emancipated enslaved African Americans, established birthright citizenship, and promised equal protection to all citizens, suffragists and reformers fought for decades to realize that equality. Anti-suffragists, conversely, fought to maintain the male-headed family, rather than the individual citizen, as the representative unit of republican government.
[2]
While anti-suffragists eventually lost their battle, their opposition delayed woman suffrage for decades and transformed family-based republicanism from a patrician opposition to democratization into a popular defense of tradition and family against feminism and the social welfare state. Suffragists' belief in individual representation inspired decades of battles over the right to vote and other reforms that supplemented or supplanted traditional family-based government with laws that gave women—and others once assumed to be "naturally" unequal—civil and political rights.
[3]
For anti-suffragists, the franchise meant more than just the right to enter a voting booth and cast a ballot: the vote was an affirmation of the fundamental political equality of all persons holding it, in both the private and public spheres—a radical interpretation of the founding ideals that anti-suffragists were eager to extinguish wherever it threatened the republic.
In the 1830s and '40s, anti-suffragists posed woman suffrage as an absurd conclusion to the enfranchisement of unpropertied men—if all individuals had a "right" to vote, why not women?
[4]
In the early nineteenth century both northern and southern states eliminated property qualifications for voting, leading to nearly universal white male suffrage. Workingmen's suffrage bolstered the assumption that men were responsible for supporting and governing their wives and dependents, who owed them deference and labor.
[5]
Despite sectional differences over slavery, political leaders and clergy emphasized white men's shared sovereignty over their "domestic" dependents, including slaves.
[6]
In the 1850s, antislavery and proslavery advocates battled to define the institutions of new western states and territories as well as the status of enslaved people in free jurisdictions. The US Supreme Court's 1857 Dred Scott decision was a watershed in imbuing national citizenship with expansive civil and political rights—and then limiting that citizenship to white men.
[7]
The decision enraged abolitionists, free enfranchised Blacks, and free states and fueled sectional conflict and made national citizenship a focal point of postwar Reconstruction.
Northerners had ridiculed the 1855 campaign of the "Republican Reform Party" (Figure 1) for encouraging African Americans' and women's egalitarian aspirations, but these aspirations became contentious political issues during postwar Reconstruction. In particular, the Fourteenth Amendment's declaration of birthright citizenship and its provision of equal rights protections at once invalidated Dred Scott and unsettled antebellum republicanism's conferral of rights based on one's status within the polity.
[8]
Suffragists opposed the inclusion of the word "male" in the amendment's protection of voting rights, arguing instead for citizen suffrage. After its ratification, some suffragists tested this provision by attempting to vote (and sometimes succeeding), hoping the ensuing litigation would produce a judicial decision that women's citizenship conferred suffrage. Others petitioned for a woman suffrage amendment, particularly after their failure to secure universal suffrage in the Fifteenth Amendment, which prohibited denial of the vote on the basis of race, color, or previous condition of servitude.
[9]
Anti-suffragists noted the apparent racism of suffragists' opposition to the Fifteenth Amendment.
[10]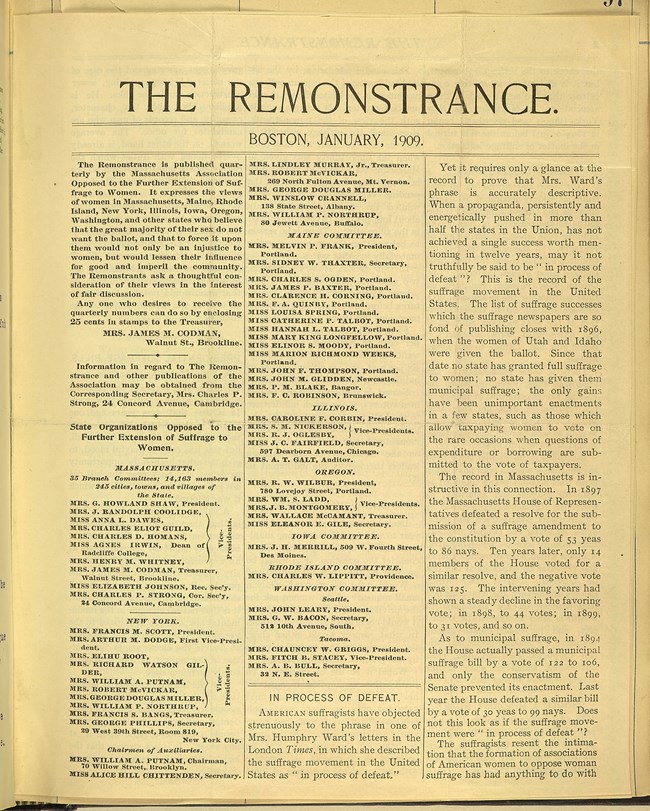 In congressional debates over national woman suffrage in 1871, following women's enfranchisement in
Wyoming
and
Utah
Territories, women "remonstrants" organized in opposition. Like suffragists, remonstrants used traditional rights of petition and remonstrance to influence legislators for or against legislation. In an open letter in the New York Times, Almira Lincoln Phelps posited that the feminine "silent masses" opposed woman suffrage, a measure agitated in the regrettably revolutionary tradition of "female Thomas Paines." In Congress, remonstrants claimed their female authority, customarily using their married names, to decry suffragists' democratic agitation. Mrs. General William Tecumseh Sherman and Mrs. Admiral John A. Dahlgren warned that suffragists' "illusive new doctrine" of individual rights violated the fundamental principle that the family was the basic unit of republican government. Male family authority was so fundamental to their republicanism that remonstrants urged a constitutional amendment to defend the patriarchal family against laws defining women's individual property and marital rights. The republic needed women as wives, mothers, educators, and philanthropists—not women who competed against men for jobs or preferred political intrigue to domestic duties.
[11]
Remonstrants hoped to limit Reconstruction's emphasis on federal authority, with its revolutionary implications for individual citizenship and suffrage, by restricting that authority to protecting male enfranchisement and family-based virtual representation. After suffragists revived their claims to the revolutionary tradition of natural rights during the 1876 Centennial, Mrs. Dahlgren countered suffragists' claims.
[12]
Suffrage was no natural right, she explained in 1878, since women, like "idiots, lunatics," and "adult boys" did not vote. Women should accept their place within a hierarchical order based on "immutable," "fundamental," "higher" social laws. For Dahlgren, the harmonious family was "the foundation of the State," each "represented by its head, just as the State ultimately finds the same unity, through a series of representations. Out of this come peace, concord, proper representation, and adjustment—union." Enfranchising all citizens would excite competing interests within the family and society and render "discord" the "corner-stone of the State."
[13]
In the 1880s, anti-suffrage congressmen highlighted woman suffrage as a threat to local self-government and sectional peace, quoting northern remonstrants such as Chicago's Caroline Corbin, whose Letters from a Chimney-Corner, which linked domesticity with "home rule," belied her patrician status.
[14]
As southern states restricted African American male suffrage, their congressmen argued that a proposed woman suffrage amendment threatened not only male authority in the family, but also states' rights and "local self-government," a polite term that connoted government by propertied white men, regardless of African American federal citizenship rights.
[15]
As
Alabama
Senator John Tyler Morgan explained, a woman suffrage amendment would draw a "line of political demarcation through a man's household" and "open to the intrusion of politics and politicians that sacred circle of the family where no man should be permitted to intrude."
[16]
In defending local self-government, anti-suffragists evoked memories of federal troops supervising southern polls and the alliance of abolitionists and suffragists, and they warned against any northern interference with southern Jim Crow laws—while also appealing to northerners who were leading their own antidemocratic movements.
[17]
By the mid-1880s, congressional Democrats' success in stalling legislation and northern anti-suffragists' remonstrances against extending the vote led to the suffrage movement's congressional "doldrums."
[18]
Suffragists had some successes at the state level as Reconstruction ended, which provoked anti-suffragists to organize, first in
Massachusetts
and then in other states. When, in 1882, the American Woman Suffrage Association (AWSA) sought to expand on an 1879 Massachusetts partial woman suffrage measure, Massachusetts anti-suffragists organized to counter the considerable influence of celebrated abolitionist-suffragists such as
Lucy Stone
and
Julia Ward Howe
. As anti-suffrage leader Mrs. Charles Eliot Guild recalled, it was a moment when conservative women—whose postbellum political reputation was tarnished by their families' non-abolitionism—claimed their "right to be heard" as remonstrants.
[19]
The first remonstrants operated within a patrician social network of Massachusetts's founding families and were represented by prominent male relatives, including State Senator George Crocker, who advised them on legislative developments; publisher Henry Houghton, who printed anti-suffrage publications; and Harvard historian and critic of universal manhood suffrage, Francis Parkman.
[20]
Parkman added his Some of the Reasons against Woman Suffrage to a growing anti-suffrage literature explaining the traditional, historical, political, and evolutionary wisdom of men's and women's complementary, distinct forms of citizenship.
[21]
The AWSA's Massachusetts activity kept the remonstrants busy through the 1880s, while the growing suffrage movement in other states engaged Massachusetts anti-suffragists beyond their state borders. Indeed, it was
South Dakota's
1890 woman suffrage referendum that inspired the transformation of their local bulletin into a nationally distributed publication, The Remonstrance.
[22]
(Figure 2)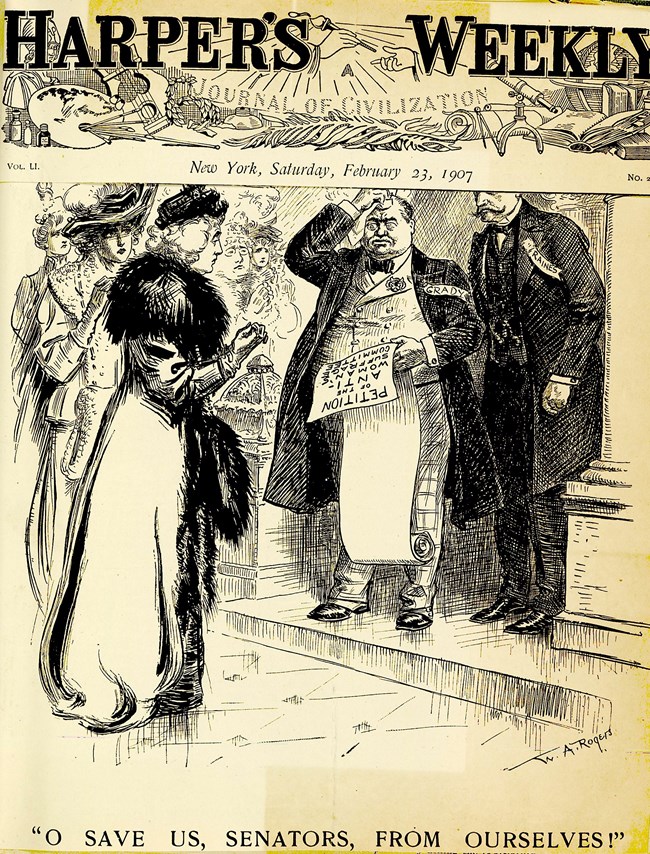 Massachusetts remonstrants corresponded with Chicago's Caroline Corbin, a descendent of old northeastern families who moved west with her enterprising merchant husband.
[23]
Chicago was a railroad hub between western mines, forests, and farms and eastern capital and goods. Its rapid urbanization, industrialization, and expanding immigrant population gave rise to pressing social problems. Whereas Massachusetts anti-suffragists faced former abolitionist suffragists, Corbin contended with reformers such as
Jane Addams
who viewed the western city as an opportunity to develop and experiment with new ideas about the organization of society. Addams's Hull House offered a laboratory for municipal reformers, useful social and educational programs for local workers and immigrants, and a professional network for female social scientists and reformers.
[24]
Addams and Corbin held opposing views of how to ameliorate the social and economic misery of the 1890s generally, and in Chicago specifically. For Addams, woman suffrage was essential to governing a modern urban, industrial, and multiethnic society. Real democracy required developing individual citizens' capacities, prioritizing the public good, and regulating the corrupting influences of poverty, disease, greed, and machine politics. Socialism and labor unionism were among the varied intellectual and social movements that informed Hull House residents' reformist visions. For Corbin, reform experimentation and woman suffrage both threatened social order; restricting suffrage to male heads of household at once ennobled men and obliged them to support families and serve their community. Virtual representation reflected a wise public policy based on human evolution—marked by highly differentiated gender roles—and the progress of civilization; family unity was the foundation of organic social unity. Enfranchising women would fuel individual aspirations to equality, which would lead to socialism.
[25]
Corbin overstated the suffrage-socialist alliance, but suffragists did form several significant political alliances during this period.
Colorado's
successful 1893 suffrage referendum reflected a new threat—an alliance between western suffragists and Populists, supported by farmers and labor—and inspired the formation of new state anti-suffrage organizations.
[26]
The seasoned Massachusetts remonstrants helped New York remonstrants defeat an attempt to add woman suffrage to the state constitution in 1894. The threat led New York women to organize the first formal state anti-suffrage organization.
[27]
Their New York Association Opposed to Woman Suffrage (NYAOWS) provided a model adopted by Massachusetts (Massachusetts Association Opposed to the Further Extension of Suffrage to Women [MAOFESW], 1895) and
Illinois
(Illinois Association Opposed to Woman Suffrage [IAOWS], 1897). These state organizations cooperated with each other and with male anti-suffragists, who provided them legal and political advice. Women anti-suffragists appeared for each legislative battle to disprove suffragists' claim to speak for all women. (Figure 3) NYAOWS and MAOFESW leaders organized new state anti-suffrage associations and distributed anti-suffrage literature and association newspapers as far away as
Oregon
,
Washington
,
California
,
Iowa
, and other endangered states. In 1911, they formed the National Association Opposed to Woman Suffrage (NAOWS), led by NYAOWS president Josephine Dodge, and launched a new publication, the Woman's Protest. Most western (and later, southern) state associations were founded by wealthy white women linked to NAOWS members by social networks.
[28]
Their task was to legitimate family-based suffrage and its political analog, local self-government by propertied elites, to voters with increasingly democratic aspirations. Public education campaigns, carried out by distributing campaign buttons through social networks and storefront headquarters, appealed to workingmen's economic interests and desires to protect their families and communities against feminism, Progressivism, and socialism. (Figure 4) In the early twentieth century, anti-suffragists had to counter suffragists' allegations that "Antis" were selfish aristocrats or, worse, that they provided political cover for immoral "interests" who benefitted from reform-minded women's disfranchisement.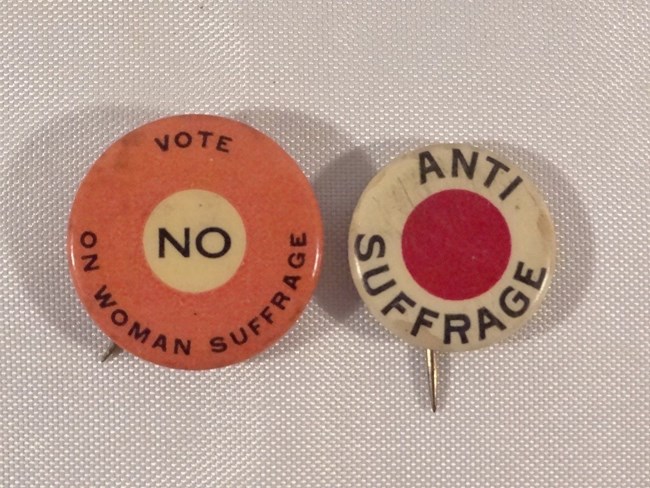 While the Populist Party disintegrated after the 1896 election, its reforms, personnel, and democratic ideology continued to gain popularity. The Populists' 1892 and 1896 platforms united reformers against monopolistic trusts, political corruption, vice, and the exploitation of workers and small businesses. The Democratic Party absorbed many Populists, who, in the solidly Democratic South, had to acquiesce to suffrage restrictions as Jim Crow solidified.
[29]
In the West, however, Populist reformers joined Progressives and played Democrats against Republicans, using new tools for direct lawmaking: the ballot initiative enabled reformers to write laws for approval by voters, instead of filtering popular sovereignty through legislators; referenda and recalls provided accountability. Colorado was first among many western states that enfranchised women in this way. Western anti-suffragists, often drawn from commercial cities' founding families, conferred with eastern anti-suffragists to defend against these blows at "representative government."
[30]
Anti-suffragists' defense of property rights and virtual representation had long been consonant with regionally distinct forms of local self-government; this became politically problematic amid growing debates over using federal power to enfranchise women, regulate monopolistic trusts, regulate liquor consumption, and adjudicate labor conflicts.
Women were active in these areas of reform, and women's political power influenced the 1912 presidential election. The four presidential candidates faced a new constituency in western states—newly enfranchised women; Progressive
Theodore Roosevelt
and Socialist Eugene Debs endorsed woman suffrage.
[31]
Two new Populist-Progressive constitutional amendments (the Sixteenth, income tax, and the Seventeenth, direct election of senators) inspired suffragists and Prohibitionists, who had long advocated for woman suffrage.
[32]
While intrinsically important, a number of reformers also viewed woman suffrage as an expedient to those promoting child welfare, Prohibition, labor regulation, unionism, African American civil rights, and many other reforms. Indeed, as suffragists championed Progressive reforms, many portrayed "Antis" as witless wealthy women associated with corrupt and corrupting interests. (Figure 5)
Yet many anti-suffragists were also devoted reformers, and among their anti-equality arguments were those for preserving state gender-based protective labor legislation. NAOWS's Minnie Bronson, a Theodore Roosevelt–administration veteran, invoked her expertise in labor law to observe that political equality threatened women's labor laws. As "feminism" emerged in the 1910s, anti-suffragists argued that educated, affluent women might benefit from gender equality, but what of workingwomen who benefitted from labor legislation premised on the state's interest in protecting women's maternal health?
[33]
Against arguments that the vote would enhance workingwomen's ability to win labor legislation, Bronson maintained that women's political equality might preclude state protective labor legislation that was constitutional only because women were, presumably, the weaker sex.
[34]
The conflict between a federal woman suffrage amendment and paternalistic protection also threatened Jim Crow and southern traditions, southern anti-suffragists warned with increasing alarm in the 1910s. They feared that the "Anthony Amendment," like the Fifteenth Amendment, would bring federal scrutiny of state polls, the enfranchisement of southern female Progressives, and growth of the Black middle class.
[35]
The Fifteenth Amendment had languished under Jim Crow for decades, but in 1915 the new National Association for the Advancement of Colored People won its Supreme Court case against grandfather clauses that exempted some (white) voters from voting restrictions based on the status of their ancestors.
[36]
During World War I, National American Woman Suffrage Association president
Carrie Chapman Catt
argued in a special suffrage issue of
W. E. B. Du Bois's
the Crisis, that Wilson's wartime democratic ideals required universal enfranchisement regardless of sex, race, or ethnicity.
[37]
With local Progressives for Prohibition and child labor regulation, and a national enthusiasm for Progressivism, southern anti-suffragists continued to invoke familiar tropes of federal interference in "local" affairs, which halted the nascent suffrage movement in the region.
When Congress sent the Nineteenth Amendment to the states in 1919, the NAOWS counted the southern states critical among the thirteen states required to stymie its ratification. Confident in the conservatism of northeastern and southern states, they were dismayed when
Tennessee
became the thirty-sixth and final needed state to ratify the amendment in 1920.
After ratification, anti-suffrage leaders responded in different ways. While some former anti-suffragists refused to vote, many realized that their votes were necessary to counter what many Americans viewed as a powerful, Progressive women's bloc. In
North Carolina
, May Hilliard Hinton, the president of the state's Rejection (anti-ratification) League, appealed to the state's (white) women to register and vote, as did the governor's anti-suffrage wife.
[38]
Many northern anti-suffrage leaders entered partisan politics following the lead of New York anti-suffragists who had made use of their voting power since 1917 to oppose woman suffrage and Progressivism.
[39]
After ratification, northeastern anti-suffrage leaders organized within the Republican Party, contributing to its rightward shift in the 1920s. Elizabeth Lowell Putnam, MAOFESW leader and sister of Harvard president A. Lawrence Lowell, worked against Progressive Republicans as vice president of the Republican Club of Massachusetts and was the first woman elected president of the Massachusetts Electoral College. An advocate of maternal and children's social reforms who once supported the fledgling US Children's Bureau, Putnam became opposed to its Progressive leadership and the Harding-era expansion of federal social welfare programs and the popular federal child labor amendment.
[40]
Putnam, like Harriet Frothingham of the Woman Patriots' and their male allies in the Sentinels of the Republic and the Liberty League, opposed a national social welfare state as socialistic. They challenged the Nineteenth Amendment's constitutionality and also Congress's use of its taxing power for the Sheppard-Towner Act, which dedicated federal monies to maternal and infant health, but lost both cases before the US Supreme Court.
[41]
In 1924, these Massachusetts-based groups joined with conservative Catholics and others to organize Massachusetts voters against state ratification of the popular Child Labor Amendment to the US Constitution, arguing against what they called the "nationalization" of mothers and children. While reformers viewed such programs as promoting all citizens' capacities, conservatives viewed them as a threat to family, tradition, religion, and local self-government and called instead for the protection of men's traditional rights, expounding a democratized and modernized vision of family-based liberty.
[42]
For fifty years, anti-suffragists were a force in US political life. In battles against suffragists and their allies during Reconstruction and afterward, opposing those who saw in federal citizenship a means of realizing government by, for, and of the people, anti-suffragists developed a competing, conservative vision. Initially defending the traditional prerogatives of property and patriarchy, by the mid-1920s they shed the exclusivity and elitism of that vision to make anti-Progressivism appealing to a conservative working-class and middle-class electorate, including women, whose votes they had once opposed.
Rebecca A. Rix is an independent scholar of US gender, political and legal history, whose research focuses on the changing nature of the franchise in the history of American republicanism. She earned her PhD in history from Yale University in 2008 and held an assistant professorship in history at Princeton University, 2009–17. Her current book project analyzes anti-suffragism to illuminate the transformation of republicanism from a family-based to an individual-based model between Reconstruction and the New Deal.
Bibliography
Benjamin, Anne Myra. Women against Equality: A History of the Anti-Suffrage Movement in the United States from 1895 to 1920. Rev. ed., n.p.: Lulu Publishing, 2014.
Camhi, Jane Jerome. Women against Women: American Anti-Suffragism, 1880–1920. Brooklyn, NY: Carlson, 1994.
Cogan, Jacob Katz, and Lori D. Ginzberg. "1846 Petition for Woman's Suffrage, New York State Constitutional Convention." Signs 22, no. 2 (Winter 1997): 427–439.
Delegard, Kirsten Marie. Battling Miss Bolsheviki: The Origins of Female Conservatism in the United States. Philadelphia: University of Pennsylvania Press, 2012.
Goodier, Susan. No Votes for Women: The New York State Anti-Suffrage Movement. Urbana: University of Illinois Press, 2013.
Green, Elna D. Southern Strategies: Southern Women and the Woman Suffrage Question. Chapel Hill: University of North Carolina Press, 1997.
Jablonsky, Thomas J. The Home, Heaven, and Mother Party: Female Anti-Suffragists in the United States, 1868–1920. Brooklyn, NY: Carlson, 1994.
Kenneally, James J. "The Opposition to Women's Suffrage in Massachusetts, 1865–1920." PhD diss., Boston College, 1963.
———. "Woman Suffrage and the Massachusetts 'Referendum' of 1895." Historian, 30, no. 4 (August 1968): 617–663.
Keyssar, Alexander. The Right to Vote: The Contested History of Democracy in the United States. Rev. ed. New York: Basic Books, 2009.
Kraditor, Aileeen S. The Ideas of the Woman Suffrage Movement, 1890–1920. New York: W. W. Norton, 1981.
Marshall, Susan E. Splintered Sisterhood: Gender and Class in the Campaign against Woman Suffrage. Madison: University of Wisconsin Press, 1997.
Mead, Rebecca J. How the West Was Won: Woman Suffrage in the Western United States, 1868–1914. New York: New York University Press, 2004.
Nielsen, Kim E. Un-American Womanhood: Antiradicalism, Antifeminism, and the First Red Scare. Columbus: Ohio State University Press, 2001.
Rix, Rebecca. "Gender and Reconstitution: The Individual and Family Basis of Republican Government Contested, 1868–1925." PhD diss., Yale University, 2008.
Steinfeld, Robert J. "Property and Suffrage in the Early American Republic." Stanford Law Review 41, no. 2 (January 1989): 335–376.
Terborg-Penn, Rosalyn. African American Women in the Struggle for the Vote, 1850–1920. Bloomington: Indiana University Press, 1998.
Thurner, Manuela. "'Better Citizens without the Ballot': American AntiSuffrage Women and Their Rationale during the Progressive Era." Journal of Women's History 5, no. 1 (Spring 1993): 33–60.
Wheeler, Marjorie Spruill. New Women of the New South: The Leaders of the Woman Suffrage Movement in the Southern States. New York: Oxford University Press, 1993.