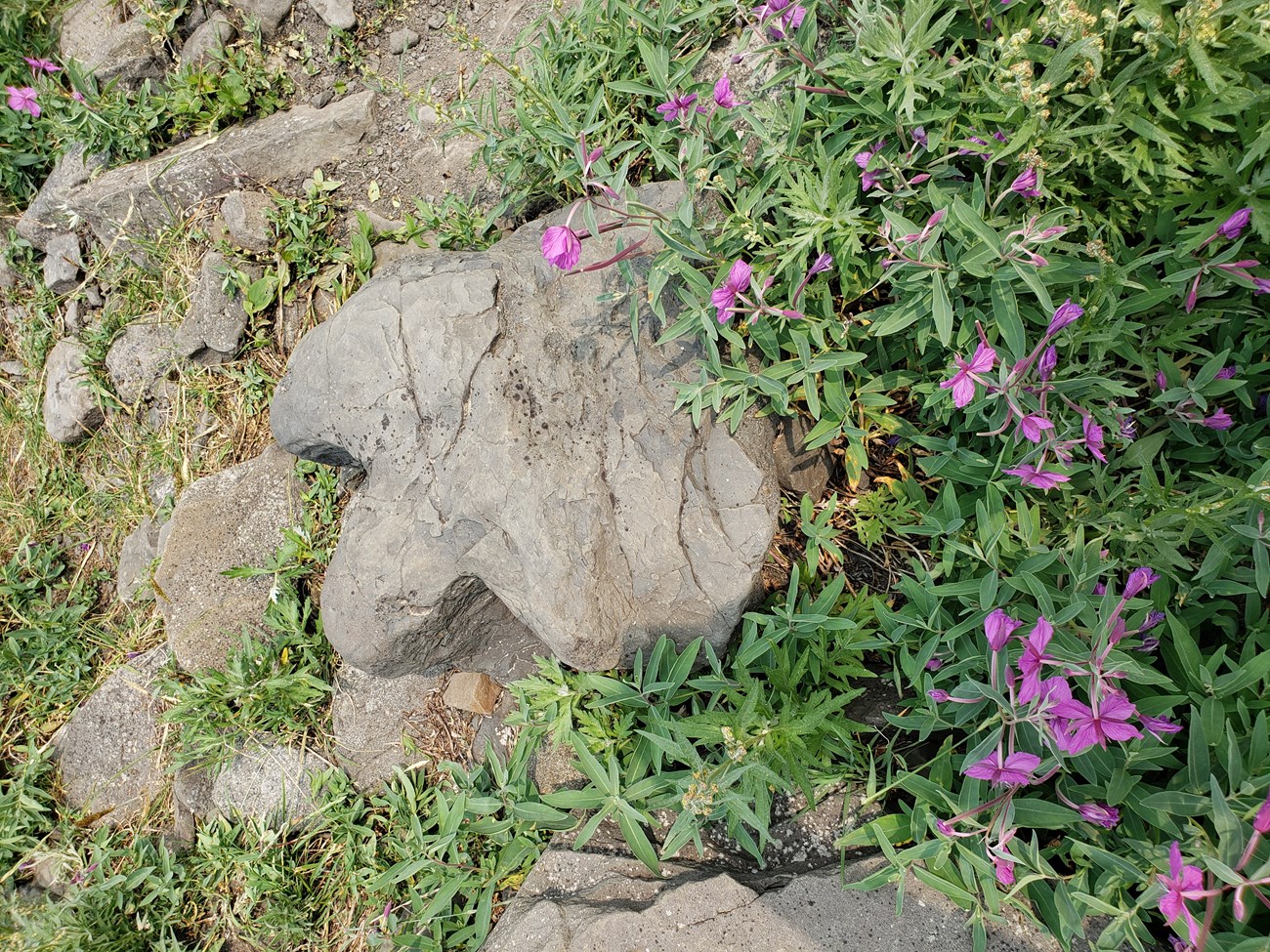 Introduction
In 1882 a Belgian geologist, Omalius d'Halloy, proposed the term "Cretaceous" for strata encircling the Paris Basin in France. The term derives from the Latin word for chalk ("creta") and describes thick deposits of calcium carbonate (CaCO3) ooze and chert (SiO2). Indeed, the best known and most widespread deposits of chalks are of Cretaceous age, such as those exposed in cliffs on both sides of the English Channel. Though not on a par with the White Cliffs of Dover, England, Cretaceous-age rocks at Big Bend National Park in Texas contain chalk and are noteworthy for documenting the changes in sea level of the Cretaceous Interior Seaway.
Significant Cretaceous events
During the Cretaceous Period the first flowering plants appeared and rapidly diversified. Also, the Rocky Mountains began to rise from the Cretaceous Interior Seaway. However, the event that has caught the public's imagination is the mass extinction that marks the end of one era with dinosaurs and begins another without them. Current thinking holds that 66 million years ago a large asteroid crashed into Earth near the Yucatan Peninsula of Mexico and caused the most famous, though not the most extensive, mass extinction.
Learn more about events in the Cretaceous Period
K–T boundary
Though not up to date with current geologic-time nomenclature, the term "K–T boundary" will probably stick around for quite some time. The letter "K" serves as the symbol for Cretaceous Period following the German terminology "Kreide" ("C" is actually used for the Carboniferous). The "T" represents the Tertiary. The International Stratigraphic Commission now uses Paleogene instead of Tertiary.

Rocks deposited during the Cretaceous and Paleogene (Tertiary) periods are separated by a thin clay layer that is visible at sites around the world. A team of scientists led by Luis Alvarez, a Nobel Prize-winning physicist, and his geologist son Walter discovered that the clay layer contains a strikingly high concentration of iridium, an element that is much more common in meteorites than in Earth's crustal rocks. Like meteorites, asteroids also have relatively large abundances of iridium. Consequently, these scientists proposed that an impacting asteroid hit the Earth, generating the iridium anomaly and causing the mass extinction event. The discovery of high iridium concentrations in the clay layer around the world suggests the impact was a large one.

Though scientists are still looking, the K–T boundary (iridium) layer has yet to be located in a national park. Big Bend National Park in Texas is a candidate because it hosts an uninterrupted suite of Cretaceous and Tertiary rocks. However, scientists have not identified the actual iridium-rich layer there.
Visit—Cretaceous Parks
Every park contains some slice of geologic time. Here we highlight a few parks associated with the Cretaceous Period. This is not to say that a particular park has only rocks from the specified period. Rather, rocks in selected parks exemplify a certain event or preserve fossils or rocks from a certain geologic age.