The Narrows
Transcript
Welcome to Zion National Park, my name is Jonathan. Zion is a popular National Park where visitors come to immerse themselves within the grandeur of the canyon's cliffs, and to challenge themselves with one of our many scenic and adventurous hikes. One of our more popular hikes visitors come to enjoy is the unique Narrows, a hike in a canyon that in places is only 20-30 feet wide, and 2000 feet deep.
However, unlike most hikes, taking on the Narrows means actually traveling upstream through the Virgin River on uneven, slippery, and rocky river boulders. Due to the risks of a hike like this, proper preparation is imperative, both for your safety and your enjoyment. Every hiker in The Narrows should have closed toed shoes, even just your regular hiking boots, and a walking stick. Although weather might be over 100 degrees the day of your hike, this narrow section of the canyon can stay considerably cooler, making non-cotton clothing, like polypropylene or wool, more ideal for its insulating benefits even while wet.
When you are planning your trip into The Narrows, you should also be aware of the flash flood potential. Afternoon thundershowers are possible throughout the year and a potential hazard to those hiking in slot canyons like The Narrows. During these events the river can quickly turn into a torrent of powerful rushing water, doubling and tripling in volume. Stop by the visitor center and speak with a ranger to get the most up to date conditions and the flash flood potential. Remember, even when you are prepared and conditions seem optimal, things can change quickly. Being aware of any changes in water clarity and increased river flow can go a long way in protecting your life. Being prepared and aware will help ensure a hike that will undoubtedly create positive memories that will last a lifetime. But please, ensure this opportunity for others by remembering to use the restroom before the start of your trip and to plan on packing out all your trash, including even the tiniest of crumbs. These simple guidelines will ensure the enjoyment of these special places for not only you, but generations to come.
What is The Narrows?
The Narrows is the narrowest section of Zion Canyon. This gorge, with walls a thousand feet tall and the river sometimes just twenty to thirty feet wide, is one of the most popular areas in Zion National Park. You can see The Narrows by hiking along the paved, wheelchair accessible Riverside Walk for one mile from the Temple of Sinawava. If you wish to see more, you will be walking in the Virgin River. This can involve wading upstream for just a few minutes or it can be an all day hike.
How can I hike The Narrows?
A hike through The Narrows requires hiking in the Virgin River. You must get your feet wet since there is no trail. Most people choose to start their hike from the Temple of Sinawava via the Riverside Walk and then walk upstream before turning around and hiking back down to the Temple of Sinawava.

Hiking in The Narrows upstream as far as Big Spring does not require a permit. Doing the hike this way allows you to see some of the most spectacular and narrowest parts of the canyon. You can hike in the river for an hour and have a great experience, or you can hike as far as Big Spring, a strenuous, ten-mile round trip, all-day adventure.

Permits are required for this 16-mile through-hike of the Virgin River Narrows from Chamberlain's Ranch to the Temple of Sinawava. Those who choose this option must arrange their own transportation to the Chamberlain's Ranch trailhead.

When conditions allow, apply for permits online or from a Wilderness Ranger at a visitor center.
When should I hike The Narrows?
Summer and early fall
Most people hike The Narrows in the summer and early fall when the water tends to be at its warmest and the water level drops. However, life-threatening flash floods are possible at any time and are common during the monsoon season.
Winter and early spring
Winter and early spring commonly means cold water and high water levels. The Narrows can be closed during the spring when snowmelt raises the river over 150 CFS. Fall brings more stable weather, but days get shorter and the water temperature drops. Read more about Zion Weather and Climate.
Dates during which the Virgin River consistently exceeded 150 cubic feet per second (CFS) of flow due to snow melt.

Note: While flow may have been less than 150 CFS at some times, close and open reflect dates when flow exceeded 150 CFS most of the time.

Year
Close
Open
2012
April 17
April 28
2013
April 30
May 2
2014
Open most of the time
2015
Open most of the time
2016
April 3
May 22
2017
March 11
May 21
2018
Open most of the time
2019
April 6
June 22
2020
April 9
May 18
2021
Open most of the time
2022
Open most of the time
2023
April 8
June 19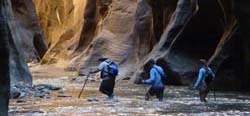 How high is the water?
Water level fluctuates greatly from year to year and day to day depending on many factors such as rainfall and snowmelt. When the river is running below 70 cubic feet per second (CFS), walking is moderately difficult, with knee deep crossings on the slippery and uneven river bottom with frequent pools up to waist deep.

When the current goes above 70 CFS, walking against the current becomes challenging and crossings of mid-thigh deep are frequent with pools that can be chest deep. If the flow goes to over 150 CFS, The Narrows will be closed to all travel. The Narrows also closes when a Flash Flood Warning is issued by the National Weather Service, and remains closed for two hours after the warning is lifted. Current River Flow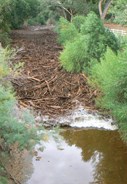 What about flash floods?
The Narrows are susceptible to flash flooding because much of the surrounding area is bare rock that does not absorb water. During storms, runoff is funneled rapidly into the Narrows. During a flash flood the water level rises almost instantly--within seconds or minutes. Flash floods are common in Zion and hikers have been stranded, injured, and even killed by venturing into narrow, flood prone canyons.

Always check the weather forecast and flash flood potential before you start any trip in a canyon (this includes the Narrows). Even if the forecast indicates flash flooding is unlikely, flooding is possible at any time. Floods have occurred on days they were not expected. Your safety is your responsibility.
Park biologists have found toxic cyanobacteria in still and flowing water at Zion including in the Virgin River (the river through the Narrows). We share updates on the level of cyanobacteria park biologists find, but we cannot monitor every area in Zion Wilderness. Check the current conditions if you decide to recreate in the water.

There is no known recreational water filtration or disinfection method that can reduce the toxins to a level that is safe for drinking water. Get drinking water directly from springs (i.e. not from rivers, streams, or other water bodies where scientists have found cyanobacteria in Zion) and filter, disinfect, or otherwise treat it as you normally would in the backcountry.
What should I wear and bring?
Close-toed shoes and a hiking stick are recommended for hiking on the slick, uneven rocks in The Narrows. High canyon walls and water create cooler conditions than anywhere else in Zion Canyon, so wear and bring seasonally appropriate synthetic layers. Equipment and Clothing Recommendations
What else should I know?
There are many recommendations and park regulations that apply to your trip in The Narrows. Please follow these guidelines to help protect the park and keep yourself safe while visiting.