Permits & Reservations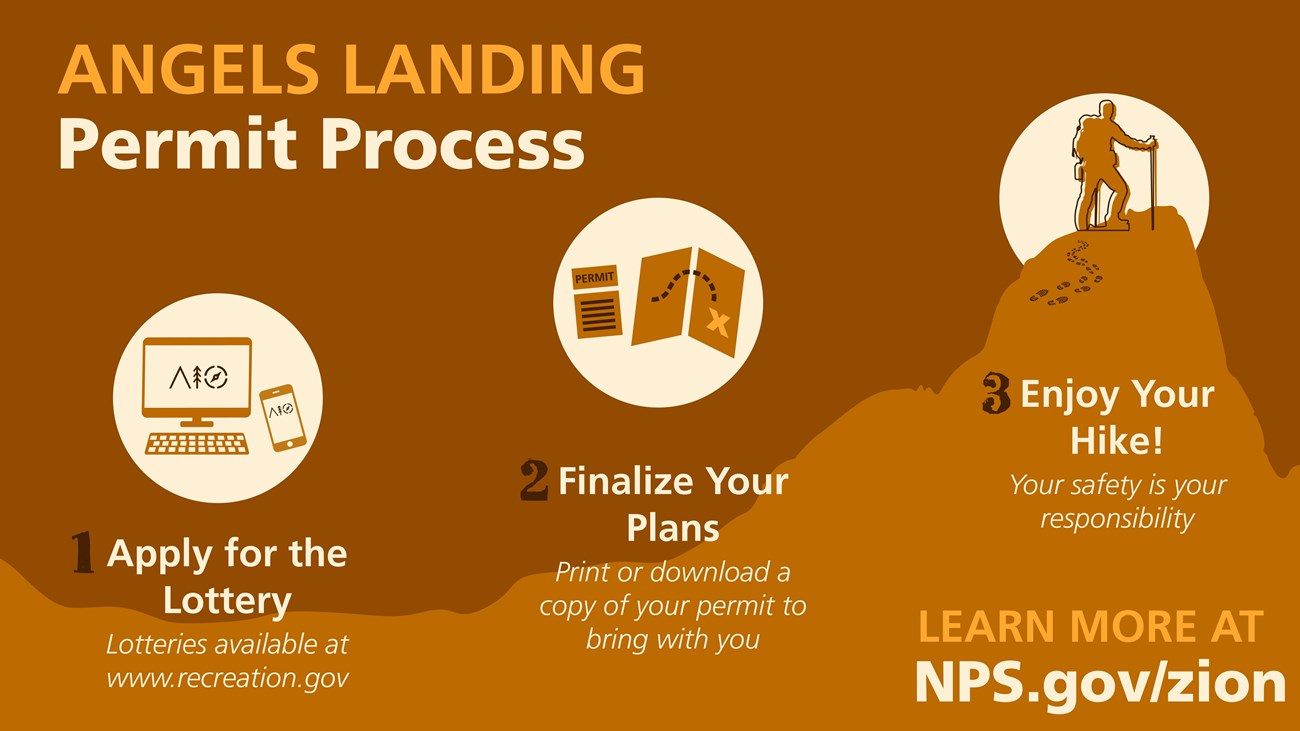 Angels Landing Pilot Permit Program
Enter a lottery, print or download your permit, and make your plans to hike Angels Landing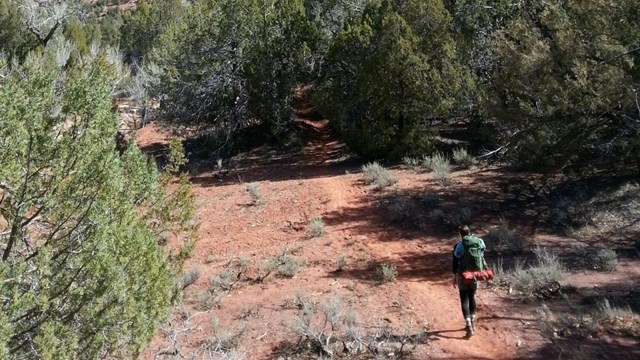 Backpacking
Start planning an overnight backpacking trip, discover which trails are best for your group, and reserve permits in advance.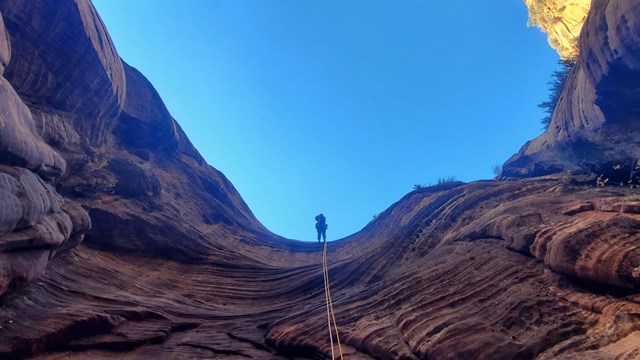 Canyoneering
Technical canyoneering is an adventurous sport that requires ropes, harnesses, and other equipment and skills to safely descend slot canyons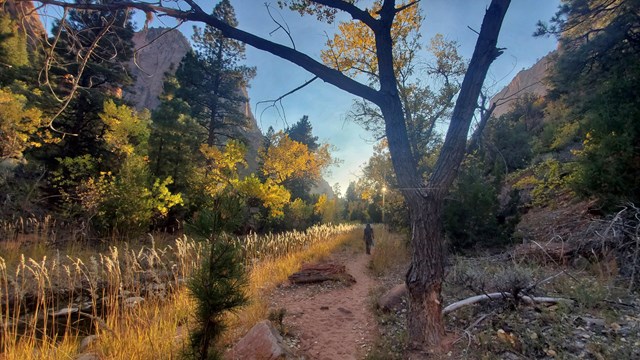 Wilderness Day Hikes
Explore the many trails that access the Zion Wilderness.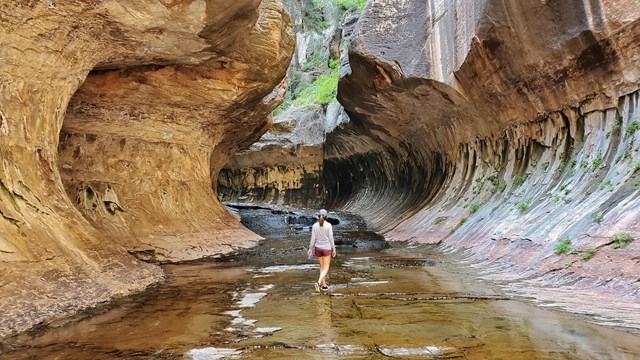 The Subway
The Left Fork of North Creek (The Subway) is a strenuous off-trail hike that requires permits to access a popular destination.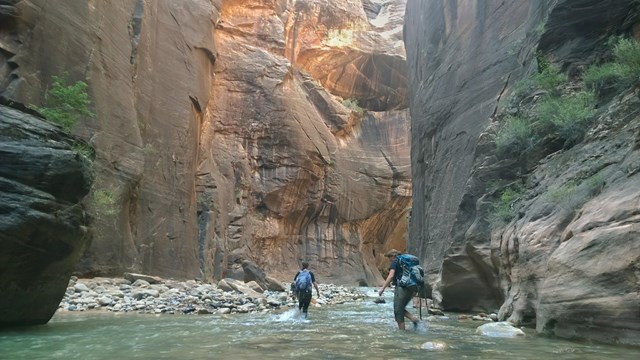 The Narrows
Plan your hike into the Virgin River Narrows. Hiking options include day hikes from the bottom-up and top-down, and overnight from top-down.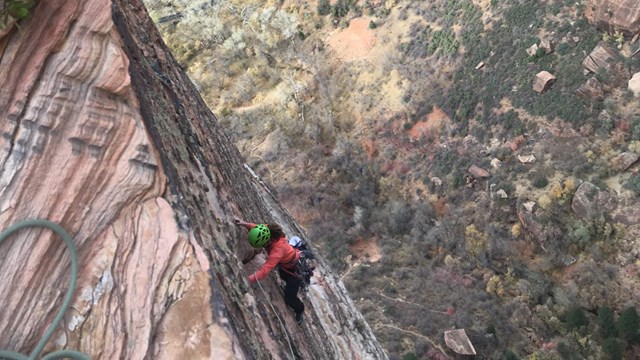 Rock Climbing
Learn about climbing rules and regulations in Zion, and reserve a permit for overnight climbs.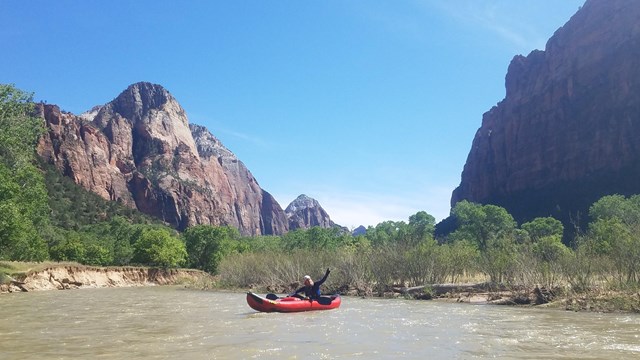 River Trips
Learn the rules and regulations for float trips down the Virgin River. Find out when the river is floatable.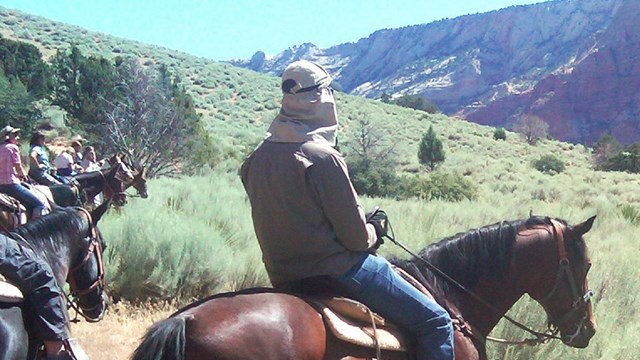 Stock Use
Horses and other stock animals are allowed on select Wilderness trails. Learn the rules and regulations here.
The National Park Service issues permits for lots of activities in Zion National Park. These include things like canyoneering, hiking, camping or hosting your wedding. We do this for a lot of reasons, but they all boil down to one idea:
---
This place is special, and permits give directions on how to protect and enjoy it.
---
We write directions on permits so that you know what to do on adventures in the park. When you read the directions on your permit, you learn what you need to protect the landscape animals, plants or history that make Zion...
Zion
. It is very important that you take your permit seriously so that you
Leave No Trace
of your visit.
We know that a small number of visitors do not follow the directions on their permits, which can be disappointing for us and hurt the park. You can learn more about permits, including how to get yours, by looking at the activites listed here.
Conducting research within a unit of the National Park Service (NPS) presents the opportunity to both advance scientific knowledge and to serve as a steward by protecting natural and cultural resources for future generations. All science and research activities occurring at ZION are authorized with a Scientific Research and Collecting Permit. In addition to providing invaluable knowledge to park administrators for decision-making purposes, research permits are required to ensure that the values of the park, the visitor experience, and park resources remain intact. A Principle Investigator (PI) may Request a Permit by submitting an application through the Research Permit and Reporting System (RPRS) as accessed through the Integrated Resource Management Application (IRMA) web portal.
Prior to submitting an application, every PI is encouraged to become acquainted with the IRMA Data Store and NPS LIBRIS to access recent NPS research and resource management projects as well as the information available on NPS Natural Resources, Cultural Resources, and Social Sciences. It is imperative that PIs are familiar with NPS Director's Order 79: Integrity of Scientific and Scholarly Activities as well as the RPRS application guidelines provided in the RPRS Help menu, specifically Investigator Help. Reporting and curation requirements must also be observed by each PI to preserve research efforts, obtain annual NPS approval for ongoing research activities, as well as to provide public access to research data and analyses. Use the dropdown menu above to navigate to RPRS process guidance and criteria.
Other Permits & Reservations
The
Special Use Permit (SUP)
authorizes activities that benefit an individual, group or organization, rather than the public at large and that require written authorization and management control in order to protect park resources and the public interest.

Examples include: weddings, memorial services, commercial filming and/or photography, special assemblies, First Amendment activities, athletic events, or collecting of resource materials. Each of these activities requires a special use permit that must be acquired in advance.
Commercial Use Authorizations
Any commercial activity, other than commercial filming and/or photography, requires a 
Commercial Use Authorization
 (CUA).The Commercial Use Authorization (CUA) program authorizes the provision of suitable commercial services to park area visitors, as long as three conditions are met: the services (a) will have minimal impact on the park area's resources and values; (b) are consistent with the purposes for which the park area was established; and (c) are consistent with all applicable park area management plans, policies and regulations.The Superintendent grants CUAs to businesses when there are no fixed commercial facilities within a national park area; the commercial activity originates and terminates outside the park; no money changes hands on park lands; and no commercial solicitation occurs on park lands.CUA permits are available for the following activities:
Commercial Interpretive Services (limited trail use)
Bicycle Tours
Photography or Painting Workshops
Taxi and Recreational Shuttle Services
Motorcycle Tours
Rental RV Delivery
A business wishing to do any of these activities must procure a CUA in advance and follow the terms and conditions of the authorization. A Zion CUA is valid for one calendar year. Various liability insurance and first aid requirements must be met in order to receive a permit.
Zion Lodge
 is located on the Zion Canyon Scenic Drive and operated by Xanterra, an NPS concessioner (a private company).
Open year-round with hotel rooms, cabins, and suites.
Zion Lodge also has a gift shop and restaurant.
Reservations recommended: 1-888-297-2757
Campground reservations
Watchman campground is open year round, and you can reserve a site there up to six months ahead of your visit.

South Campground is open from early March to the end of October, and you can make reservations there 14 days before your visit.

Lava Point Campground opens in the spring when snow melts on the Kolob Terrace Road and closes around the middle of October. There are 6 first-come, first-served sites.

Make reservations by using the links to access www.recreation.gov or call 877-444-6777.
Last updated: April 21, 2023