Current Conditions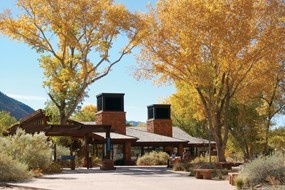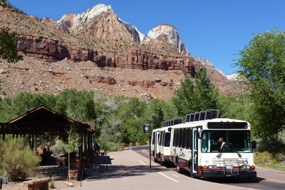 Shuttle System
Daily shuttle service is operating in both the park and Springdale. Access to the Zion Canyon Scenic Drive is by shuttle bus only.
Masks are required to ride the free shuttle.
Shuttle tickets are no longer needed.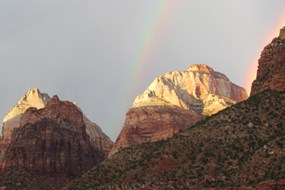 Weather Conditions
In summer, temperatures in Zion National Park often exceed 100°F/38°C. Zion experiences monsoons from mid-July into September that results in an increased risk of flash floods. Always be aware of the threat of storms and lightning and be prepared for a wide range of weather conditions. Check the weather forecast and know what to expect on the Weather and Climate page, or find out what it looks like now on the park webcam.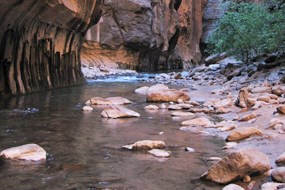 River Conditions
**See ALERT at top of page about toxic Cyanobacteria bloom**
Flow Rate of the Virgin River
Most recent water temperature (10/8/2021): 55ºF/13ºC
The Narrows closes when the flow rate is over 150 cubic feet per second (CFS), or during spring snowmelt. The Narrows also closes when a Flash Flood Warning is issued by the National Weather Service, and remains closed for two hours after the warning is lifted. Check the weather before you head into a narrow canyon. Flash floods are always possible.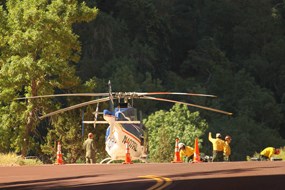 Latest News
Visit the News Release page for up-to-date park news. Connect with Zion through our social media sites on Twitter, Facebook, Instagram, YouTube, and Flickr.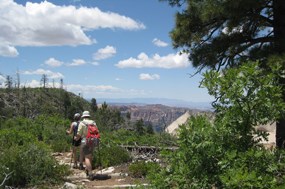 Trail Conditions
Pick a trail that is right for you from our hiking guide. Please check weather daily before hiking. Drink plenty of water during the summer heat. Temperatures can vary widely during each day. Carry and use layers to adapt to changing conditions.
Several trails are damaged due to previous large storms or rockfalls. For your safety, do not enter closed trails. Closed trails are heavily damaged and unstable.

Closed Trails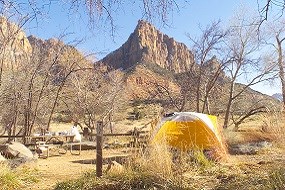 Campground Conditions
Watchman Campground: Open. Reservations only camping year round.
South Campground: Closed for the season. Reservations only camping from March through October, 2022.
Lava Point Campground: Closed for the season.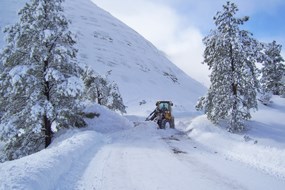 Road Conditions
In addition to this page, you can also find updated road conditions on Twitter @ZionNPS. For Utah road conditions, call 866-511-8824, or if you are in Utah, dial 5-1-1 on your cell phone.



Zion Canyon Scenic Drive: 11/19/2021 - Access to the Scenic Drive is by shuttle bus only. Masks are required to use the free shuttle. Shuttle tickets are no longer needed.

Zion-Mount Carmel Highway: 11/19/2021 - The Zion Mount Highway is open. Oversize vehicles will require one-way traffic control and are allowed 8:00 am to 4:30 pm. Learn more about the Zion-Mount Carmel Tunnel.

Kolob Canyons Road: 11/19/2021 - The Kolob Canyons Road is open. Parking is limited and may be full. Frequent closures during inclement winter weather.

Kolob Terrace Road: 11/19/2021 - The Kolob Terrace Road is open. The Lava Point Road is open. Please pack out your trash and Leave No Trace.
Last updated: November 19, 2021