Current Conditions
Alerts
Information
Expect delays of 25 minutes in Rockville and Springdale. Springdale Shuttle Stops 7, 8 and 9 are closed until further notice. The Springdale Shuttle will continue to operate until November.
---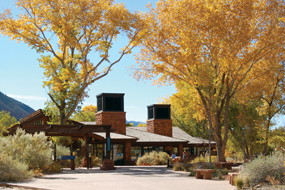 Zion National Park is Open
Zion National Park is open all year. Facility hours and the shuttle schedule change throughout the year.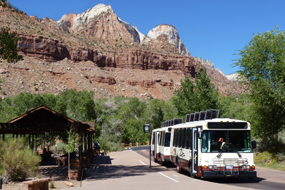 Shuttle System
2017 Shuttle Schedule
The Zion National Park free Shuttle Service in Zion Canyon and Springdale resumed on Saturday, March 11, 2017 and will operate into late November. During this time the Zion Canyon Scenic Drive will be closed to private vehicles.

Free Shuttles will leave frequently from the Zion Canyon Visitor Center from 7 am to 6:30 pm. There will be shuttle busses arriving at every stop in Zion Canyon and in Springdale every 10-15 minutes.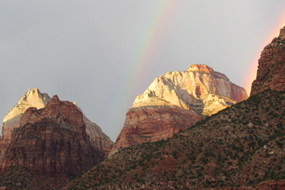 Weather Conditions
In summer, temperatures in Zion National Park often exceed 100°F/38°C. Zion experiences monsoons from mid-July into September that results in an increased risk of flash floods. Always be aware of the threat of storms and lightning and be prepared for a wide range of weather conditions.
Check the
weather forecast
and know what to expect on the
Weather and Climate
page, or find out what it looks like now on the
park webcam
.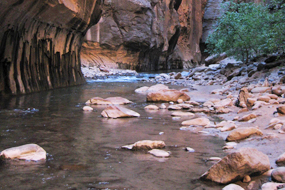 River Conditions
Flow Rate of the Virgin River
The Narrows closes when the flow rate is over 150 cubic feet per second (CFS), or during spring snowmelt. The Narrows also closes when a Flash Flood Warning is issued by the National Weather Service, and remains closed for two hours after the warning is lifted. Check the weather before you head into a narrow canyon. Flash floods are always possible.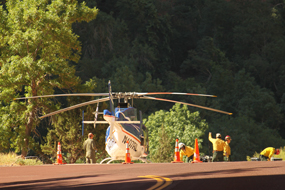 Latest News
Visit the News Release page for up-to-date park news. Connect with Zion through our social media sites on Twitter, Facebook, YouTube, and Flickr.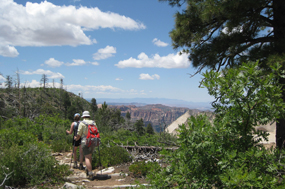 Trail Conditions
All trails are currently open.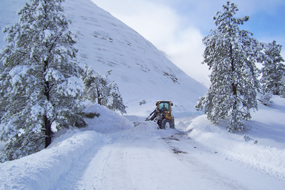 Road Conditions
In addition to this page, you can also find updated road conditions on Twitter. For Utah road conditions, call 866-511-8824, or if you are in Utah, dial 5-1-1 on your cell phone.
10/16/2017 - Road Contruction has begun on State Route 9 and will continue through April 2018. Expect delays of 25 minutes in Rockville and Springdale. Road Contruction will take place 24 hours a day, seven days a week.

Zion Canyon Scenic Drive: 10/17/2017 - Clear and dry.
From March through late November the Zion Canyon Scenic Drive is accessible by free shuttle bus only.

Zion-Mt. Carmel Highway: 10/17/2017 - Open. Clear and dry.

Kolob Canyons Road: In winter, the Kolob Canyons Road closes frequently during inclement weather. For current conditions call the Kolob Canyons Visitor Center at 435-586-9548.

Kolob Terrace Road: 10/17/2017 - The Kolob Terrace Road is all clear all the way to Kolob Reservior. The Lava Point Road is open. The Lava Point Campground is closed for the fall/winter season.
Last updated: October 17, 2017