Toxic Cyanobacteria Bloom in the Virgin River and the Streams of Zion National Park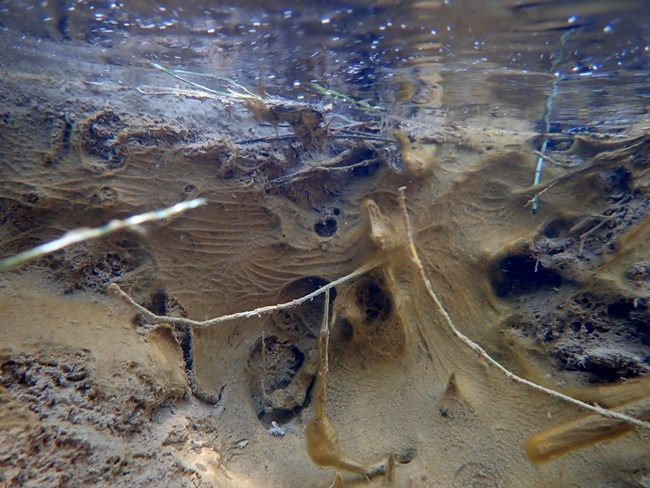 UPDATE: August 10, 2020
AVOID CONTACT WITH THE NORTH FORK OF THE VIRGIN RIVER UNTIL FURTHER NOTICE.
Cyanobacteria of the genus Microcoleus, Tychonema, and Nostoc have been found in the North Fork of the Virgin River, North Creek, and La Verkin Creek. Colonies of cyanobacteria can be red, yellow, tan, green, brown, or black in color. It produces the cyanotoxin called anatoxin-a, which impacts the nervous system.

Cyanotoxin levels detected in the water after recreational disturbance of bacterial growth in the North Fork of the Virgin River are currently much greater than the Utah Department of Water Quality and Utah Department of Health (DWQ/DOH) recommended danger advisory threshold, which is 90 micrograms per liter.
Therefore, the NPS recommends avoiding contact with North Fork of the Virgin River until further notice.

Anatoxin-a was detected in La Verkin Creek and North Creek in the bacterial growth, however samples were not collected of toxin levels after recreational disturbance so the levels of toxins cannot be equated to the DWQ/DOH advisory thresholds at this time.

Visit Utah Department of Water Quality (
https://deq.utah.gov/water-quality/north-fork-of-the-virgin-river-algal-bloom-monitoring-2020
) for the most up to date information.

Some cyanobacteria may produce dangerous nervous system toxins. When in abundance, toxin concentrations can elevate to levels that affect the health of organisms exposed to them, including people, pets, and livestock. Humans and animals can ingest varying amounts of the growth material and/or toxins. Even very small pieces of the cyanobacterial growth may contain enough anatoxin-a to cause medical emergencies. These pieces of bacteria may be hard to see or even invisible.
Children and dogs are especially susceptible to being exposed to anatoxin-a. Anatoxin-a can be absorbed through the eyes, nose, or mouth by swimming in or submerging accidentally or unknowingly into contaminated water. Symptoms include skin rash, salivation, drowsiness, tingling, burning, numbness, pain, incoherent speech, seizures, vomiting, and diarrhea.

Contact the Utah Poison Control Center at (800) 222-1222 with concerns about anatoxin-a poisoning and call 911 in the event of a medical emergency.

Standard recreational water filtration and disinfection techniques will not remove the toxins. Recreators in Zion National Park should filter and disinfect water directly from springs if needed.

Dogs must be kept on a leash. If a pet breaks away and gets into the river, remove them from the water immediately, rinse off their fur thoroughly, and monitor for symptoms of toxin poisoning. A dog can die in as little as 15 minutes from anatoxin-a poisoning. More information about the
danger to dogs from anatoxin-a.
More information on cyanobacteria and its health risks to humans can be found at these links:
EPA
Utah Department of Health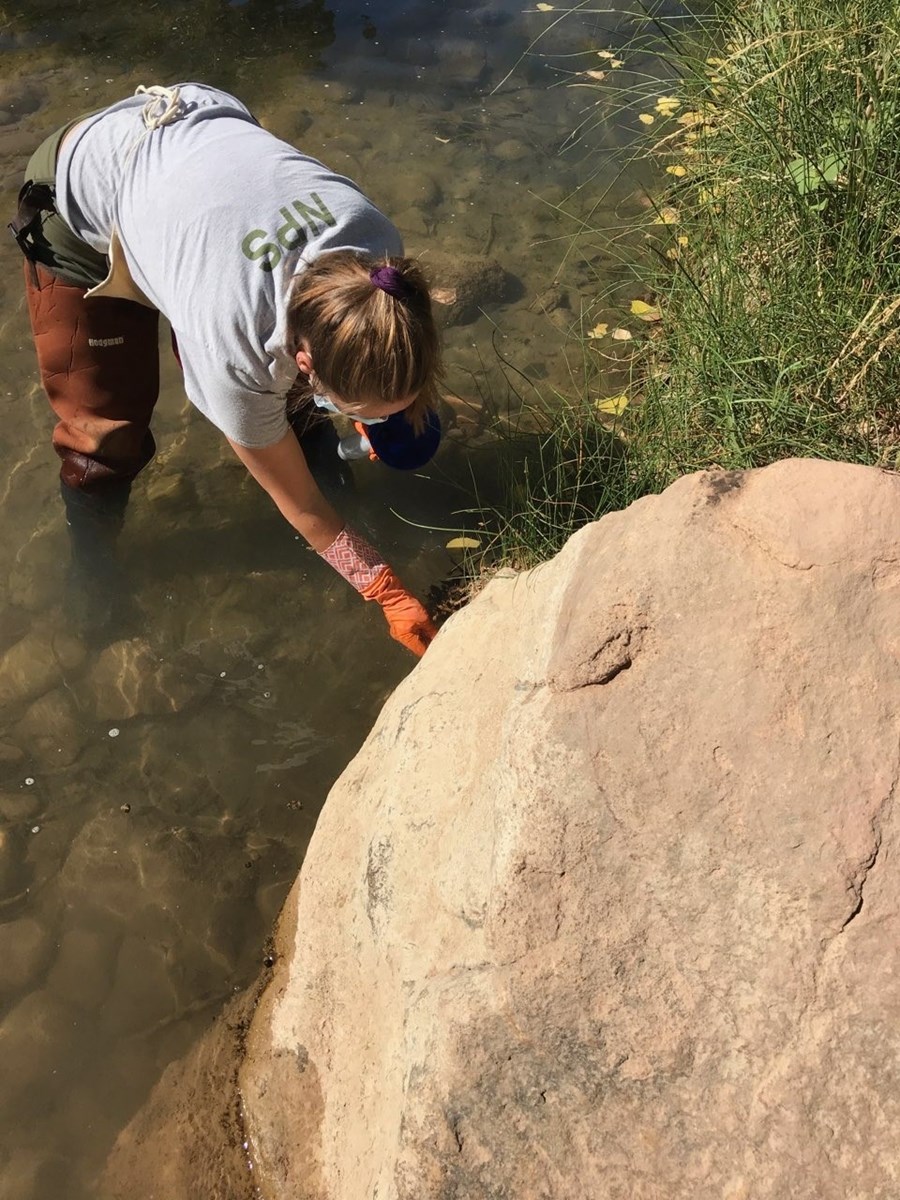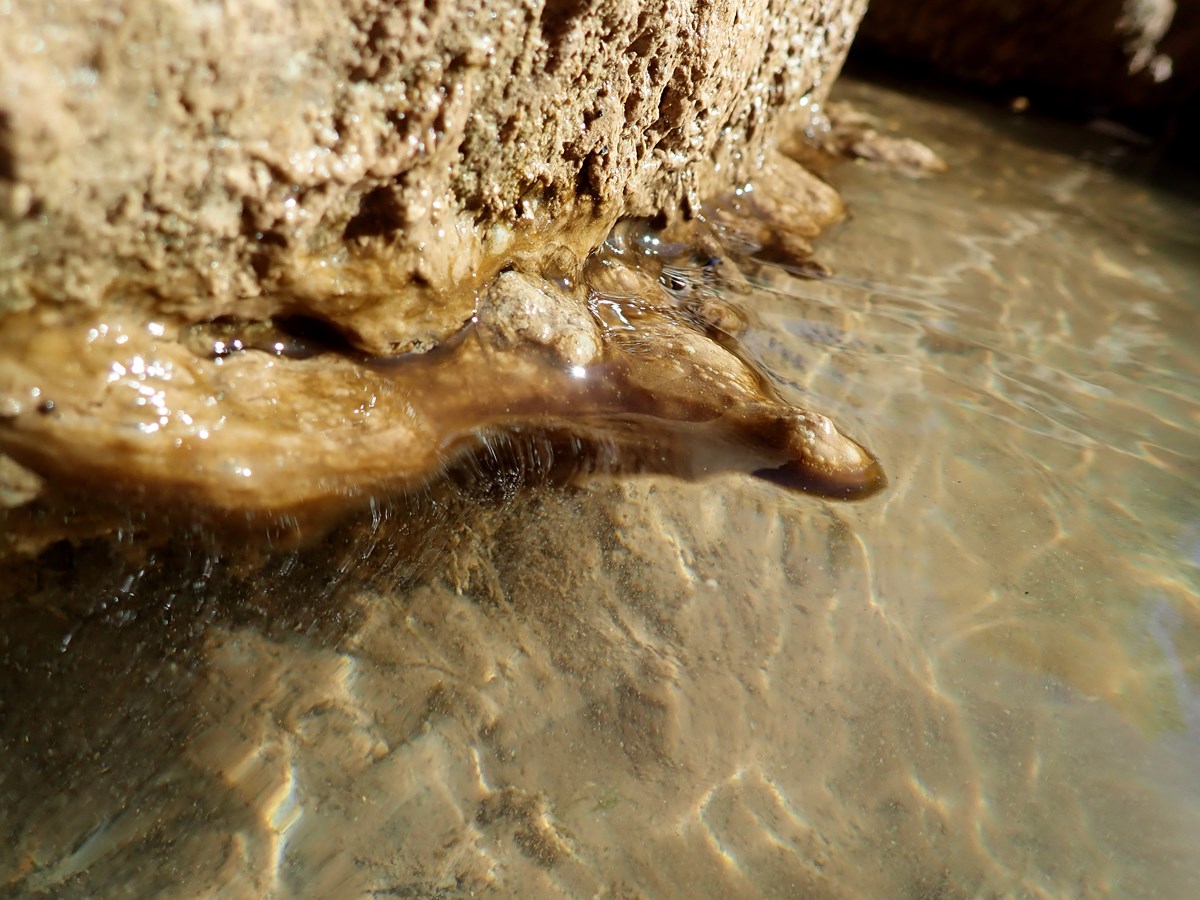 Last updated: August 10, 2020