Wilderness Transportation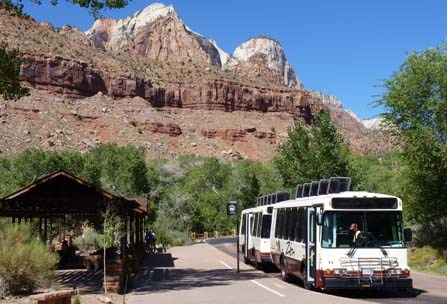 Transportation to Wilderness Trailheads

Zion Canyon Shuttle (Shuttle Tickets are Required)
The shuttle provides access along the Zion Canyon Scenic Drive to areas including" Emerald Pools, West Rim Trail, the Riverside Walk, and the Narrows. Wilderness permit holders may use their permit to ride the shuttle to access and/or return from the trailheads listed on their trip itinerary.

Automobiles
Travel on the Zion Canyon Scenic Drive during most of the year is by shuttle bus only. The Zion-Mount Carmel Highway, Kolob Terrace Road, and Kolob Canyons Scenic Drive in the park are open to private vehicles. Park roads are used by vehicles, bicycles, and even wildlife. Obey posted speed limits. Unless otherwise posted, the maximum speed limit is 35 mph. Seat belts or child safety seats are required for all occupants of a vehicle. Please park in designated spaces to protect fragile vegetation and turn off your engine when your vehicle is stopped.

Hiker Shuttle Services
Commercial taxi and recreational shuttle services can be hired to provide point-to-point pick-up and drop-off at designated parking areas, pullouts, and developed areas within the park. All services must have a current Commercial Use Authorization (CUA) with Zion National Park. Search online for authorized services. For through hikes, we recommend using these services to get to your starting point and hiking back to your car.

Hitchhiking
It is occasionally necessary for park visitors to solicit transportation from others in order to reach their destinations and in order to transit the Zion-Mount Carmel Tunnel. In order to provide for this transportation need and the safety considerations associated, hitchhiking is allowed only in established roadside pullouts.

Bicycles
Bicycles are not permitted in the Zion Wilderness. Bicycling is permitted on all park roadways and on the Pa'rus Trail. Bicyclists must ride single file and stop to let shuttle buses pass. Do not pass a moving shuttle bus. Each shuttle bus has a rack for at least two bicycles. All other park trails, off-trail routes, and the Zion-Mount Carmel Tunnel are closed to bicycles. Bicyclists attempting to travel though the Zion-Mount Carmel Tunnel must obtain a ride through the tunnel. Hitchhiking is permitted. Rangers are not allowed to provide, or arrange for, transport through the tunnel.

Other Vehicles
Any use of off-highway vehicles (OHVs), all-terrain vehicles (ATVs), or utility vehicles (UTVs) are prohibited within Zion National Park.

Directions to Chamberlain's Ranch
Permit holders for the top-down Narrows will need to start at Chamberlain's Ranch. Chamberlain's Ranch is a private ranch outside Zion National Park. Please respect private property. It is a 1.5-hour drive from Zion Canyon along paved and dirt roads to access Chamberlain's Ranch. The dirt roads are passable for normal cars only when dry. When wet, they may be impassable even for four-wheel drive vehicles. Snow closes the road in winter.

From the park's East Entrance, drive 2.5 miles east on Route 9. Turn left on a paved road and continue 18 miles to a bridge that crosses the North Fork of the Virgin River. Turn left beyond the bridge and drive three-quarters mile to the trailhead at Chamberlain's Ranch. There may be a gate that you will need to close behind you, follow the direction of posted signs. There is a pit toilet at the trailhead just before the road crosses the river. Park here. To begin your hike, cross the river and follow the road for approximately 3 miles. Enter the river at the end of the road just past the old cabin. Overnight camping is NOT allowed at the trailhead.
Last updated: March 10, 2021