Maps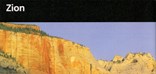 Zion National Park Official Brochure
Official park brochure with map and park description.
NOTICE: The brochure map shows areas of the park that may be closed during your visit such as shuttle stops that are out of service due to the COVID-19 pandemic. Contact a ranger or download our updated seasonal park maps above for the most up-to-date information.


Last updated: October 16, 2020