Basic Information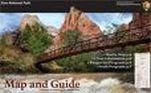 Map and Guide
Planning a trip to Zion National Park can be as challenging as exploring the park itself. The park newspaper contains a wealth of information to help you plan your visit.

Current Conditions
Find out what it's like in the park right now, including weather and road conditions.

Shuttle System
Learn about the free shuttle system in Zion Canyon and in Springdale

Large Vehicle Information
Learn about large vehicle restrictions and tunnel one-way traffic control procedures.

Special Use Permits
One time permits for special events, weddings, and filming.

Off-road Vehicles
ATVs, OHVs, and other off-road vehicles are not permitted in Zion National Park.

Operating Hours and Seasons
Zion National Park is open all year.

Weather and Climate
Find out the typical and current weather conditions in Zion, as well as the flow rate of the Virgin River and the flash flood potential forecast.

Social Media
Follow us on Facebook, Twitter and more!
Last updated: June 1, 2017