Wheelchairs and Mobility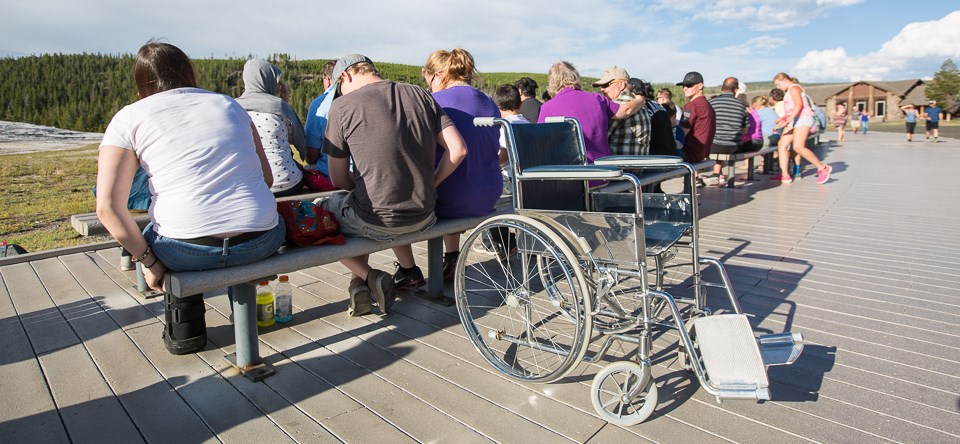 ATM
Accessible ATMs are available in the major areas.
Boating
Bridge Bay Marina and Grant Village have accessible boating facilities. Read more about boating regulations in Yellowstone.
Camping
All campgrounds have at least one wheelchair-accessible site. Two backcountry campsites are maintained to accommodate wheelchair users. Read more about backcountry accessibility in Yellowstone.
Designated Accessible Parking
Accessible parking is designated in all major areas and at some overlooks, outdoor exhibits, and picnic areas.
Dining
Accessible dining options include fast food restaurants and dining rooms.
Exhibits and Viewpoints
There are many accessible roadside exhibits and viewpoints. Visitor center exhibits are accessible as noted in the area descriptions.
Fishing
Accessible fishing platforms are on the Madison River and at the Grant Marina on Yellowstone Lake. Learn more about fishing regulations in Yellowstone.
Lodging
Accessible lodging is available in all areas of the park.
Medical Clinics
The three medical clinics are accessible. Only Mammoth is open year round. Wheelchairs can be rented for $15 per day, with a $300 refundable deposit (cash or credit card).
Motorized Personal Vehicles
Motorized wheelchairs and scooters that are designed solely for use by a person with a mobility impairment are allowed.
Picnic Areas
Accessibility at picnic areas is improving. Check the picnicking page, the official NPS app, or ask for a free handout at visitor centers to learn more.
Post Offices
The Mammoth, Old Faithful, and Grant post offices are accessible. The Mammoth Post Office is open year-round.
Ranger Programs
Check calendar listings for accessible programs (also available in the park newspaper, at visitor centers, and entrance stations).
Restrooms
Accessible restrooms with sinks and flush toilets are located at all major areas except West Thumb. Accessible vault toilets are found at some scenic overlooks, picnic areas, and campgrounds. Accessible vault toilets are located just inside the East and South entrances, and on the right side before the West Entrance gate.
Service Animals
Qualified service animals assisting people with disabilities are allowed and must be leashed. A service animal is defined as a dog that performs some of the functions and tasks that the individual with a disability cannot perform such as carrying a pack for persons with mobility impairments, assisting persons with balance, or alerting medically-dependent persons of specific conditions such as oncoming seizures.
Service Stations
Service stations are staffed seasonally during daylight hours and have call buttons at the pumps.
Showers
Accessible showers are available at Fishing Bridge RV Park, Grant Village Campground, and the Old Faithful Inn.
Stand-up Devices
Visitors who would otherwise need to use manual or motorized wheelchairs are allowed some use of the Segway® Personal Transporter and similar stand-up personal vehicles. Although wheelchairs are allowed wherever pedestrians are allowed in Yellowstone National Park, standup personal vehicles do not meet the description of a wheelchair and their use is limited for safety reasons.
Operators must have a federal Access Pass in their possession.
Stand-up personal vehicles may be used on sidewalks, at paved overlooks (such as Artist Point in the Canyon area), and in campgrounds.
Stand-up personal vehicles are not allowed in buildings, on or along the edges of major roads (because of congestion, visibility, and vehicle speeds), on boardwalks (because of their proximity to hydrothermal features and the hazards associated with these areas), or on backcountry trails.
Speed limit for stand-up personal vehicles is no greater than 2–3 mph (3–5 km/h), which is equivalent to walking. (36CFR Section 1.5 (a)(2))
Stores and Gift Shops
The Mammoth, Old Faithful, and Canyon areas have accessible general stores, gift shops (in lodging), and bookstores (in visitor centers). The accessibility of stores in other areas varies.
Visitor Centers
Yellowstone has nine visitor centers and information stations. The visitor centers at Canyon Village, Old Faithful, Mammoth Hot Springs (Albright), Grant, West Thumb, and West Yellowstone are accessible. The Fishing Bridge visitor center is partially accessible. Visitors at the Norris and Madison visitor centers may require assistance.
Walkways and Self-Guiding Trails
Most walkways and self-guiding trails have at least one accessible route.
Wheelchair Loans and Rentals
Manual wheelchairs are available for loan at Old Faithful, Canyon, Mammoth (Albright), Grant, Fishing Bridge and Norris visitor centers, and all lodging facilities, except Roosevelt Lodge, while staying in those areas. Wheelchairs can be rented on a first-come, first-served basis at medical clinics.
A beach wheelchair is available for use along the shore of Yellowstone Lake. No reservations are required. Ask about availability at Fishing Bridge Visitor Center.
Last updated: March 24, 2022