Wheelchairs & Mobility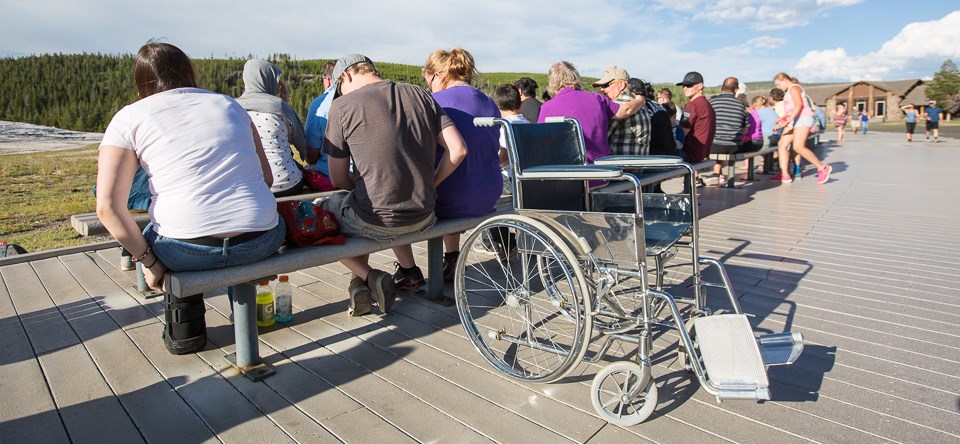 This is an overview about wheelchair-accessibility in Yellowstone National Park. You can also download the Accessibility Guide to Yellowstone for complete information.
Information
Yellowstone has nine visitor centers and information stations. Canyon & Old Faithful visitor education centers and the Albright (Mammoth) and Grant visitor centers are wheelchair-accessible. Norris and Madison information stations may require assistance; Fishing Bridge is partially wheelchair-accessible.
Medical Clinics
Mammoth, Old Faithful, and Lake clinics are wheelchair-accessible. Only Mammoth is open year round.
Designated Accessible Parking
Accessible parking is designated in all major areas and at some overlooks, wayside exhibits, and picnic areas.
Wheelchair Rental
Manual wheelchairs can be rented at medical clinics for $15 per day with a credit card (or $300 cash) deposit. Wheelchairs are available for loan at each lodging facility, except Roosevelt Lodge. Old Faithful, Canyon, and Albright (Mammoth) visitor centers loan wheelchairs for use while in those areas.
Motorized Personal Vehicles
Motorized wheelchairs and scooters that are designed solely for use by a person with a mobility impairment are allowed. The Segway® Personal Transporter and similar vehicles used by persons with disabilities are allowed with some restrictions, although terrain may limit their usefulness.
Service Animals
Qualified service animals assisting people with disabilities are allowed throughout the park and in all park facilities. However, they must be leashed. You must have a permit to bring a service animal into the backcountry due to wildlife and safety issues.
Restrooms
Wheelchair-accessible restrooms with sinks and flush toilets are located at all major areas except West Thumb. Accessible vault toilets are found at West Thumb, Norris, some scenic overlooks, most picnic areas, and all campgrounds.
Service Stations
Service stations are staffed seasonally during daylight hours. and have call buttons.
ATM
Wheelchair-accessible ATM machines are available in the park's major areas.
Dining
Wheelchair-accessible dining options include snack bars, fast food restaurants, and dining rooms.
Lodging
Wheelchair-accessible lodging is available in all areas of the park.
Post Offices
Mammoth, Old Faithful, Grant, and Canyon post offices are wheelchair-accessible. Only Mammoth is open year round.
Stores & Gift Shops
The Old Faithful, Canyon, and Mammoth areas have wheelchair-accessible general stores, gift shops (in lodging), and bookstores (in visitor centers). Store accessibility in other areas varies.
Picnic Areas
Wheelchair accessibility at picnic areas varies and is improving. Ask for the free publication describing picnic areas at visitor centers; it has the most current information. The Soda Butte Creek picnic area has accessible parking and an accessible table; see the Tower-Roosevelt Area Accessible Information.
Fishing
An accessible fishing site exists on the Madison River; see the Madison area accessible information. Consult the Yellowstone Fishing Regulations for general fishing information.
Boating
Bridge Bay Marina and Grant Village have wheelchair-accessible boating facilities. Consult the park newspaper for boating regulations and permit requirements.
Campgrounds
All campgrounds have at least one wheelchair-accessible site except for Fishing Bridge RV Park and Tower Fall.
Backcountry Camping
The Ice Lake backcountry campsite is reserved for those with disabilities, parents with children under 6 years of age, and adults over 62 years of age. Wheelchair users may require assistance. The trailhead is between Norris and Canyon; the wheelchair-accessible trail is about one-half mile long. Contact the park's main backcountry office, 307-344-2160, for more details.
Showers
Wheelchair-accessible public showers are available at Grant Village Camper Services Building and Old Faithful Inn.
Walkways & Self-Guiding Trails
Most walkways and self-guiding trails have at least one wheelchair-accessible walkway.
Exhibits
There are many wheelchair-accessible roadside interpretive exhibits throughout the park. They include Obsidian Cliff (Grand Loop Road between Mammoth and Norris) and Orange Spring Mound (Mammoth area). Visitor center exhibits are wheelchair-accessible as noted in the area descriptions.
Ranger Programs
Accessible ranger programs are noted in the program schedule, which is available in the park newspaper, at visitor centers.
Location-specific Information
Last updated: September 7, 2018