Service Animals
Qualified service animals assisting people with disabilities are allowed and must be leashed. A service animal is defined as a dog that performs some of the functions and tasks that the individual with a disability cannot perform such as carrying a pack for persons with mobility impairments, assisting persons with balance, or alerting medically-dependent persons of specific conditions such as oncoming seizures. Companion dogs that are used only to provide comfort or emotional support ("therapy animals"), or other pets are not allowed in buildings, the backcountry, on nature trails, or on boardwalks.
Service Animals in the Backcountry
Qualified Service Dogs are permitted in the backcountry, but travel with dogs in the backcountry is not without risks. Please be aware that having a service animal in the backcountry may put you at increased risk for confrontations with wolves, bears, and other wildlife. If you take a service animal with you in the backcountry keep it on a tight leash at all times and sleep with it in your tent at night.
In addition, thermal features pose a special risk to all animals. Boiling water in pools and thermal channels can cause severe or fatal burns if your animal decides to take a drink or go for a swim. Your safety and the safety of your animal are not guaranteed. Where domestic animals and wildlife overlap there is a possibility of exchanging diseases between the two groups. Domestic dogs can introduce disease into wildlife habitats and the park's canids (wolves, coyotes, and foxes) are vulnerable to domestic diseases such as canine distemper, parvovirus, rabies, and mange. Likewise, it is possible for domestic dogs to acquire these diseases from wild animals. To further prevent the spread of disease:
Service dogs must always be leashed or harnessed, under control, and attended at all times.
Pet food is a bear attractant and should be stored accordingly. Food and food containers must never be left unattended and must be kept out of reach of wildlife.
Service dog fecal matter must be picked up and disposed of properly. Fecal matter should be disposed of in a trash receptacle, toilet, pit toilet, or if none of those are accessible (such as in the backcountry) it should be buried in a small hole, dug a minimum of six inches (15 cm) deep and 200 feet (61 m) from water sources, campsites, or trails.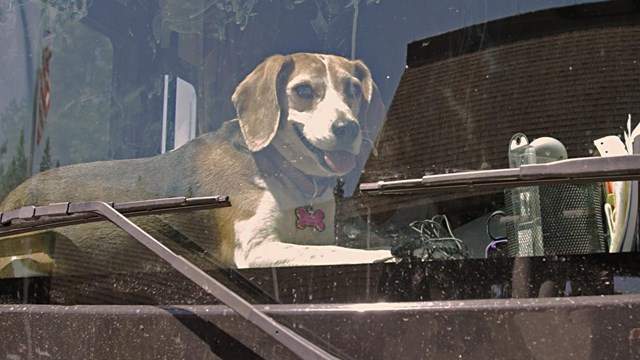 Pets
Activities with pets are very limited in Yellowstone.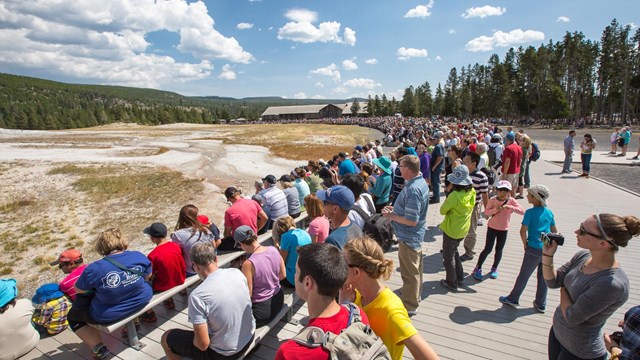 Accessibility
Peruse information about accessibility in Yellowstone's major areas.
Last updated: January 10, 2022