Goods & Services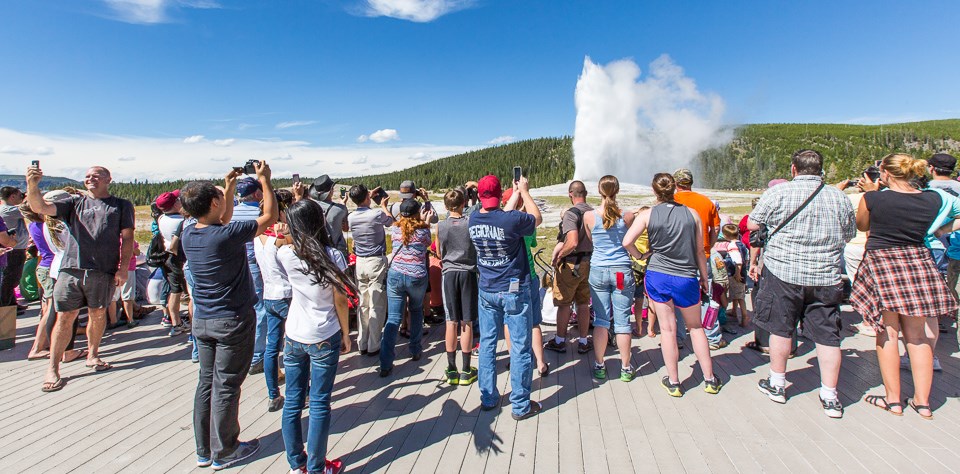 Cellular and Wi-Fi
Cellular Service
Cellular service is limited in Yellowstone. Cell towers at Mammoth Hot Springs, West Yellowstone, Old Faithful, Grant Village, Lake Village, and Mount Washburn provide service to most developed areas and to the North and West entrances. Check with your provider to verify coverage. During summer the number of users can overwhelm cellular circuits resulting in an inability to send or receive calls, text, or use cellular data. Texting is usually the most effective means of communication in the park. Cellular service is available in most nearby communities and along some of the major highways leading to the park. However, areas without coverage exist throughout the region.
Wi-Fi
Free Wi-Fi is available at the Albright Visitor Center in Mammoth Hot Springs.

Wireless Internet access is available at some of the hotels and lodges around the park for registered guests of Yellowstone National Park Lodges.
Locksmith
Powell Lock provides locksmith services in Yellowstone.
Lodging
Everyone needs to sleep and Yellowstone provides lots of options with 9 lodges and 12 campgrounds. There are even more choices in the vibrant communities outside the park.
Medical Services
In case of an emergency, dial 911.
Medical services are available year-round (except some holidays) at the Mammoth Clinic (307-344-7965). During summer, medical services are offered at Lake Clinic (307-242-7241) and at Old Faithful Clinic (307-545-7325): check the operating hours & seasons page for details. All clinics are open to the public and are equipped for most medical emergencies as well as for routine care. Services include injury and illness treatment, x-rays, as well as some lab and pharmacy services. If in-patient care or advanced services are required, clinic staff can stabilize patients and arrange for transfer to hospitals outside the park.
Post Offices
U.S. Post Offices are located at Canyon Village, Grant Village, Lake Village, Mammoth Hot Springs, and Old Faithful. View the operating hours & seasons page for more information.
RV Repair
The following businesses are authorized to provide RV repair in Yellowstone:

Mobile RV Tech: (406) 682-4100
Motorcoach Maintenance & Truck Repair, Inc: (406) 388-7448
Satellite Phones
Satellite phones are a fairly reliable means of communication in Yellowstone: expect dropped calls and periodic lack of service when satellites are not in a position to transmit.
Service Stations
Service stations can be found at Canyon Village, Fishing Bridge, Grant Village, Mammoth Hot Springs, Old Faithful, and Tower Junction. All service stations offer 24-hour, year-round credit card fueling. Call 406-848-7548 for assistance and view our operating hours & seasons page for more information.
Electric Vehicle Charging Stations
Public EV charging stations are now available in a number of park locations. The stations are Level 2, and provide 208/240 volt electric service. Charging takes about 4 hours from empty to full. These provide free power to anyone who brings an electric vehicle or plug-in hybrid to Yellowstone.
Yellowstone Forever, the park's official nonprofit partner, installed one of the public charging stations at their headquarters and retail store at 308 E Park St. Gardiner, Montana 59030.
Yellowstone National Park Lodges, the authorized concessioner operating the park's hotels, has installed a public charging stations near several of the park hotels:

Mammoth Hot Springs: In front of the Haynes Photo Shop; and behind the Northwest corner of the Mammoth Hotel.
Old Faithful: At the Old Faithful Lodge Cabins (Lower Loop), outside of Showerhouse 1.
Canyon Village: In front of both Rhyolite and Washburn lodges.
Lake Village: In front of Teal employee dorm.

West Entrance/ West Yellowstone MT: The Gray Wolf Inn and Suites, 250 S Canyon St., and the Holiday Inn, 315 W Yellowstone Ave, West Yellowstone, MT 59758. Tesla stations are also located in West Yellowstone.
RV Liquid Propane
Liquid propane (LP) gas is available for purchase at Fishing Bridge and Grant Village service stations. Propane bottle exchange is available at all service station locations.
Shopping
You'll be able to buy gifts, food, and more at the stores and gift shops located throughout the park.
General Stores
General stores have a wide range of good available: groceries, souvenirs, camping and hiking gear, and apparel. They also have restaurants and ice cream counters. General stores are located in Canyon, Fishing Bridge, Grant Village, Lake Village, Mammoth Hot Springs, Old Faithful (Lower and Upper), and Tower.
Gift Shops
Located inside park hotels, gift shops sell a variety of apparel and artwork. Gift shops are found inside the Canyon Lodge, Grant Lodge, Lake Hotel, Lake Lodge, Mammoth Hotel, Old Faithful Inn, Old Faithful Lodge, Old Faithful Snow Lodge, and Roosevelt Lodge.
Mini Stores
Mini stores are similar to general stores, with less options (groceries, snacks, and souvenirs). Mini stores are located in Grant Village and Tower-Roosevelt.
Park Stores
Usually located within visitor centers, these stores have a wide selection of souvenirs: books, artwork, and educational materials. Yellowstone Forever Park Stores are located in the Albright Visitor Center, in the Canyon Visitor Education Center, in the Fishing Bridge Trailside Museum and Visitor Center, in the Grant Visitor Center, in the Madison Visitor Information Station, near the Norris Geyser Basin Trailside Museum and Visitor Center, and in the Old Faithful Visitor Education Center, and in the West Thumb Visitor Information Center.
Other Stores
Yellowstone Adventures in Canyon Village and Bridge Bay Outdoor Store in Bridge Bay sell recreation gear, snacks, fast food, souvenirs, footwear, and fishing supplies.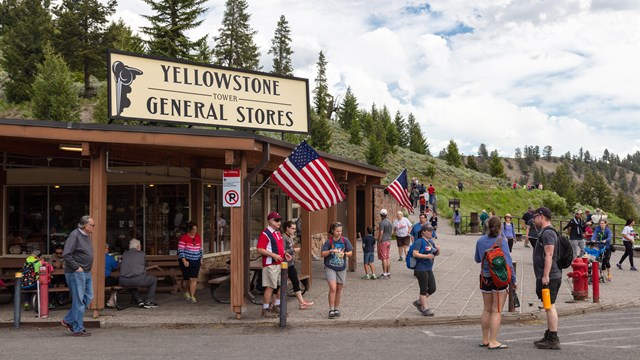 Opening & Closing Dates
See what opens when for the summer season.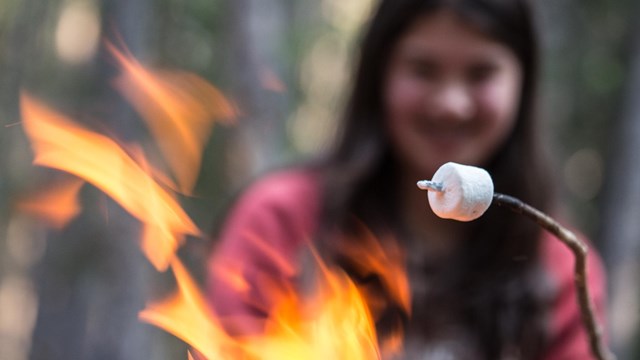 Camp in a Campground
Plan a night in one of twelve park campgrounds.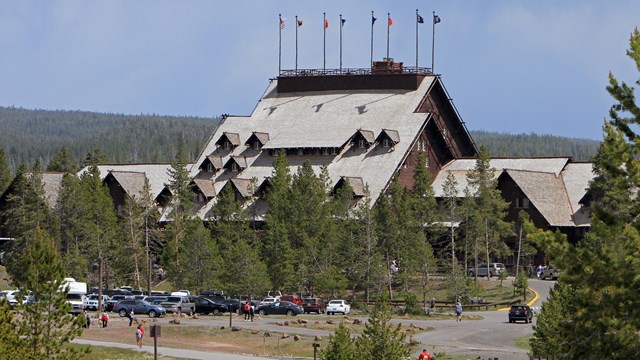 Stay in a Lodge
Pick a lodge that's right for you and make a reservation early!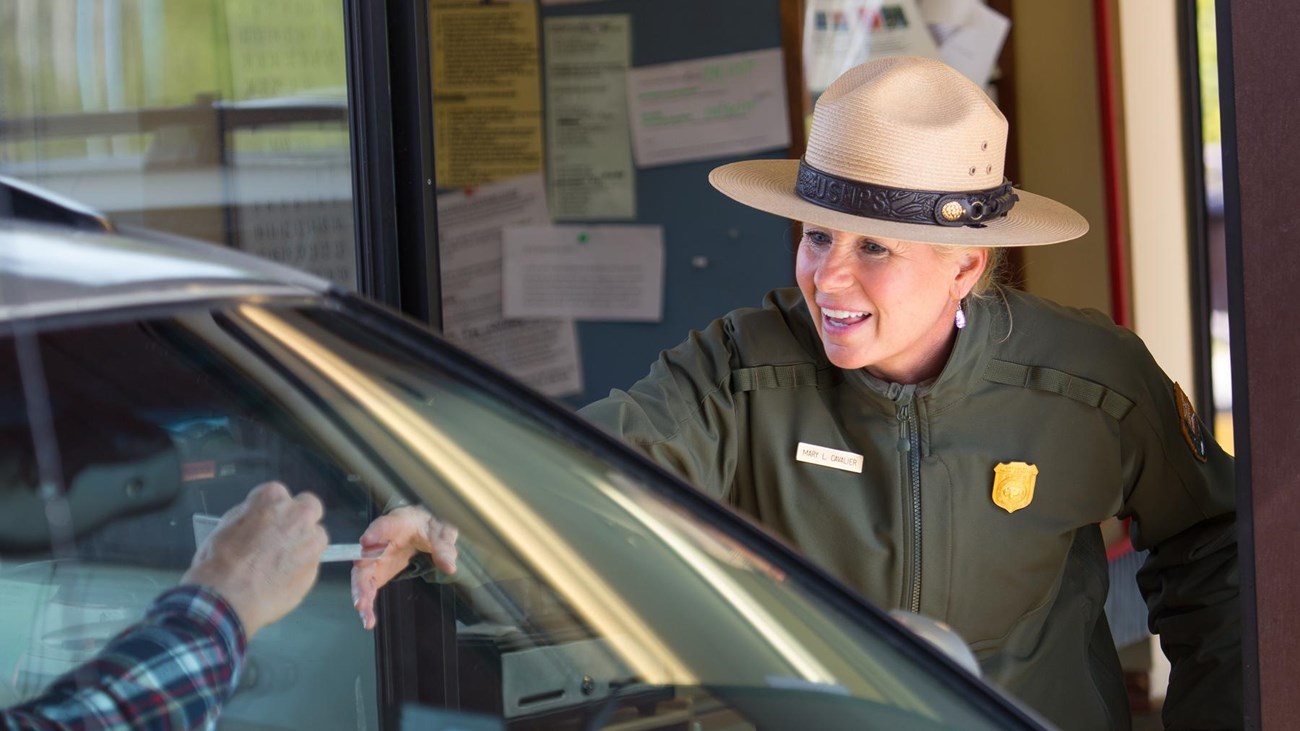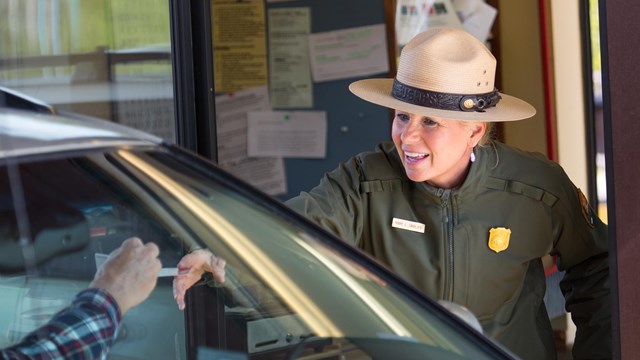 Basic Information
Get all the essential information here, from directions to entrance fees to hours of operation.
Last updated: September 28, 2022